A warm towel when you step out of the shower is something you can expect at a spa or in a fancy hotel, but most people don't have that luxury every day. However, thanks to modern technology, you can find a good towel warmer for home use and bring that spa day feeling into your bathroom whenever you wish.
Home towel warmers come in a few styles and are good for more than just added comfort. Towel warmer racks and towel warmer buckets also help reduce loads of laundry, cut down on harmful bacteria that grow on damp surfaces, and provide you with warm, dry towels each time you need one. And since the weather is colder, now is the perfect time to consider adding a towel warmer to your bathroom.
Is it worth getting a towel warmer?
A towel warmer rack or bucket can be amazing, especially if you live in a cool climate or generally run cold. However, whether one is worth it to you is a matter of personal preference. While towel warmers reduce the likelihood that harmful bacteria will grow on your damp towels while they air dry, they are just not considered necessary to some people.
Some people don't have room in their bathroom or think that such a device isn't in their budget. Before you decide if you need a towel warmer, consider your options — there are several styles and models out there to choose from.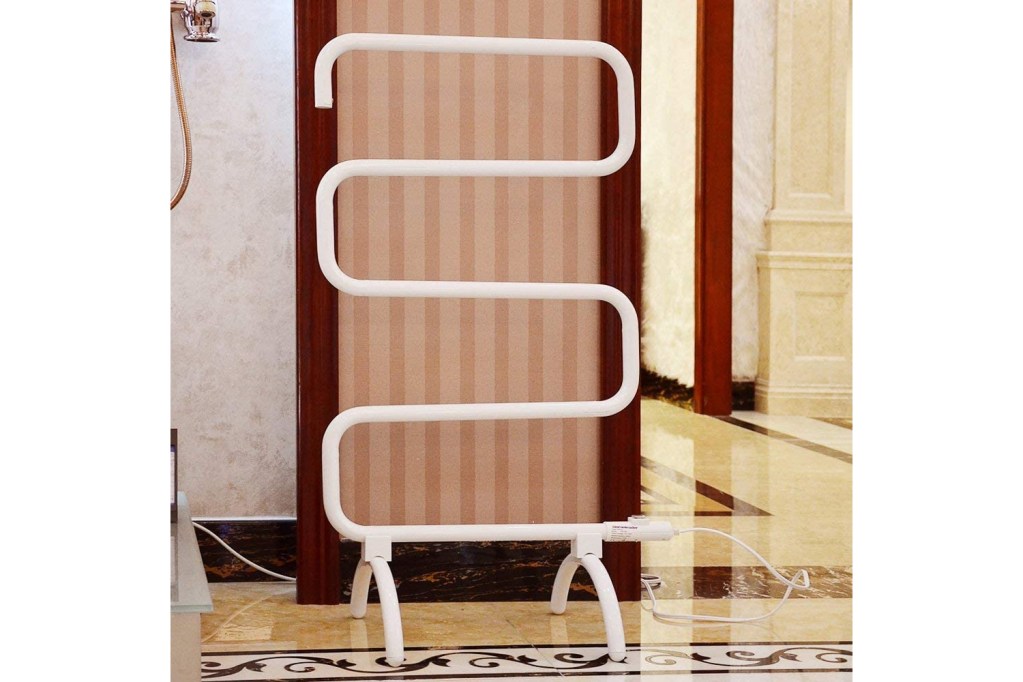 Which type of towel warmer is best?
If you decide you want a towel warmer, the first step is to determine what kind is best for your home. You'll need to consider things like ease of installation and use, durability, budget, safety, and heating source.
Rack or bucket?
If you're doing an entire bathroom remodel, you may be more inclined to choose a model that needs to be hardwired into the electrical of your home. While these models come in multiple sizes, colors, and finish options, they're usually more challenging to install. Wall-rack options are also a good choice if you're looking for space-saving ones, since they hang on the wall, and therefore, don't have a footprint.
Rack-style models are great for large towels and families with multiple people. If you have the space, free-standing towel warmer buckets come in various designs and are usually packed with features like built-in cord storage and auto-shutoff. Many of the bucket-style models are too large for small bathrooms, but some of them are large enough for slippers, robes, and small blankets.
Electric or hydronic
Most of the more affordable towel warmers are electric and are hardwired into your home's existing electrical system or they plug into an outlet. But you're probably wondering, do towel warmers use a lot of electricity? The answer is, it depends on the model. There are, however, models that pull hot water from your home's plumbing system to heat the bars on the rack. This is an excellent option if you're into saving energy, but beware, the installation is more difficult with this type of warmer.

Other items to consider
Once you consider everything above and commit to buying a towel warmer, you'll still probably have some questions. Safety issues like how long you can leave a towel warmer on and how hot to the touch they get will surely cross your mind, especially if you have children. Most bucket-style models have auto-off and don't get very hot on the outside. They do, however, get pretty hot inside the warming chamber — but that's to be expected.
You'll also want to see how long the model you're considering takes to warm up. If you're a quick shower person, you'll want a model that will accommodate your speedy needs, but if you like to pamper yourself a bit with a long bath, you won't mind if the towel warmer takes a while to do its thing.
Towel warmers are definitely not an item that you see every day, but that could soon change. If you've ever experienced the bliss that is a warm towel after a shower or hot bath, then you know these devices should be a standard household item. With all the models available in today's market, you can surely find one that fits your budget, warming needs, and bathroom decor. Whether you want to cut down on loads of laundry (who doesn't), kill potential bacterial living on your damp towels, or just enjoy a bit of luxury in the comfort of your own bathroom, a towel warmer could be just the thing to keep you warm this winter.
Editors' Recommendations