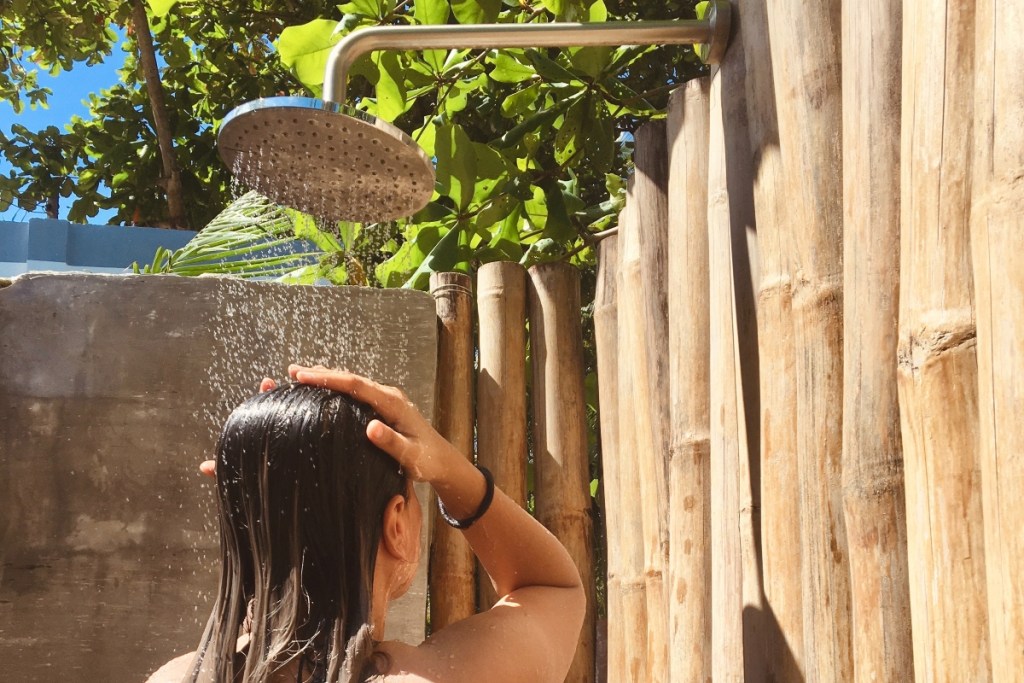 For homeowners with a backyard pool or those who live on a beachfront property, it's easy to trek sand, mud, and dirt into the home. That's why the outdoor shower has become a beloved addition to many properties across the country. However, outdoor showers have a tendency to look out of place and are often of poor design, especially if you install an outdoor shower kit rather than taking on a custom build.
These kits can look cheap, tacky, and downright ugly if not properly decorated. So, to prevent your unit from becoming a blemish in your stunning backyard landscape, we have some outdoor shower ideas to help you spruce up your outdoor shower and make it look more appealing to the eye.
Use natural wood
One of the best things you can do, whether building a custom outdoor shower or discreetly hiding a kit-built unit, is to use natural wood. Natural wood slats are great for adding a privacy wall to your outdoor shower. Not only do they do the job of effectively concealing the shower, but they also look natural and sophisticated in the backyard.
However, you should avoid using treated wood for your outdoor shower unit. Treated woods often have an odd and unnatural color, which can look cheap and tacky. Instead, we recommend opting for a variety of rot-resistant wood and using that to create a stunning, natural privacy wall. Rot-resistant woods like cedar, redwood, mulberry, yew, and some cypress varieties are best.
It's also important to consider how you want to construct the privacy wall. Focus on the detailing and use trim pieces or screw caps to make your wall look cleaner and more sophisticated. The shower should look intentional and luxe. Keep the privacy wall minimal, and don't enclose the entire space. If done incorrectly, you might run into the issue of making the shower unit look like an outhouse.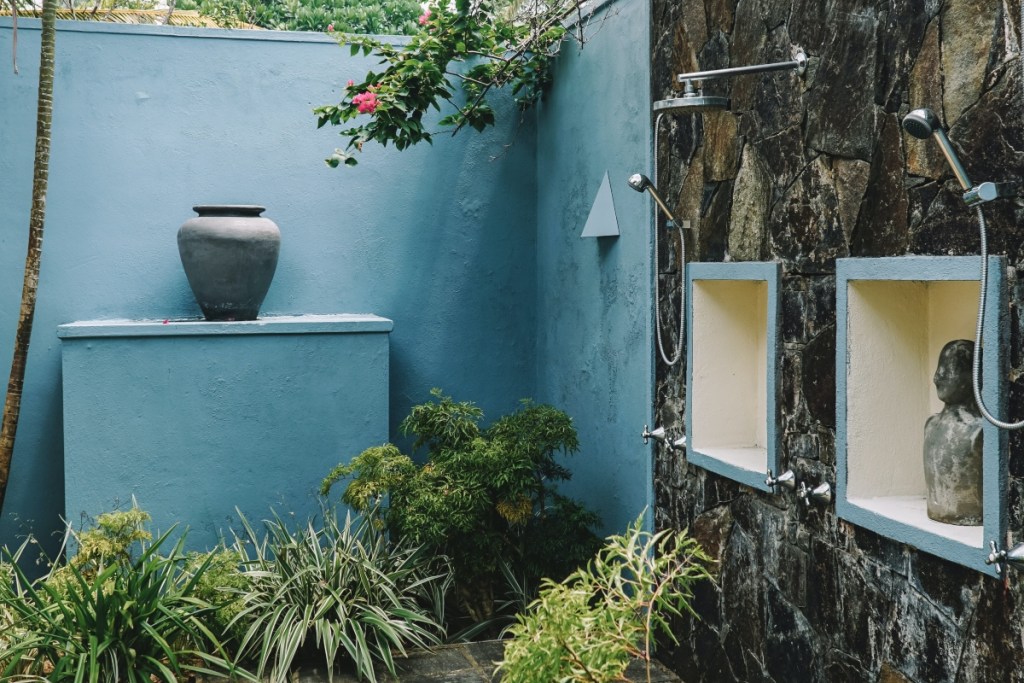 Opt for organic stone or tile
Organic stone and tile offer a luxe and biophilic touch to your outdoor shower design. The outdoor shower should feel like a natural retreat or oasis. To best achieve this aesthetic, use an organic stone or natural-looking tile on the flooring or walls of your outdoor shower. The less structured, the better! Consider choosing a more organic tile or stone that appears a little uneven or asymmetrical, giving the shower a more natural look.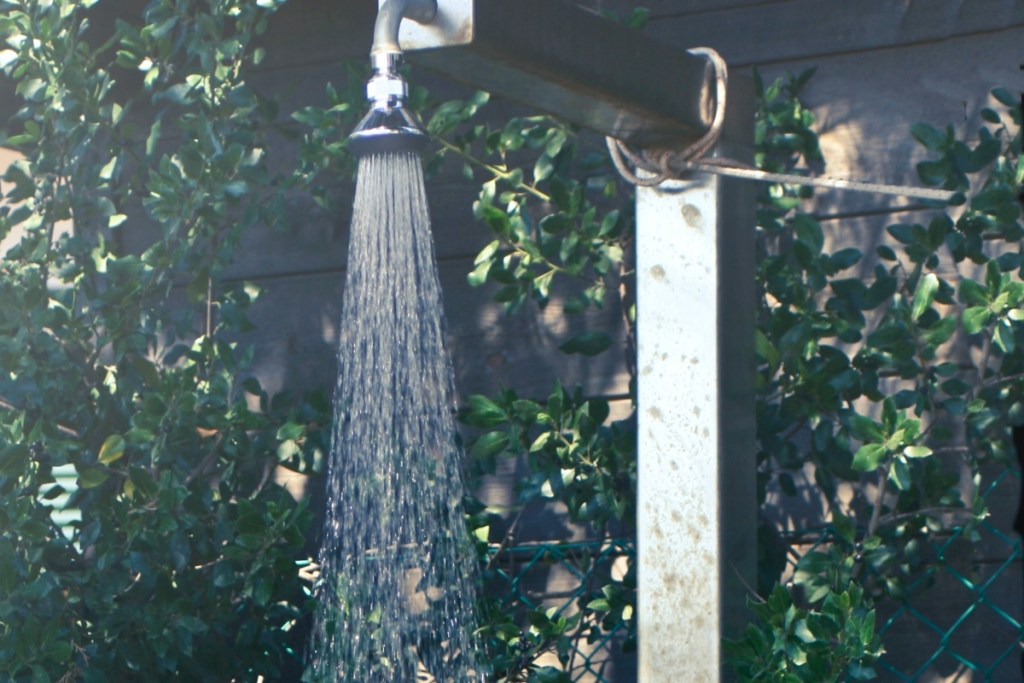 Add plenty of plants
When decorating an outdoor shower, you can't go wrong with plants. Oversized plants and bushes are a great way to conceal your shower from the rest of the backyard and integrate the unit into your existing landscape. In addition, small shrubs, flowers, and even some hanging vines can create beautiful surroundings that offer a more peaceful and spa-like feel to the showering area. You can also consider adding an overhead trellis above the unit, where vines and plants can create a natural canopy for additional privacy and a more natural aesthetic.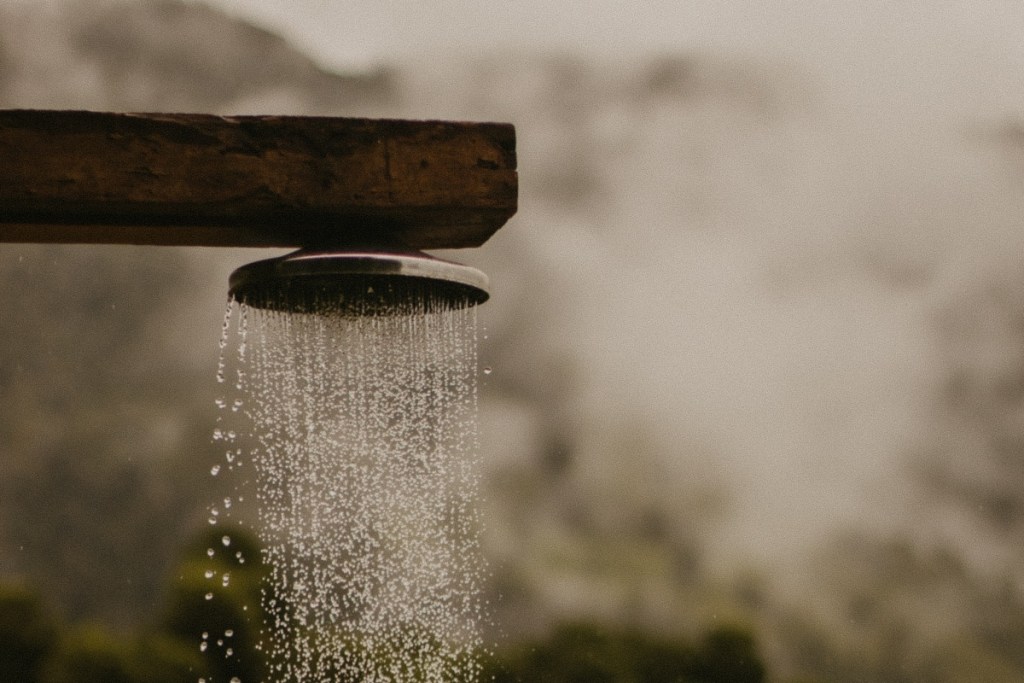 Consider adding a bench
If you want to add a functional yet luxe touch to your outdoor shower, consider adding a bench. Shower benches are great for people of all ages to give them a space to sit and rinse off without slipping or falling. Additionally, this makes washing off your feet much easier. Shower benches also provide additional storage. If done properly, you can lift the bench top to reveal a hidden storage space for any equipment or shower essentials.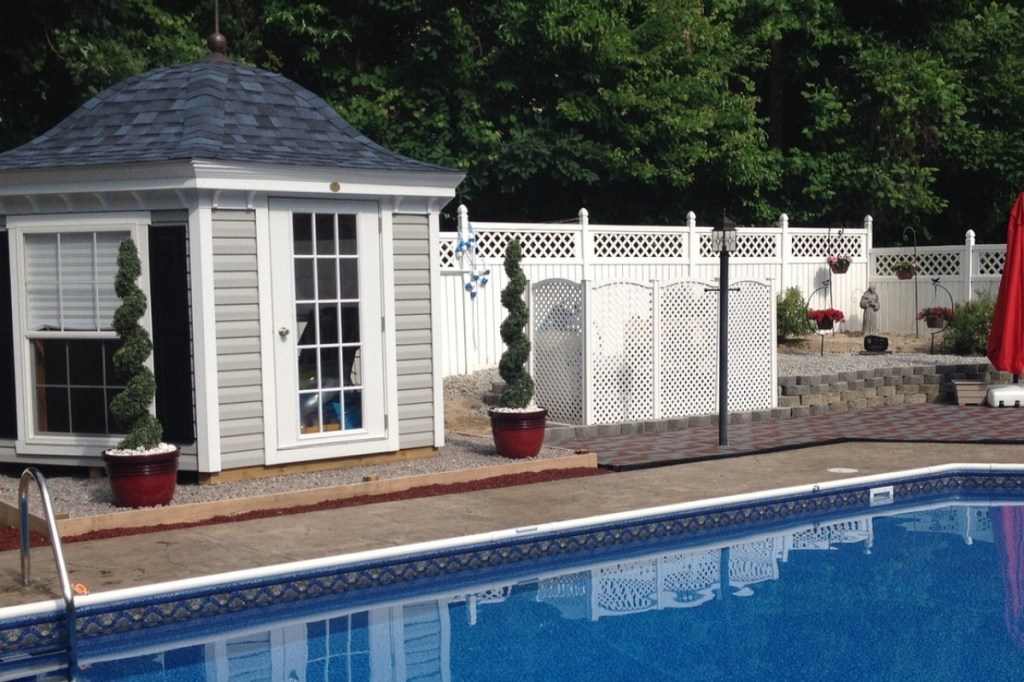 Place it in the right location
The outdoor shower needs to be secluded enough to allow for privacy and relaxation, but close enough to the pool or house for easy access. Keep in mind that placing the shower unit in the right location will help heighten its appeal, allowing it to feel more like a sanctuary. While it needs to be within easy access, you don't have to sacrifice form over function. If you're limited on where to place the shower unit, just be sure to do your best to integrate it into the landscaping with natural materials and plenty of plants.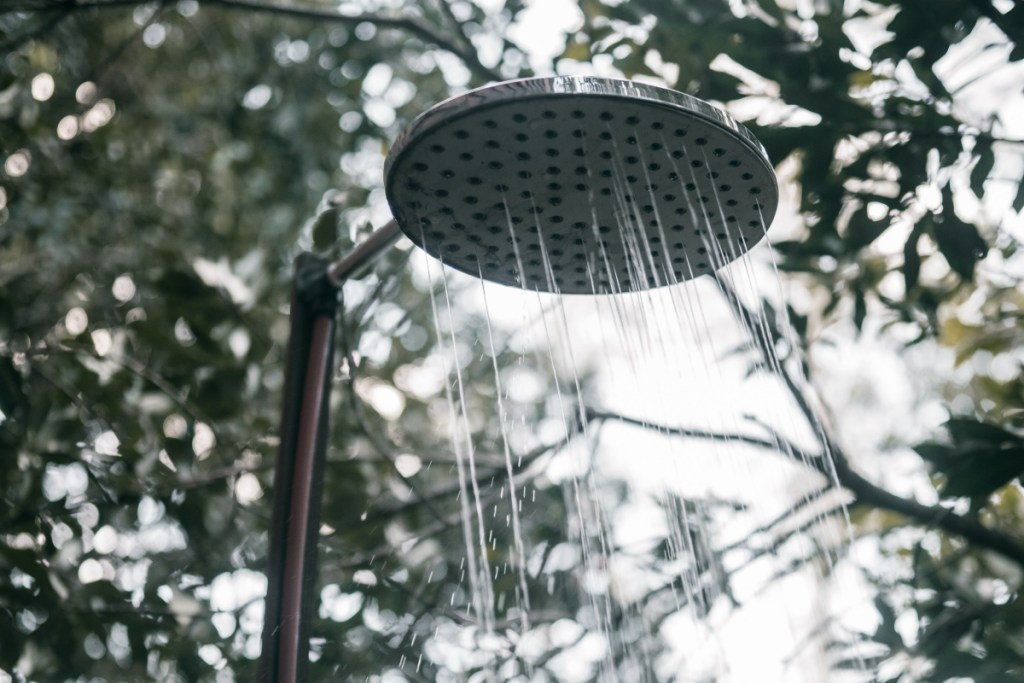 Hide the storage in plain sight
Outdoor showers require more than just a few pipes and a privacy wall. Towels, shoes, soaps, and beach gear need to have storage space nearby, particularly if you plan to use your shower frequently. So, choosing storage bins and organizers that blend with the design will prevent these objects from becoming eyesores. Aside from a built-in storage bench, you could also consider purchasing an outdoor storage unit that matches your shower design.
For example, if you're using cedar for a privacy wall, consider finding a cedar storage unit to house your materials so that two backyard additions match. You can also choose a plastic storage bin so long as it has similar tones to your shower unit. Or, tuck the bin behind its own wooden privacy wall to make it more discreet.
The outdoor shower is a fantastic addition to any property, where a quick rinse after a dip in the pool or ocean can help keep the interior of the home clean. But it's important to style this outdoor unit to prevent it from looking tacky or distracting from the flow of the landscaping. Use these tips to help blend the outdoor shower into your backyard design, and remember to treat this space like a sanctuary so it exudes a peaceful appeal.
Editors' Recommendations