Organizing hot spot areas in the home is at the top of many homeowners' to-do lists, and the bathroom is usually one of the most challenging rooms. Having a small bathroom, though, makes it difficult to keep this high-traffic room tidy. The good news is, since tiny bathrooms are a common woe, creative ideas for maximizing storage space in the bathroom are plentiful. Here are our seven favorite small bathroom storage ideas that you may not have heard about yet.
How do you store towels in a small bathroom?
Everyone who uses the bathroom uses towels, whether for showering, washing hands, or cleaning. Keeping towels on hand in a cramped bathroom can be a challenge, though, so we looked for towel storage solutions that could hold several towels without taking up too much valuable space.
Use a ladder
Decorative ladders are all the rage. Their openness has a minimalist vibe that keeps the room feeling more spacious than an obtrusive piece of furniture like a cabinet or bookshelf. They're perfect for small bathrooms for this reason, and they don't take up a ton of floor space. You can use a ladder with small rungs to hang towels to dry, or you can find one that has wider rungs to be able to store items on them.
Install floating shelves up high
Take advantage of underutilized wall space by hanging floating shelves above your head to store towels. These shelves won't make the room feel more cramped since the eye-level portion of the wall remains uncluttered, but you'll still have your bath and hand towels within reach.
How should I store my bathroom products?
When it comes to bathroom products, most homes have a mountain of them. Keeping all those essential products, from cosmetics to cleaning supplies, organized and accessible is the key. The space under your sink is valuable real estate in the bathroom, so here are some under-sink storage ideas to keep your essentials both tidy and useful.
Hide under-sink storage with a curtain
Most small bathrooms, particularly in older homes, simply have a single pedestal sink with no storage underneath. If this is the case for your bathroom, a good way to use the space without creating a cluttered eyesore is to hang a decorative curtain around the sink to hide your storage bins.
Lazy Susan
If you have cupboards or some other hidden storage under the sink, you're among the blessed. Keeping your items accessible on the countertop or under the sink can still be a challenge, though. That's where the lazy Susan comes in. Typically used in the kitchen to store canned goods and spices in tight spaces, this turntable storage plate can also serve as bathroom product storage that keeps your essentials accessible.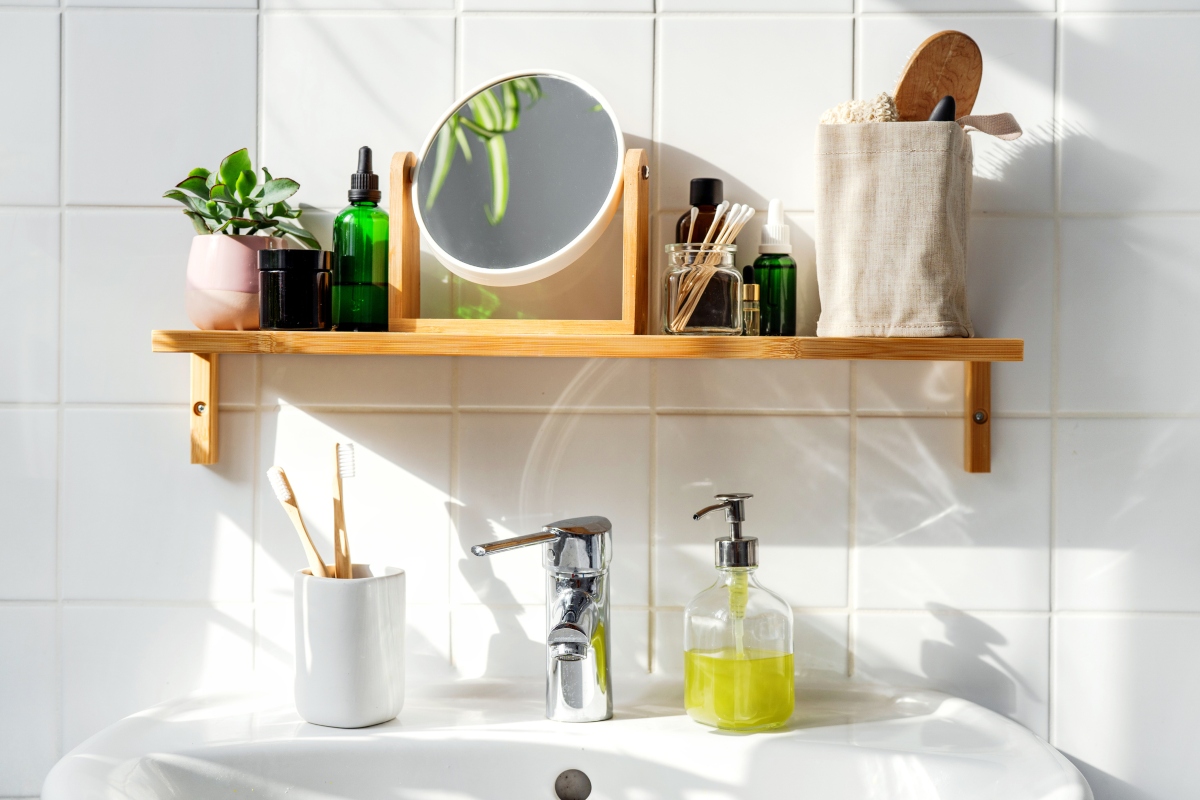 How do I add storage to a small bathroom?
Some bathrooms are so limited in storage that you may need to get creative when adding much-needed storage. Here are some space-conscious ideas for additional bathroom storage that will keep your bathroom essentials both organized and out of the way.
Hang a magnetic organizer
Use your wall space with a magnetic hanging organizer. This can be as simple as purchasing the wall organizer and hanging it up, or as involved as painting an old glass picture frame with magnetic paint. Then, adhere magnetic strips to the back of your small cosmetics or other lightweight products and toss them up on the wall.
Add a tiny piece of furniture
While most small bathrooms don't have the space for a bookshelf or cabinet, there are other furniture items that are more compact and could help with additional storage. A small bar stool, for example, can fit between the toilet and the shower and serve as a small shelf. Some styles may even allow you to store a small basket on the rungs under the seat.
An etagere — a type of bookshelf that has open storage — is another option to keep the room feeling spacious. Find one that's narrow enough to go against the wall, and you'll have ample additional storage for bins, baskets, or products.
Add recessed shelving
If you're feeling particularly adventurous, you could take on a bit of a DIY project in your small bathroom and add some recessed shelving into the walls or in the shower. These shelves are set into the wall itself and take advantage of wall space without taking up room in the bathroom.
A small bathroom doesn't have to be a struggle, as long as you've got the right storage solutions. Whether you take advantage of limited floor space, wall space, or under-sink space, getting creative with bathroom storage is essential when space is limited. With these seven unique storage trends, you'll be able to have all the bathroom essentials you need without overcrowding that already cramped room.
Editors' Recommendations