Your entryway is the first area guests see when they walk into your home. For many, it's not an overly large space, so decorating your entryway to maximize space is critical. Since this space can get overrun with shoes, coats, and bags, you need to consider design ideas that work for you and your family. It's important to take a step back and think about the functionality when adding any furniture, coat racks, or decor to ensure you're not making the problem worse.
Entryways can (and should) also give guests a brief view of your overall aesthetic and design style, so you want to consider the rest of your home's design before decorating yours. Here are some tips and tricks to decorate an entryway and avoid mistakes that can make it feel closed in and cluttered.
Don't let clutter pile up
The worst thing you can do in an entryway is to fail to account for clutter. If you have lots of people coming in and out and there are shoes everywhere, consider a bench with storage inside to keep shoes in, like this one from Pottery Barn. We like this option because it's fairly shallow, which works well if you have a skinny entryway, and it has four drawers for items like shoes, gloves, and hats.
If you are short on space, avoid bulky furniture that can make coming in and out more difficult. Entryways should be where you welcome guests, so avoid any furniture or decor that will make them feel like they're going through a maze to get inside your home.
Don't forget to maximize light
Entryways can often be dark, making them feel stark and uninviting. If you don't have a lot of natural light coming in, you may want to consider putting in a new front door with side windows built-in. It's more of an investment, but it will make a big difference.
If that's out of the budget, try adding lighting via a floor lamp, wall sconces if you lack floor space, or a big chandelier that gives off adequate light overhead. If you do have some natural light, consider a mirror on one wall to reflect that light into the rest of the space.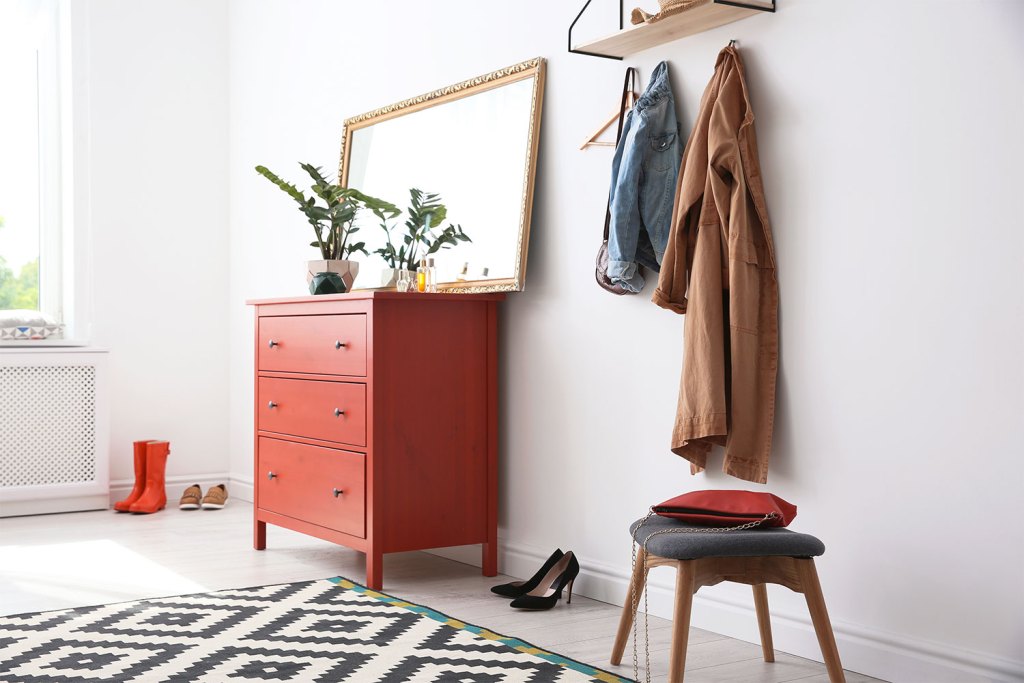 Don't choose the wrong type of storage
Entryways are the ideal place for multifunctional decor. The bench mentioned above would be a great place for smaller clothing items, but don't forget about purses, wallets, keys, backpacks, and other necessary items that should be within arm's reach when you leave for the day.
This wood hall tree from Wayfair gives you room for coats and bags as well as shelving for things like phones, keys, earbuds, and other items to get them out of view. It's nice and narrow, and it comes in a variety of colors to add a bit of character and color to your entryway.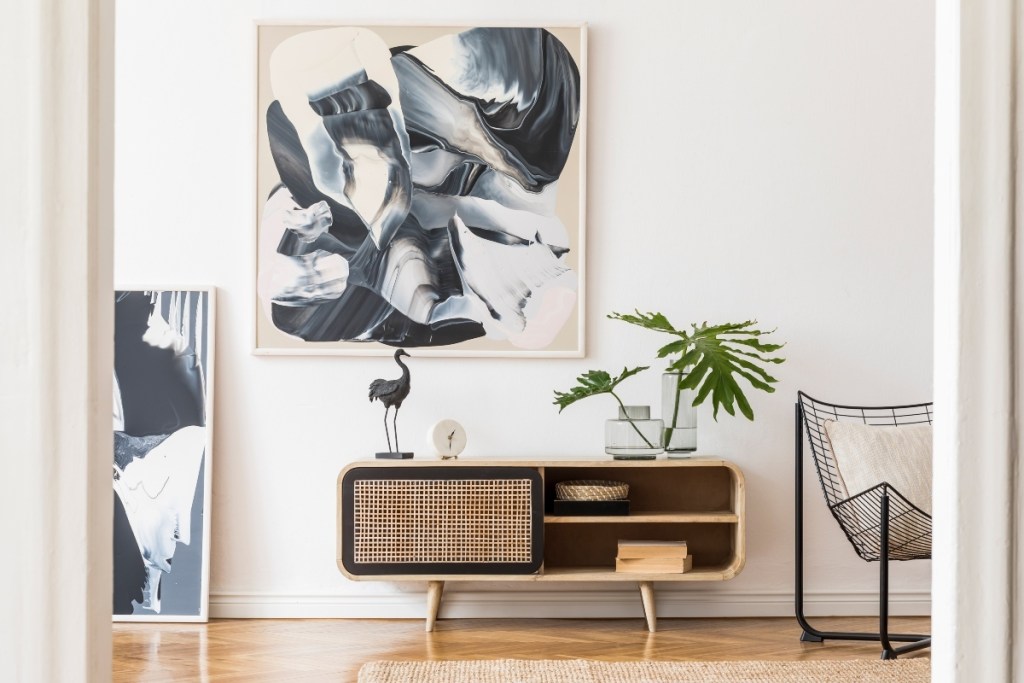 Don't neglect your walls
To keep your entryway stylish, why not add a bit of personality with wallpaper or a feature wall with a bright pop of paint? While darker colors will make the space feel more closed off, they can offer an inviting and warm feeling when coming into your house.
If you have a small entryway and want to keep it light, you can hang a lighter wallpaper with texture, like this embossed white wallpaper from Wayfair. It gives just enough interest without being overwhelming. Then, you can play with color in another area through wall art or a small stool in one corner.
Don't forget about the floor
Finally, invest in a good entryway rug that will stand the test of time and hold up to the elements. Shoes will track in rain, mud, snow, and other debris, so you want an easy-to-clean rug that will hide stains and dirt. We love Ruggable rugs because they come in a ton of colors, designs, and sizes and are washable. Just pull them up, throw them in the washer, and put them back in place when they are dry. It makes maintaining a clean entryway a breeze, which isn't always easy in a high-traffic area.
The key to nailing an entryway that works for you is that less is more. Even if you have a large entryway, you don't want it to feel closed off or cluttered with big furniture. Similarly, using a ton of different colors can come off as overwhelming when someone first enters the home, so stick to two or three primary colors and leave the rest for other parts of your home.
Editors' Recommendations