Nothing says, 'Welcome to my home,' like the timeless elegance of a styled entryway. If your foyer feels a little bland, even after you've furnished it with a table or bench, what you may be missing is the right wall decor. Dressed walls give your home entrance an element of style that shows off your good taste and personality. With our unique entryway wall decor ideas, you'll be proud to open up your home with an entrance that makes guests feel right at home.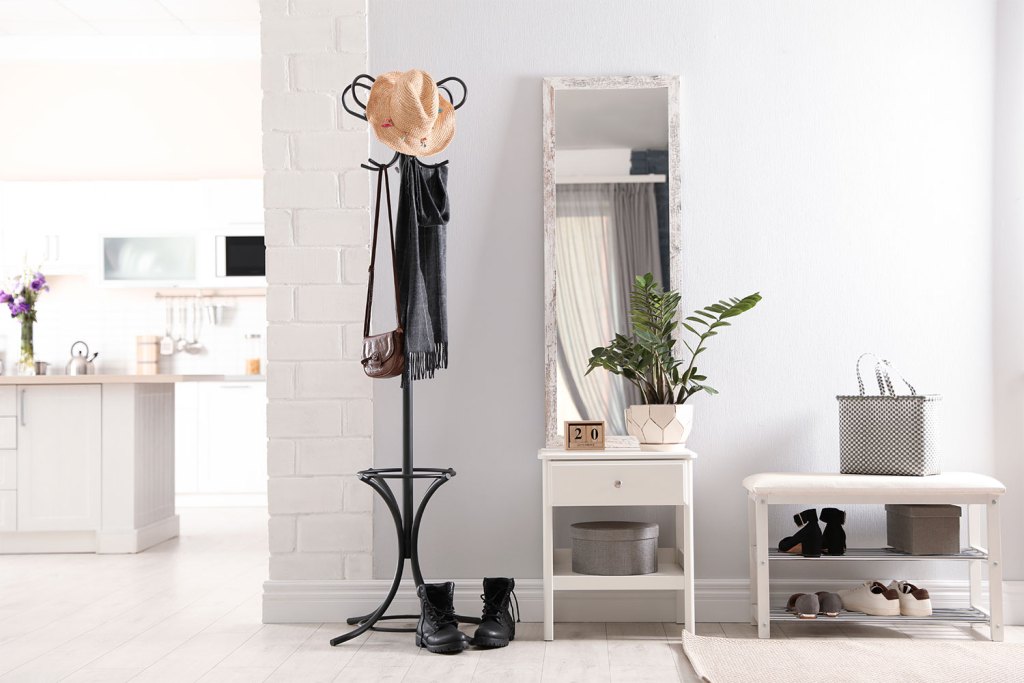 Classic mirror
Mirrors are a graceful decorative element that works great for most entryways. They create a stunning first impression by reflecting light and making your entrance feel more spacious. Even when your foyer doesn't have any windows, an entryway mirror is the ideal wall decor to add brightness and sophistication.
Decoist says, "Mirrors are perfect for entryways because they help brighten things up by reflecting light (even when there aren't many windows nearby) and create the illusion that the space is actually bigger than it really is."
To create the greatest impact, place your mirror directly facing your front door so it's the first thing that guests see when they enter your home. If you have a console table, the mirror should hang 6 to 8 inches above your table to allow space for tabletop decorations.
Placing a mirror off to the side of your entryway can immediately make your home seem larger — especially if it reflects staircases, hallways, or larger rooms.
Choose a mirror shape that complements the architecture and decor of your home. Round mirrors are ideal for houses with clean lines, while extra-tall mirrors look striking in foyers with high ceilings.
Coat rack
Entryways can be as decorative as they are functional. With a coat rack on your entrance wall, family and friends can hang their jackets, bags, or keys every time they enter your house, states Bob Vila. This keeps the rest of your place organized while making convenient use of your walls.
For a more high-end look, paint the wall in a color that makes it stand out, and hang strategic props along it, such as a pretty hat or a beautiful scarf. You can also pair your wall coat rack with a chic bench to create a cozy nook that invites guests to take a seat and get comfortable.
Floating shelf
For a clean and polished entryway, a floating shelf can be the perfect addition that won't clutter your space. A floating shelf creates a seamless surface area where you can place decorative elements while leaving open space on the walls.
Chris George Homes lists several benefits of a floating shelf: easy to install, cleaner look, less space needed, and more.
Floating shelves look great when paired with floor vases, baskets, or rugs. The lack of legs allows you to bring in additional accessories without making the room feel small.
Wall lighting fixture
Looking to make a statement while adding brightness to your entryway? Wall lighting fixtures are the perfect home decor accessory to dress walls while incorporating light to your home entrance. With beautiful lighting fixtures that match your architecture and interior design, you can add an interesting element to any entryway.
Artwork
Beautiful artwork is a classic and elegant way to decorate any wall. If you have a painting that you love, why not display it for all your guests to see as soon as they walk in?
You can also decorate your entryway walls with a collection of smaller pieces that work well together. This is an eye-catching interior design technique that makes your home entrance memorable, confirms Elle Decor. Guests can spend time looking at artwork pieces that are conversation starters and reflect who you are.
Wallpaper
Whether you hang artwork, mirrors, or shelves on your entryway walls, they can pop even more with the use of striking wallpaper or wallpaper border. For a striking look, choose a pattern that stands out against your other decorative elements. You can also go with a more harmonious entrance with wallpaper that feels balanced and recedes into the background to let your furniture shine.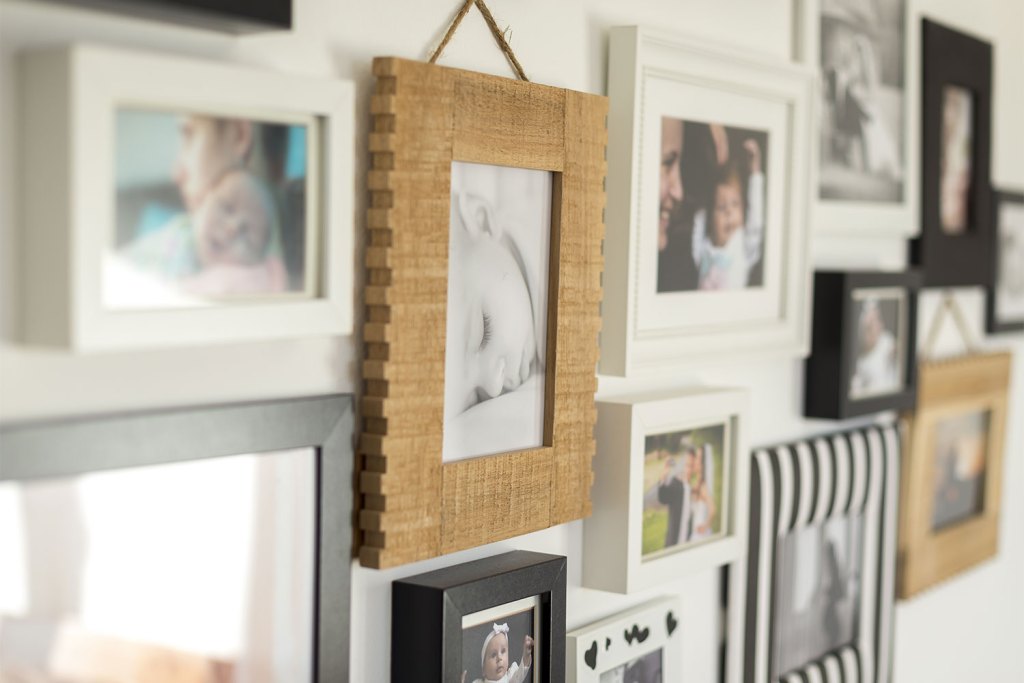 Family photos
If you want to welcome your guests and make them feel like family, the best way to do so is by decorating your entryway with photos. Display your favorite moments, casual memories, and special portraits to create a sense of warmth.
You can get creative with your frames and make them stand out, or choose picture frames that are all the same to highlight the photos. While some prefer photos of different sizes and many colors, others use pictures in black and white to create a vintage and uniform look.
Screen
If your home doesn't have an entryway and you'd like to create one, a standing screen can be the perfect way to add an interesting touch. This works especially well if you'd like a sense of privacy in a home with an open floor plan.
Whether you use your entryway walls for functional elements or decorative components, your home's entryway is the perfect opportunity to welcome guests and establish your home decor. With artwork, mirrors, or shelves, you can enhance this space and make it your own.
For more, take a look at our entryway ceiling lighting ideas inspired by modern and classical designs.
Editors' Recommendations