Your entryway is what gives guests their first impression of your home — and maybe even of you. It is the area that welcomes you, your family, and everyone else into your home. Sometimes, the entryway can be a small space, making it easy to forget about it when it comes to home design. Even though the entryway is typically a passthrough area of the home, it should still be treated with the same design aesthetic and attention as the other rooms.
One of the best ways to enhance and modernize an entryway is with wall decor. It will allow you to create a beautifully modern feel with some simple and quick touches. Check out these fast and easy wall decor ideas to help your entryway match the rest of your modern home.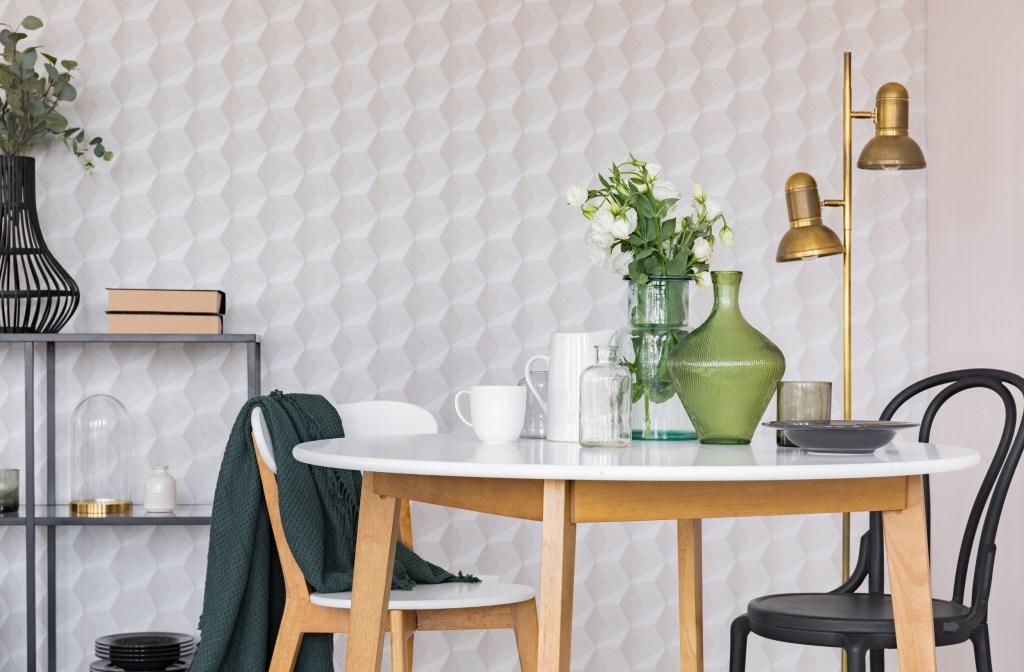 Graphic wallpaper
Wallpaper may not be your first thought when you think about decorating your entryway walls, but it can be a great and simple way to enhance that modern look. Wallpaper has been picking up in popularity recently, especially with new innovations like simple peel-and-stick wallpaper. Peel-and-stick wallpaper allows you to attach and remove wallpaper within minutes, making this project quick, easy, and far from permanent.
Choose geometric or graphic wallpaper to add a fun, modern flair to your entryway. You can make it colorful or neutral, but either way, it should feature sharp lines and geometric shapes to achieve that modern feel. You can choose to wallpaper your entire entryway or create a statement wall that will surely catch the eye. No matter how you utilize modern wallpaper in your entryway, you will love how quick, easy, and beautiful it is for achieving that desired modern appearance.
Oversized mirror
Mirrors make rooms appear larger than they are. It is a common trick used by interior designers across the world. Whether you have a petite entryway or a massive one, you will love how much a mirror can add to the space. A large circular or rectangular mirror is a great option when it comes to shape, and the frame of the mirror is just as important. Look for mirrors that are framed with bright colors to help you achieve a modern look. The mirror you choose should fit the space comfortably while being somewhat large. In modern design, large mirrors are a big trend, making this decoration idea a sure way to modernize your entryway.
Home Decor Bliss says mirrors add extra lighting to a small area such as an entryway. It reflects any outdoor lighting, making for a more warm and inviting room. For more, check out our guide about when you should (and shouldn't) have an entryway mirror.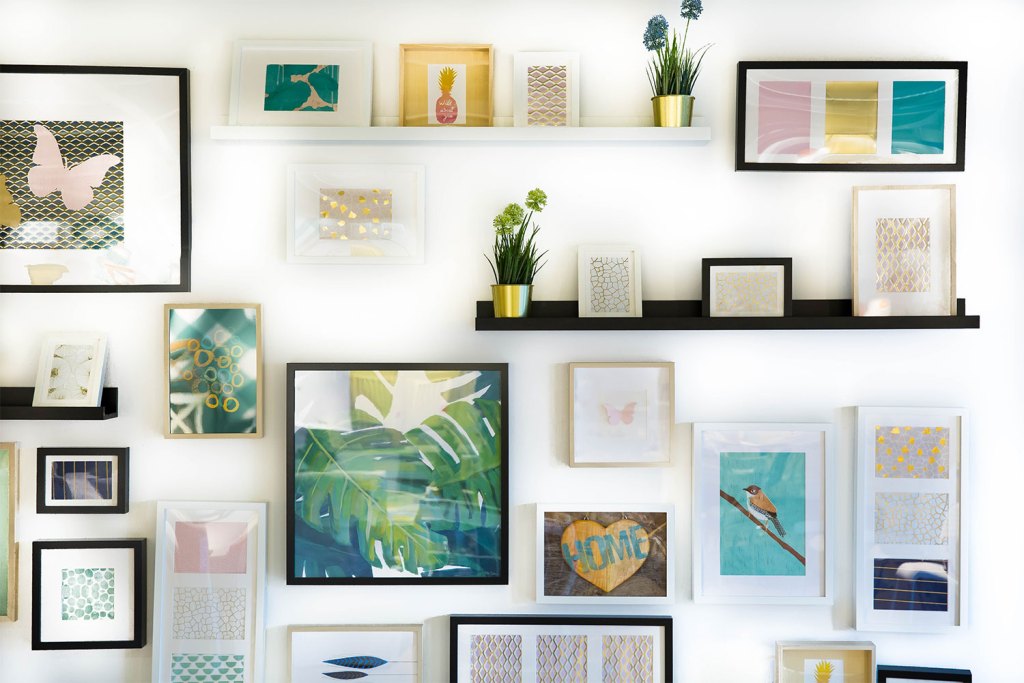 Picture frame collage
You have probably seen this common, modern trend on home design shows or in magazines. It is an easy way to display your favorite pictures or artwork while still maintaining that modern look. A picture frame collage can be achieved by taking multiple hanging picture frames and arranging them on the wall to create a collage-like look. Usually, designers utilize picture frames that are the same shapes but in different sizes, allowing you to create interesting patterns while still keeping the frames parallel to one another. You can check out a variety of cool picture frame wall art ideas online for some fun inspiration. Add brightly colored frames to bring home that stunning modern look.
Floating shelf
If you want to achieve a fun, modern look in your entryway while also adding some functionality, then a floating shelf is the decoration piece for you. A floating shelf is held up by two brackets and is usually made from a modern or rustic wood plank. Floating shelves also come in bright colors and clean lines, so you can easily find one that will best suit your style. It provides you with the perfect place for some extra storage for pictures, paintings, antiques, and more. Some come with hooks underneath, providing you with coat and umbrella storage. Floating shelves are known for their minimalistic and simplistic design, making it perfect for a modern entryway.
Founder of mybettershelf, Greg, admits that this area may be the last place one may think of decorating. However, because it's an area where everyone passes through, it can easily become crowded. Floating shelves offer a perfect solution to the gathering of miscellaneous things and adds a unique look to a simple yet useful room.
The entryway to a home is typically thought of as just a passthrough area, but that doesn't mean it should lack in style and design. As trends in the interior design world shift and change, it can be hard to keep up and stay modern. Luckily, with these simple and easy-to-do wall decoration ideas, you can keep your entryway looking modern, fun, and clean. All of these ideas are customizable to you and your space, making them perfect for whatever size entryway you have. No entryway is the same, so it is important to design your space with that in mind. Make it your own, and have a good time doing it, because designing a modern entryway for your home can be easier than you think.
Editors' Recommendations