Are you tired of the look and feel of your current cooking space? Do you intend to upgrade your kitchen ambience without shelling out serious money? Then, this article is worth a read. We will discuss some unique kitchen lighting fixtures you will love. These fixtures are affordable, they make a statement, and they'll brighten up your kitchen and enhance your existing design. For clarity, we will discuss these unique kitchen lighting fixtures by styles.
Elle Decor states, "In spaces where you spend the majority of your time, considering the custom details that you're truly passionate about can transform the look—and feel—of the space."
For clarity, we will discuss these unique kitchen lighting fixtures by styles below.
Under-cabinet lights
These unique kitchen lighting fixtures are available in different designs and sizes whether you want traditional white lights or you're more adventurous and prefer colored lights. A few choices include LED dimmable light strips, LED direct-wire lights, LED linkable light fixtures, and LED plug-in linkable lights with dimmer switch. Some are portable task lights while others are battery operated and even wireless.
Pendant lights
While some may argue that pendant lights are going out of style, many interior designers disagree. Two places they are still hugely popular are the kitchen and the dining room. You're most likely to find them as stylish accents hanging over islands and peninsulas. These fixtures come in a variety of styles — from classic to farmhouse to industrial to coastal — and are available in both open and enclosed fixtures. Country Living suggests, "When bulbs are exposed, try the more attractive [blub]."
There also are a number of options when it comes to finishes, such as bronze, black, nickel, chrome, brown, and even brass. With so many choices, you're sure to find lights to suit your existing kitchen design as you brighten up your cooking space.
Island lights
Island fixtures are where you can really let your imagination soar. The many unique designs and color choices allow you to make these a focal point of your kitchen. You can choose a five-light vintage brass chandelier if you prefer a classic look or oversized, urn-shaped pendants to make a bold statement. Linear chandeliers offer a clean, modern look while lighted pot racks have a more vintage vibe. Island lighting options are available in myriad sizes and finishes, so you'll have no trouble finding ones that complete your kitchen design.
Sebring Design Build offers this advice, "Whatever lighting you choose has to be ideal for different situations from cooking to dining to food preparation and anything else that takes place on the kitchen island. At the same time, you have to make sure the lighting maintains the island's aesthetics and complements the kitchen's overall décor."
Track lights
If you like a clean, minimalist look, then track lights could be the right choice for you. They come in a number of finishes and are available in everything from three-light, white LED kits with mini cylinder heads to five-light, black flexible fixtures. Standard track lights usually come in 2-foot, 4-foot, 6-foot, or 8-foot lengths. Most tracks are flexible so you can configure the lights in whatever design works best for your space.
Flush-mount lights
This style of lighting sometimes gets a bad rap because flush-mount lights aren't usually as dramatic as other styles. Often, though, they are a more economical choice, and if you have low ceilings, then they are the perfect choice! One thing to keep in mind before purchasing one of these lights is to measure your kitchen. The size of your room will determine the size light fixture you need. You don't want it to be dwarfed by the room, nor do you want a light to overwhelm the space. You'll also want to consider the wattage depending on whether a bright light is needed for the space, such as over a food prep station, or if a softer light will work, such as over your kitchen table.
Mini pendant
This style of light is just a scaled-down version of the pendant light. They are a good choice if you don't have a large amount of space or if you want to make a statement but don't have a huge budget. You can use these lights over a kitchen island or bar to add a bit of contemporary flair or you can use a cluster of mini pendants to make an impressive and unique chandelier. Styles, finishes, and designs are endless so you are only limited by your imagination!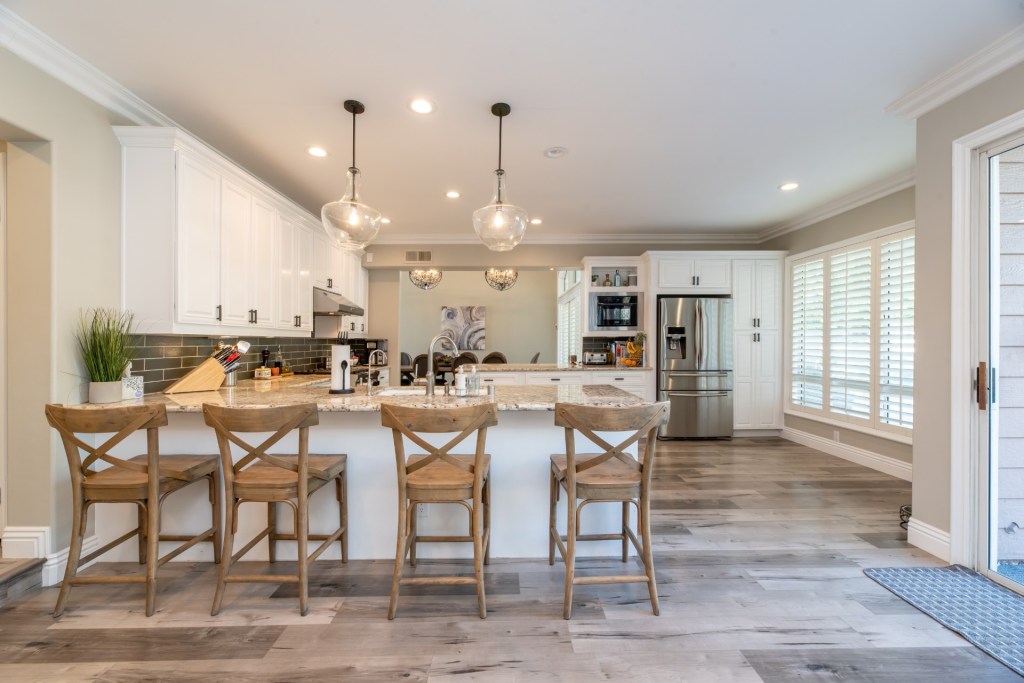 Chandeliers
With the right space and the right chandelier, you can make a bold and dramatic statement in a room. While most everything in your kitchen is purely functional, your lighting choice can be fun and reflective of your personality. A beautiful chandelier hung in the center of your cooking area is totally unexpected and can take your kitchen from good to glamorous. For instance, if you have white cabinetry, a crystal chandelier can be breathtaking. There are so many chandelier choices available, whether you love modern design or simply adore French country.
LED panel lights
One of the most economical lighting options is the panel light. They are basically an updated version of the old fluorescent lights you saw in your grandparents' kitchen! While they are still prevalent in industrial buildings, you may not know they also are available in updated designs that can be extremely attractive in your kitchen — especially if you enjoy a sleek, minimalist design. One style, for instance, features a large light panel suspended from your ceiling by four, thin steel rods. Don't be too hasty to discount these efficient lights for your kitchen space.
As you can see, there is a wide range of styles and finishes when it comes to kitchen lighting. There are no right or wrong choices — it's simply a matter of what speaks to you and makes you happy.
Editors' Recommendations