Maximalist decor is one of the latest trends reinventing how we use pattern and form in home design. Characterized by bold prints, vibrant color palettes, lots of texture, and quirky decor pieces, maximalism urges homeowners and designers alike to include self-expression within their designs. While this trend has many folks itching to get started, modernists eager to participate in this design style may find themselves unsure how to properly adorn their space without losing their beloved roots.
If you're a modern home decor enthusiast who wants to take part in the new maximalist trend, here are a few ways you can go about blending these two opposing styles.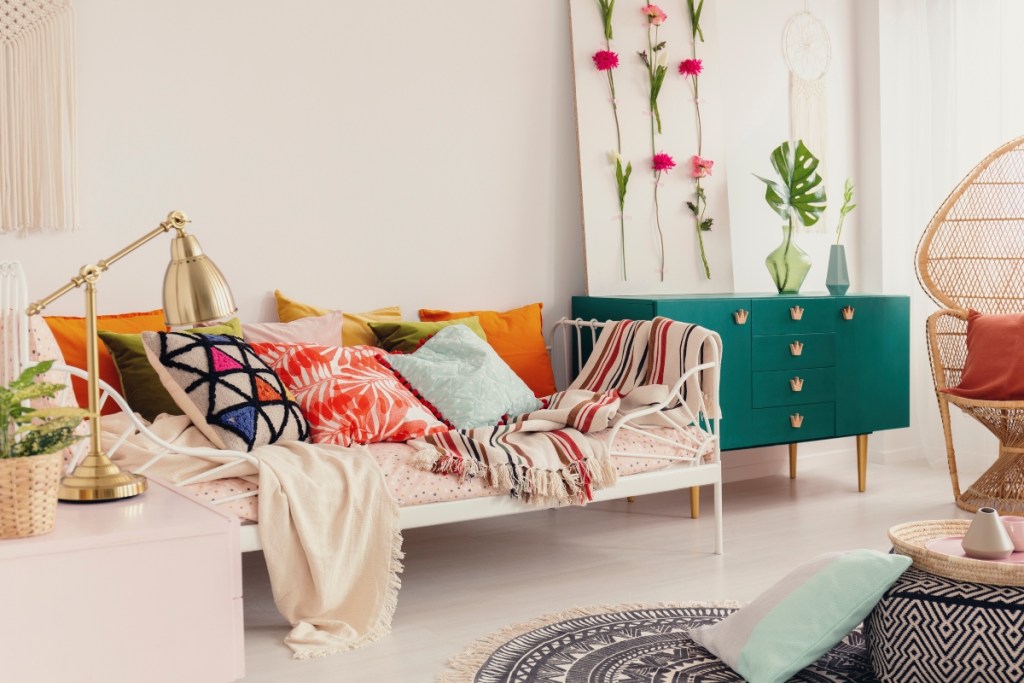 Experiment with pops of color
One way these two styles differ drastically is through the colors involved in their designs. Modernity favors muted tones, often through neutrals or monochrome. Alternatively, maximalism expresses its unique style through bold and vibrant color palettes. While it may seem near impossible to create a union between these two styles through color, the solution is far more straightforward than you might think.
The trick is to experiment with pops of color. Consider adding a fun accent wall, a vibrant rug, or a richly colored chair into the design. Rather than sticking to neutrals, try branching out with small accent colors around the room. While muted colors may be the most appealing solution for modernists, we encourage homeowners to go bolder for more saturated tones. The trick to maintaining a modern aesthetic with a maximalist twist is to add color in moderation. Allow the existing neutrals in the palette to blend cohesively with the bolder, more lively hues.
Add a patterned rug
A great way to participate in the maximalism design trend is to add a patterned rug to your space. Animal print, floral, and vibrant geometric patterns work wonderfully. Try to avoid solid-colored rugs, especially those that lean heavily into a neutral palette. The goal is to step outside your comfort zone and pick something vibrant and unique. Additionally, colorfully patterned rugs look stunning alongside glass coffee tables and neutral sofas or chairs. The patterned rug adds more vibrancy, highlighting the airy feel of most modern designs.
However, if you have opted for a colorful couch or other brightly toned furniture, we'd recommend skipping the patterned rug for a more neutral selection. In order to find balance within a modern meets maximalist design, you need to have an equal blend of both color and neutral. For example, a blue sofa will look better on a neutral rug. Alternatively, a grey sofa could benefit from a colorful floral patterned rug.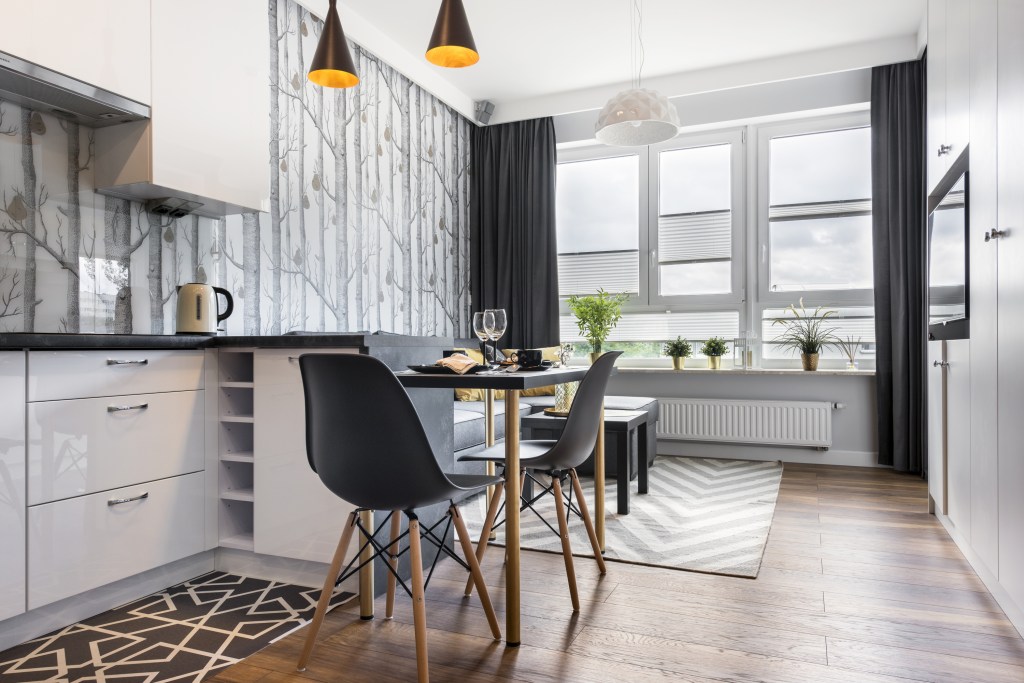 Try out a patterned wallpaper
As you lean into the maximalist style, you might find the urge to add an accent wall to your space to highlight your creativity and the room's overall ambiance. Instead of a plain coat of paint, try using patterned wallpaper. With so many options to choose from, you can go as bold or subtle as you like. Just make sure that the wallpaper has room to stand out and become a feature or focal point in the room. Additionally, take note to create a sense of cohesiveness between the wallpaper, furniture, and any patterned rugs involved in your design. Balance is key!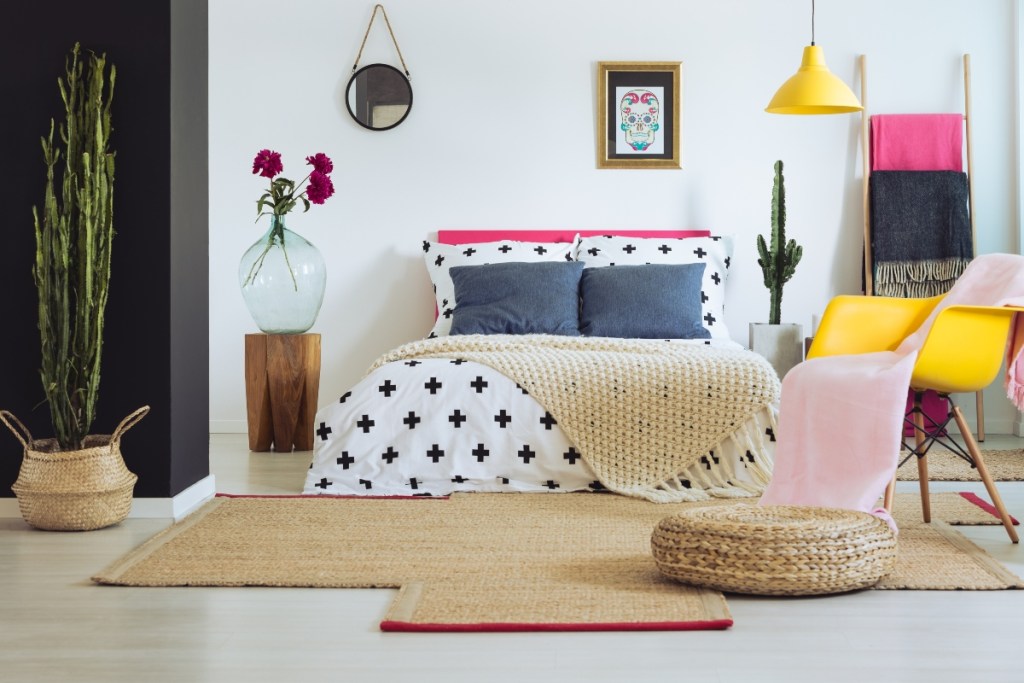 Play around with texture
Texture is a staple in maximalist decor. And while it isn't as prominent in modern home design, that doesn't mean you can't play around with it a bit in your own space! Consider the different textures in your room. Suede, cotton, faux fur, leather, wood, and metal are some common textures you might come across. For example, you may have wood flooring with a faux fur rug, a glass coffee table, and a suede sofa. Try to have color variation between the fabrics, but do so with subtlety. To really hone in on the modern aesthetic, choose different neutral colors for blankets, pillows, side tables, and lamps to keep things minimal while also experimenting with texture.
Use wall art to your advantage
You don't have to have a fancy wallpaper, a large bold-patterned rug, or a colorful sofa to add a maximalist aesthetic to your modern space. Wall art can be a fantastic way to add more color, pattern, and quirky pieces to your design without going overboard. We recommend creating a gallery wall with picture frames, mirrors, and wall prints of all shapes and sizes. Get experimental with it, and try not to let the scheme become too streamlined or rigid.
There's a tendency in modern home design to line things up in a neat and tidy way. However, in maximalism, a bit of a chaotic and messy appeal is adored. Try to create a more sporadic and disorderly gallery wall with splashes of color to boast an exciting feature alongside your modern decor.
Modernism and maximalism are quite different, but with a little care, they can blend quite beautifully together. The key to achieving a successful union of these two styles is to maintain balance. Have a blend of both neutrals and pops of color within your palette. Additionally, don't shy away from having a straight-edge, streamlined furniture layout with a funky gallery wall or a variety of textures and patterns. Through subtlety and simplicity, you can have a stunning modern meets maximalist design.
Editors' Recommendations