So, you've started redecorating. You have a color scheme, layout plan, and the perfect decorative pieces to bring your entire design to fruition. But have you considered how texture will play into your design? Texture is often an overlooked aspect of interior design, and many homeowners forget or are simply unaware of how crucial this can be when it comes to decorating their home. Even in a home filled with color and light, it may look two-dimensional without a variety of textures.
In this article, we'll cover precisely why texture is so important in home design and how you can use it to enhance your style and create more depth in your space.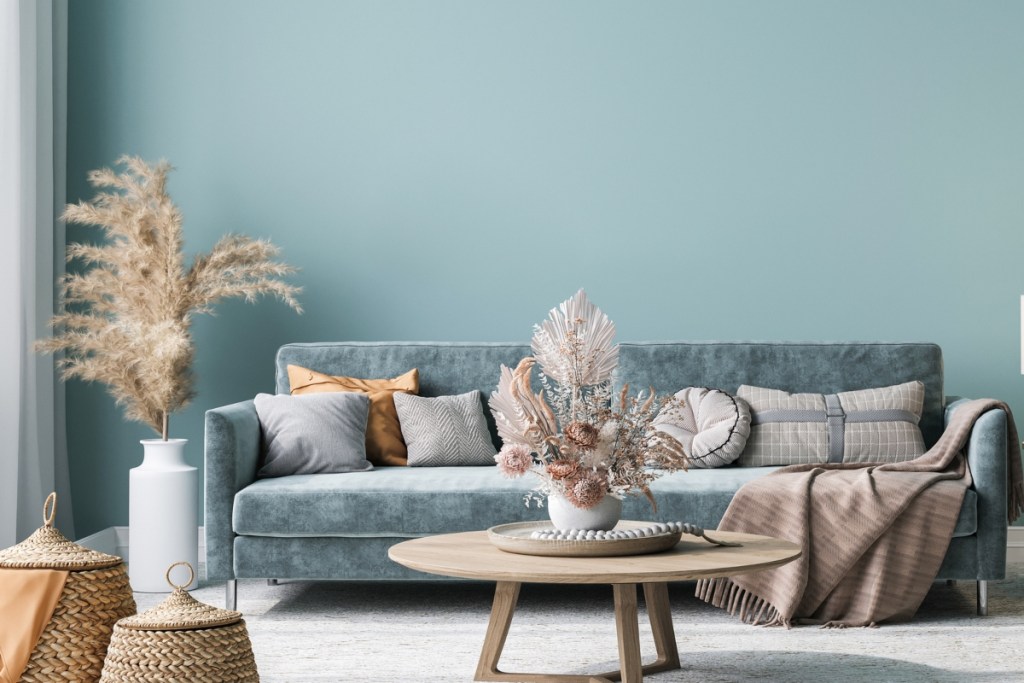 Why is texture important in home design?
Texture can completely transform your design from flat and bland to exciting and stimulating.
Adds dimension
Above all, texture adds dimension to your space. Without textured materials like chunky fabrics, metal surfaces, natural wood, or woven baskets, your room can become flat and dull. May homeowners will opt for one type of fabric, like wood, or other materials to feature throughout their space. However, this can leave the room looking a little lifeless. By using different textures throughout your design, you can bring more vitality to your space and encourage guests to take a closer look at all the details you incorporated into this space.
Creates an element of comfort
In addition to visual appearances, texture can often add an element of comfort to your design. Textiles, in particular, are perfect for adding a sense of coziness and tranquility to your space. However, materials like wood and brick can also elicit feelings of ease, invoking images of a toasty cabin or rustic farmhouse. To put the importance of texture into perspective, imagine that you're in a room with blank walls, a sleek glass table, and a fabric couch. Without additional elements of wood, brick, or alternative fabric, the space can feel stark and barren, almost like a hospital — not a home.
Enhances detail
Texture also enhances the details in your room. Different textures draw the eye. For example, a fuzzy throw pillow may initially grab a guest's attention, but their eyes will linger around space, encouraging them to also take in the antique furniture, industrial finishes, and solid wood floor.
How to add texture to your home design
While there are several ways to go about adding texture to your home, the following are some of our favorites.
Use blankets and pillows
Use blankets made of different materials with different levels of thickness or sewing patterns to add variety to the space. For example, a chunky knit blanket paired with a thin cotton back pillow is sure to make all of your friends and family want to cuddle up. Layering materials is the most effective way to incorporate texture in your design to create a visually appealing and comforting space.
Opt for woven or metal baskets
Woven and metal baskets are another great way to add texture to the space. Depending on your style, you might prefer to use one or the other. Modern aesthetics pair well with industrial, metallic finishes while rustic designs call for rattan or wicker baskets. These pieces are also functional, adding a little extra storage when placed next to tables, shelves, or fireplaces. A large basket filled with cozy blankets beside the sofa is always a fantastic look, and it certainly comes in handy on chilly winter nights.
Use leather pieces
Whether you opt for faux or genuine leather chairs, decorative pieces, and stools bring a sense of strength and sophistication to any room. Alternatively, you can invest in leather poufs, benches, wall decor, or even picture frames to suit the needs of your space.
Go for natural wood
If you want to bring some of the outdoors inside, incorporate natural wood to blend nature with your home's design. Natural wood tables, chairs, and benches also add a lovely rustic touch. Alternatively, you can keep things simple with a traditional wooden bowl, decorated wood box, or wooden picture frames for a subtle textured element that doesn't make your home look like a log cabin.
Regardless of your design style, adding various textures is a must. Blend faux fur, leather, wood, metal, and other materials into your design, layering them to create a cohesive and sophisticated space. Next time you find yourself on Pinterest gathering inspiration for your next remodel, be sure to keep these tips in mind.
Editors' Recommendations