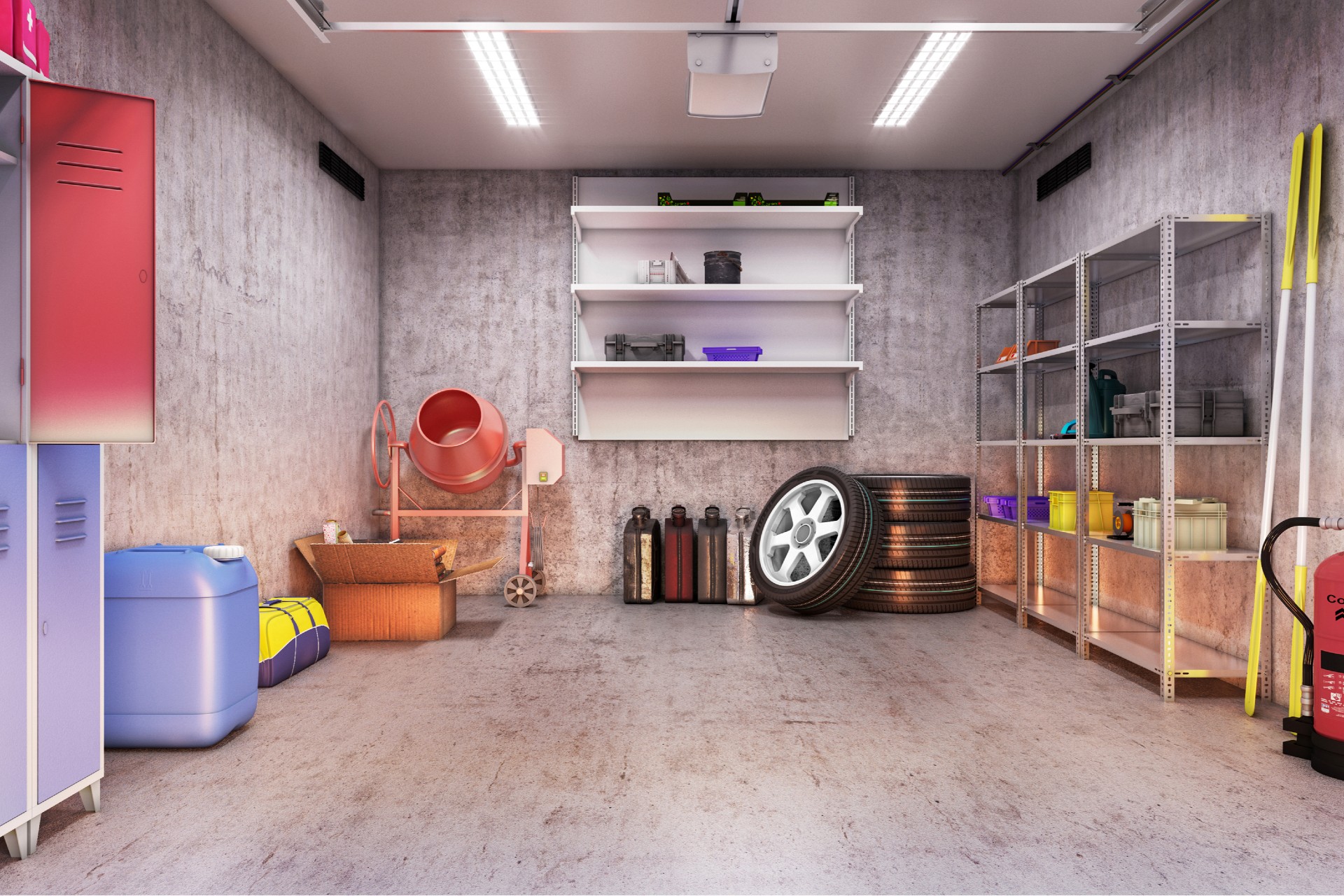 The dictionary describes a garage as a shelter for automotive vehicles, but for many of us it holds a lot more than that. From bikes and holiday decorations to tools and lawnmowers, it is a space that essentially serves as a household catchall. Even if you started with the best intentions, little by little a garage can take on a life of its own. After a while, the prospect of taming the beast feels overwhelming. It seems a lot easier to shove some more items in and shut the door.
The good news is with a strategic organization goal in place, it is easy to go from a cluttered mess to a neat and efficient space where everything has a place. The solution is to follow a plan, and in one weekend you will have a garage that not only looks tidy but functions the way it is supposed to. Here, we take you through how to turn your garage into a space that will have all the neighbors green with envy.
Plan before you begin
To maximize your time, ensure you are well-prepared ahead of time. The last thing you want to do is waste time running to the store. Make sure you have garbage bags, cleaning supplies, something to collect donation items, and empty plastic bins that can be used for storing what will remain.
Take stock
Empty everything out and learn how to declutter your garage. This clearing process is the very first step to almost any organization project. It is advisable to pick a day when the weather is good and lay tarps out on the driveway, so you can sort through items. Make piles — things to keep, things to donate, and things to throw away.
Once the initial purge is complete, you will want to go through what remains and put similar items in piles that will eventually be stored together. This will also help fine-tune how much storage is needed and what kind will work best.
Before adding anything back, thoroughly clean the garage. Sweep out any debris and address any issues such as grease stains. If you have extra time, this is also a good time to paint the garage floor. There are paints specifically made for this, and it will give you a fresh feel and elevate the look of your space.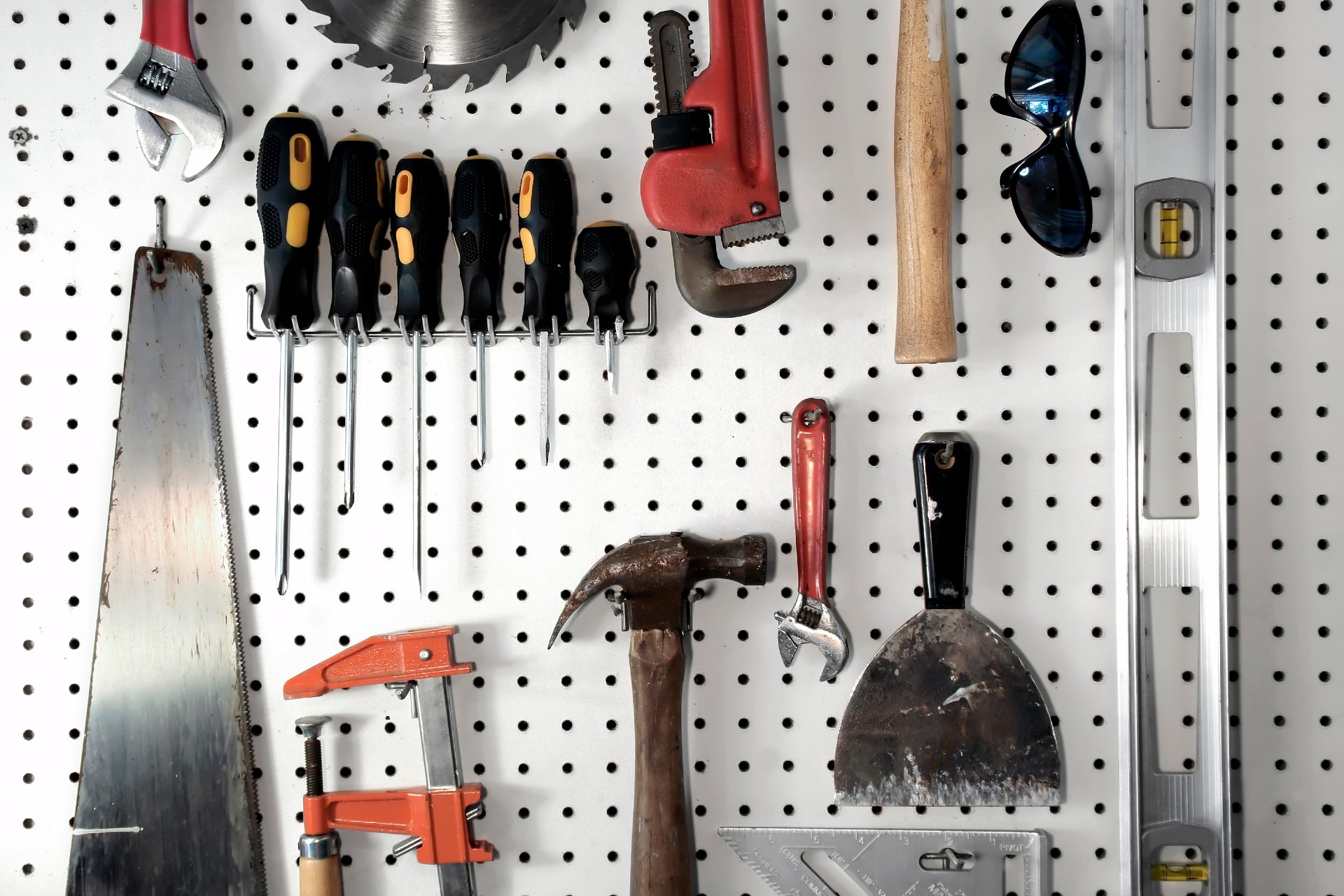 Be detail-oriented
Instead of focusing on the entire garage as a whole, break it down into smaller areas. By zeroing in on one section at a time, you can focus without getting distracted. Start by mapping out the things that will need the biggest areas in the garage and work around that. Each homeowner will have different requirements, and the amount of space needed will vary. If you have a green thumb, perhaps a garden station filled with essentials such as pots, watering cans, and tools is needed. On the other hand, if you enjoy home-improvement projects, a workshop area with tools and hardware may fit the bill. The key is to think about what works for your lifestyle and plan accordingly.
Think vertical
Instead of taking up valuable floor space, take advantage of the walls. Hang lawn tools on hooks or nails. Pegboards are great for smaller tools and offer flexibility. Shelving units can house plastic bins, each labeled and filled with grouped items. Rolling shelves are especially convenient in the garage because they can be moved around easily. In addition to walls, mounted ceiling racks are a great place to store items that aren't used frequently. If your garage is attached to the house, consider adding a wire organizer by the door for umbrellas, ice scrapers, or reusable shopping bags. This will allow for easy access on the way out.
Arrange with intention
Shelving units and cabinets work wonderfully for storage, but be sure to load them efficiently. Always put the most-used items on the middle shelves and the least-used on the bottom and top shelves. If open shelves are in the plan, use adjustable shelving that will work throughout the years as your storage needs change. If you are handy, a corner shelf is easy to add and offers a great location for cleaners, paint cans, or lawn care products. A quick internet search will give you step-by-step instructions on how to build one.
For more, take a look at our clever garage organization ideas that'll free up your parking spot.
Editors' Recommendations