If you are ready for the holidays and are biding your time until you can bust out your Christmas decor, you're not alone. This time of year is full of joy as family and friends gather to celebrate and welcome the magic of the season. If you don't have a large living room, there's no need to worry. You can create a beautiful, festive scheme in your small living room this season.
The key is to make the most of the space you have without designing a room that's overly thematic and kitschy. As long as you take advantage of the entire space, use lighting carefully, and invite color into your design, you'll end up with a living room that's warm, cozy, and ready for a little fa-la-la.
How can I make my room look ready for Christmas?
Use lights — lots of lights. We love Christmas lights, and they are a fun way to make a small room come to life during the holidays. If you have a fireplace in the room, hang string lights and garland around the mantel. If you have a mirror in the room, string lights around the frame to add a little extra reflectivity to your illumination.
Swap a house plant in place of a tree if there's no extra space. If you don't have room for a full-sized tree, decorate a house plant with ornaments and lights instead.
Use your wall space. Finally, use the windows and walls to hang wreaths of all shapes and sizes from decorative ribbons, giving passersby a sneak peek of the festivities inside. By using the space on walls, mantels, and windows, your room will still look festive without being over-cluttered, and you can save tons of floor space too.
How can I make my living room cozier?
Color: Use the warm, inviting colors of the season, like deep reds and golds, to create an atmosphere that's lively yet relaxing. Find throw blankets and seasonal pillows with these colors and toss them over your couch and chairs.
Scents: Find candles in scents like peppermint and hot cocoa and light them around the room.
Mood lighting: Instead of harsh, overhead lights, create a more romantic setting with soft string lights to give the space a sense of tranquility.
Textiles: As with any occasion that calls for comfort and coziness, use textiles like blankets and throw pillows to encourage family and friends to snuggle up and enjoy the cool, wintry night.
Now, all that's left is to slip into your new Christmas PJs, put on a holiday movie, and watch the snow as it falls outside.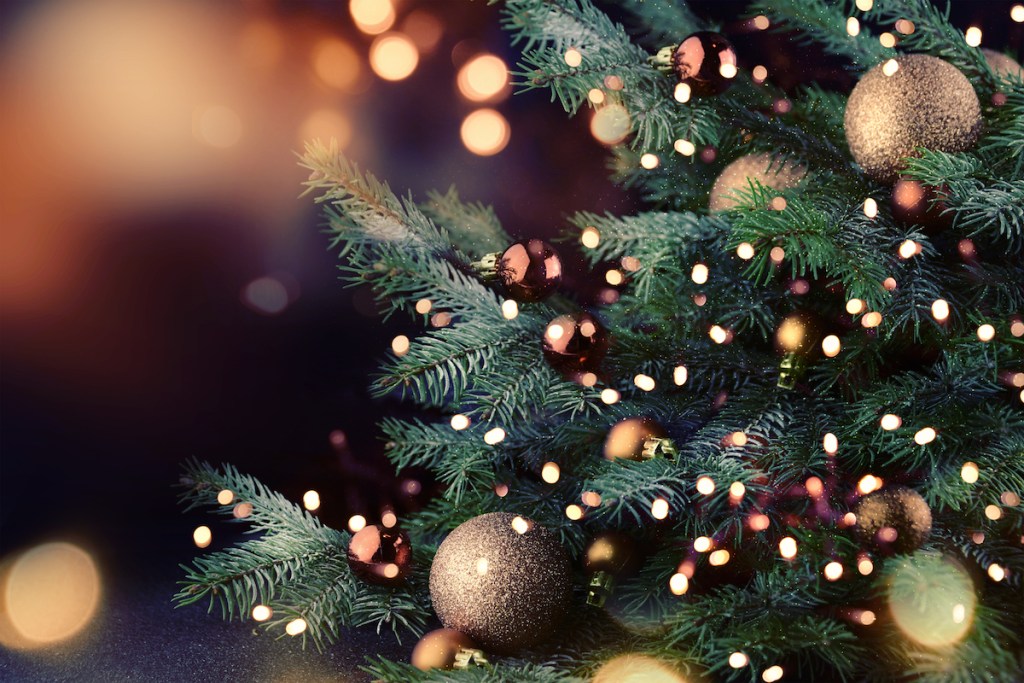 How do I fit a Christmas tree into my room?
If you must have a tree in your living room (and we don't blame you), all it takes is a little imagination to find the perfect spot.
If your living room is more narrow, consider buying a tall, skinny tree to sit in one corner of the room. Wayfair has a Pencil Slim 6-foot tree that is just perfect for a smaller room.
You can also consider putting a shorter, three-foot tree on a side table or fireplace surround. It doesn't have to be big to be enjoyable. You can still spend time decorating and gathering near it all throughout the season.
Finally, if you are really short on space, buy several small trees and mini-ornaments to decorate and wind garland or tinsel at their base.
With a little creativity, you can find a way to fit a Christmas tree into your space. It just might not look like the traditional setup you may see in the movies.
How can I maximize decor space in a small living room?
While small living rooms benefit from Christmas decor that can be hung on the wall or styled vertically, sometimes you can't help but want to bring that festive fervor down closer to sitting level. When working in a small living room, one way to decorate for the holiday is to utilize your table and shelf space.
When using tables
When decorating for Christmas, the first thing to consider when using table tops like side tables or coffee tables is whether you need to remove any centerpieces. You can easily swap out coffee table centerpieces with more festive options. And if you don't have a centerpiece, Christmas can be a great time of year to add one! Adding smaller decorum with Christmas motifs on side tables is also a fantastic idea.
When using shelves
When using shelves, you may have to remove a few books or existing decor before adding your Christmas pieces. Alternatively, go with a more cluttered look during the holiday season by adding a select few pieces to spruce up the space. You can also consider draping a garland over the bookshelf for some added flair.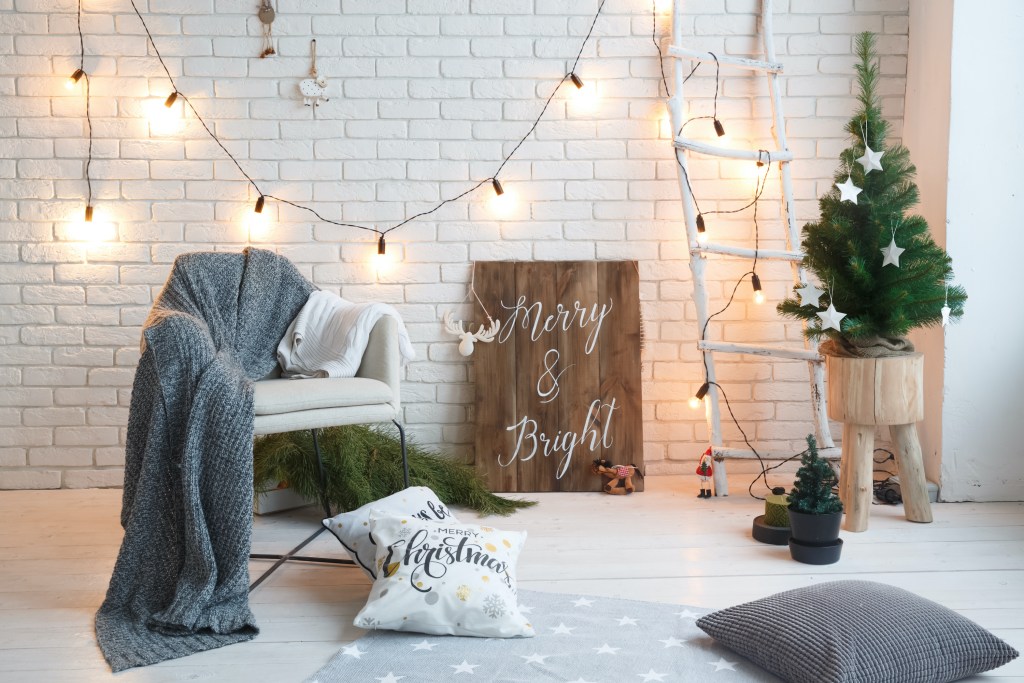 Can I decorate my ceiling?
It may seem like an odd spot, but if you don't have a lot of floor space, look up! Wood beams are the perfect place to wrap garland and lights, drawing the eye upward and making the space appear bigger than it is. In a corner of the ring, hang these Starburst lights at varying heights to create a statement piece that doesn't take up any floor space.
As long as you utilize the space you have in an imaginative way, you can't go wrong. Taking advantage of wall space, windows, fireplace mantels, and tables will allow you to decorate to your heart's content without creating an overcrowded room. Though you may not be able to fit a grand tree, a sectional couch, and a Nativity scene in this space, that shouldn't stop you from creating the winter wonderland that will be the envy of all your guests and neighbors.
Editors' Recommendations