We all want to throw the best get-togethers this season when Christmas comes to town! But when it comes to delighting a crowd with your festive decor, it can be challenging not to break the bank. So, we've gathered up a few tips to help you find inspiration for your next Christmas party!
Make your own Santa napkin rings
It's surprising how people are always impressed by the little touches at any party. A great way to astound your party-goers is to add a memorable piece of decor that no one would have expected! Napkin rings not only make a party feel classier, but they offer ample room for creativity.
You can make your own napkin rings using a cardboard tube leftover from a toilet paper roll or from napkin rings that you may already own.
If using cardboard, grab some scissors and cut the tube into 1-inch rings. Using red felt, wrap your cardboard ring and set in place with hot glue. Cut a thinner, black piece of felt (about 1/8 inch) and wrap the fabric around the middle of the tube. Next, you can add a miniature buckle (supplied at most craft stores) or a large button, preferably white or silver, and glue the piece onto the center of the black strip.
If you want to make the ring fancier, you can add white, furry yarn, stretched-out cotton or any other fuzzy white material to hem the top and bottom of the napkin ring to add a little bit of classic Santa Claus flair! It's a super simple, budget-saving project that anyone can do to wow their party guests.
Use tea lights
Be inspired and make use of decorative fairy light ideas to sprinkle some magic and warmth into your space. Add candles too. Candles and fairy lights are a great way to spice up any home for Christmas. While both can become quite costly, there is a cheaper alternative. Tea lights are small candles, often sold in a pack of 50 or more for under $20. They can be substituted for any place you might have wanted a larger candle.
While they can't be strung about on your table or tree, as Christmas fairy lights can, these lights are perfect for small side tables and shelves.
To spice up their appeal, you can head to your local craft or thrift store to buy small lanterns, glass dishes, or glass and porcelain covers. To style, place the candles on a dish or inside a lantern for warm and inviting appeal.
You can also place tea lights inside of mason jars or other glassware to protect and contain the open flame. Just be sure that the flame has air to breathe to prevent it from snuffing out.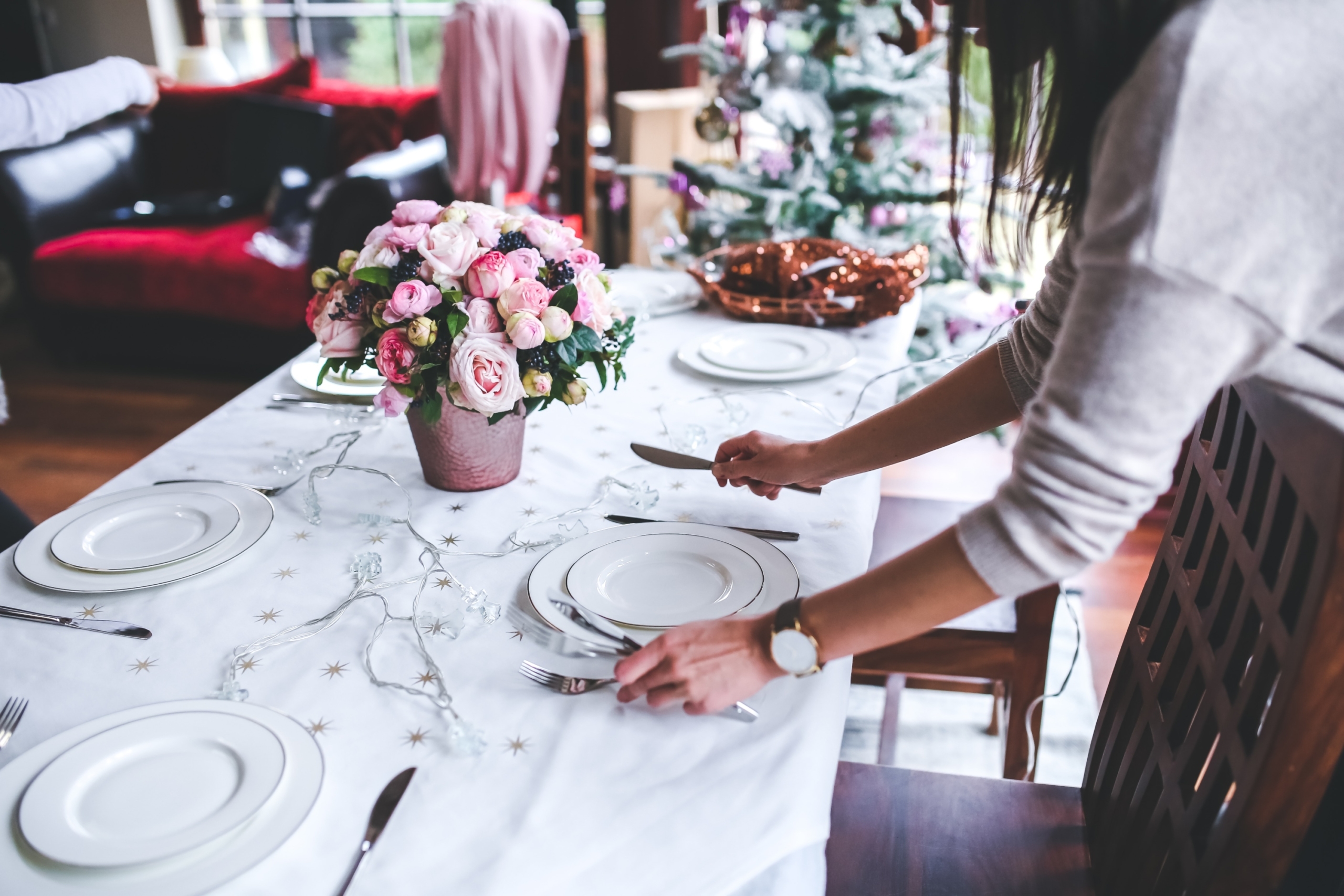 When in doubt, decorate with pine cones
If you live in an area with ample pine trees in a nearby park or even in your backyard, you can take advantage of the free pine cones that fall on the ground. Pine cones are the perfect seasonal decoration because they add a natural feel to any space.
The best time to collect pine cones is in fall before the snow blankets the earth. So long as your store your pine cones in a dry location, they can last for quite a while without decomposing.
To decorate your home, add the pine cones to your tree or place them on your table to make a natural centerpiece. They are also great decorations to put on side tables or TV consoles as they don't take up much space. You can pair the natural rustic vibes of the pine cone with tinsel or a string of fairy lights to create a festive, eye-catching space.
Use ribbon
Ribbon is not only a beautiful staple of Christmas gift packaging, it's also an excellent piece of decoration. There are several ways to tie unique bows with ribbon, many of which you can discover online.
If you need some bow placement inspiration, here are a few ideas.
Tie a bow of ribbon and put it on your front door in place of a wreath. Or, tie the bow to your wreath.

Tie ribbon bows to the backs of chairs to add a touch of classic flair.

Drape your ribbons on your tables or create a miniature runner.

Use ribbons in place of tinsel for a softer and more delicate approach in decor.
There are several uses for ribbon aside from draping it or tying it in a bow. Ribbon can be used in several crafts ranging from ornaments to bowls. One of the all-time favorite crafts for ribbon is folding small pieces into the shape of a Christmas tree.
To do this, start by using small funnels or a paper plate from the dollar store. Funnels hold the tree shape better, but paper plates can work just as well. Cut your ribbon into small strips (size ranges depending on your method of crafting, but about 3 to 5 inches on average) and fold your ribbon so there is a small loop. Use hot glue to connect the ends of the ribbon, loop facing out, to the funnel or paper plate.
As you continue to add ribbon around the funnel or stacked atop one another on the plate, you eventually form a tree. To top it off, tie a bow and glue it to the top to cover any holes or revealing funnel plastic.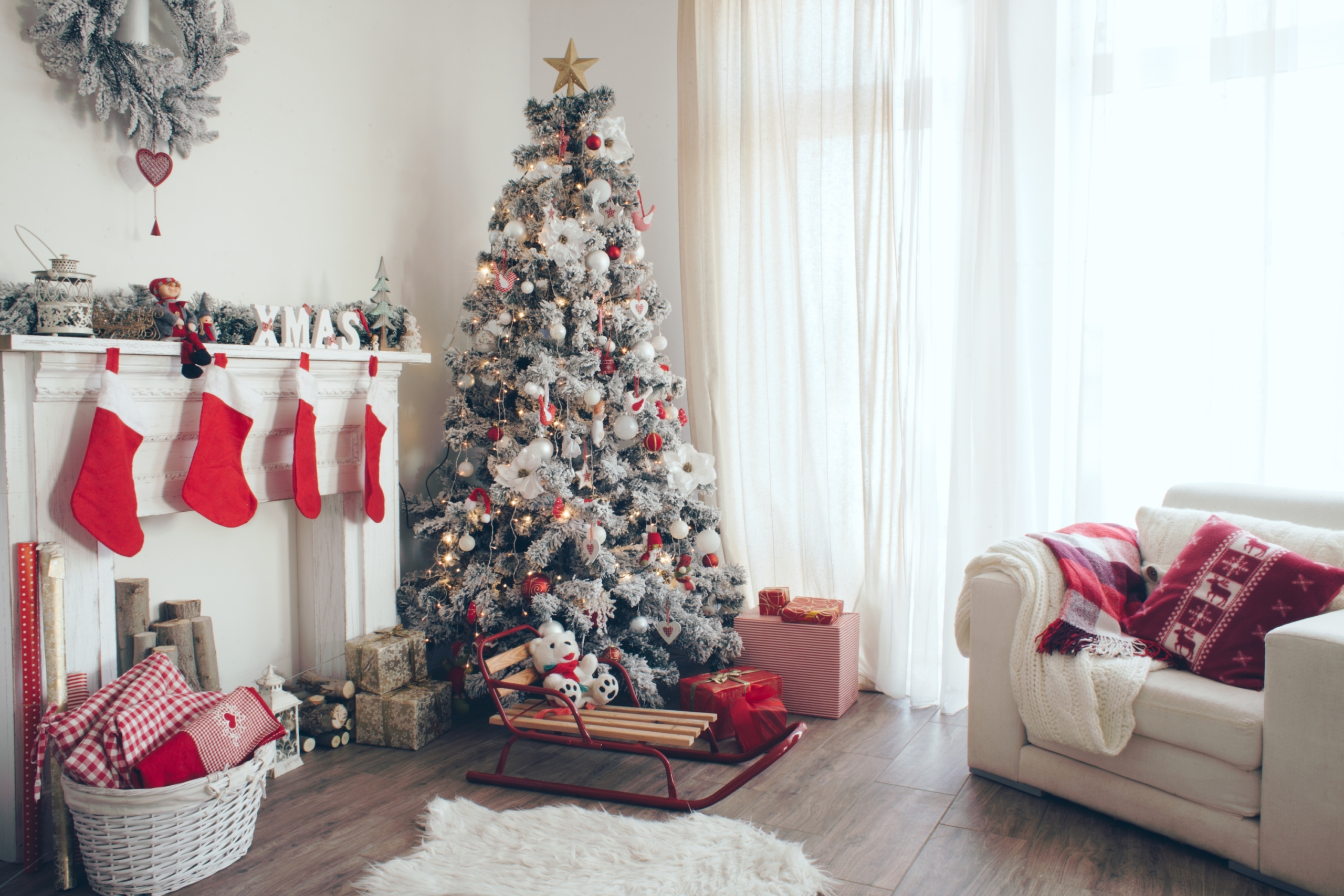 Find unique ways to use scraps of wrapping paper
During the Christmas season, there is often quite an excess of wrapping paper that ends up being tossed out. Instead of throwing away the scraps, collect them to create small collages! This is a great activity for holiday parties or for families that inspires creativity.
With an assortment of wrapping paper, you can make small designs of Santa, reindeer, or Christmas trees. Put the masterpieces into frames and style them on the walls, tables, or wherever you see fit.
Another great activity for scraps of wrapping paper is to cut them into squares and use them for origami. While this may require more time and research, its a great way to make small decorations on a budget that will impress your friends and family.
There are several resources online to help walk you through how to make origami reindeer or other animals. You can place your little folded creations on the table or mantel to add some creative interest to your space!
Editors' Recommendations