When it comes to Christmas decor, one space in the home takes center stage as we begin to deck the halls. The fireplace is where we gather around with friends and family, drinking hot cocoa and cozying up to stay warm during the chilliest season. So, there's no neglecting this location when it comes to decor!
No matter your style, we've come up with some amazing decor ideas that are sure to wow all of those who come around to share the holiday spirit with you this year.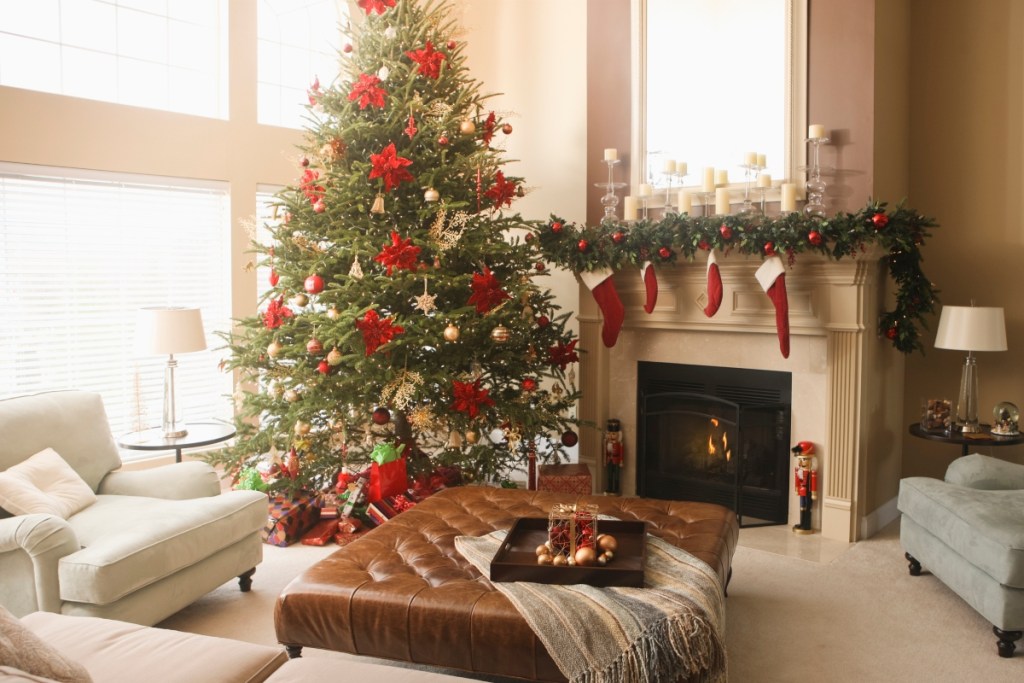 Keep it classic for a traditional home
If you're wondering how to decorate your traditional fireplace mantel this year, there's no better way than taking the classic route. Classic Christmas decor like a faux-evergreen garland with red poinsettias is a fantastic base for your display. Drape it on top of the mantel and adorn it with pine cones, Christmas statues and figures, and maybe a painting or two that represent the winter season.
If you want to add a magical touch, weave some string lights around the garland to add a gentle ambiance to the entire setup. The best way to honor traditional fireplaces is to keep the classic red, green, and white palette of the Christmas season and seamlessly blend it into your home's design.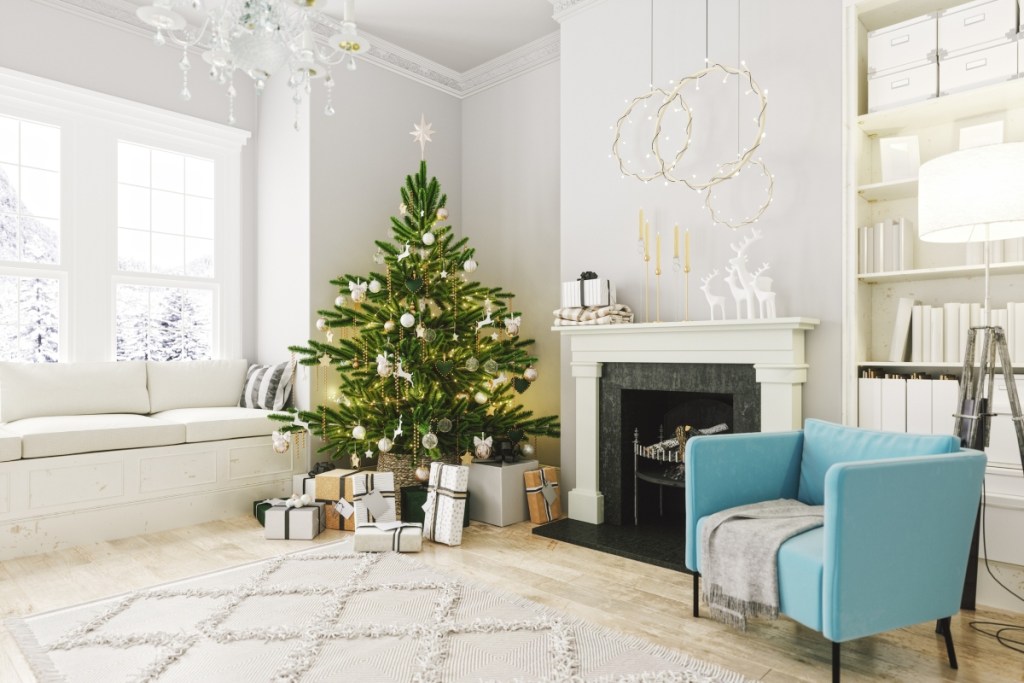 Opt for something minimal for modern lovers
Modern homes tend to lean toward neutral and white color palettes. What might work for most homeowners when it comes to traditional Christmas decor might look garish against a modern backdrop. To prevent your decor from clashing, modern lovers should opt for minimalist holiday decor that reflects their personality.
Porcelain trees in whites and greys will look stunning atop the fireplace. A few candles in glass holders or a small string of faux-evergreen garland in white or dark green can look stunning on your mantel. Additionally, mirrors can become a statement piece in your holiday setup, allowing everything to remain sleek and modern without feeling empty or bland.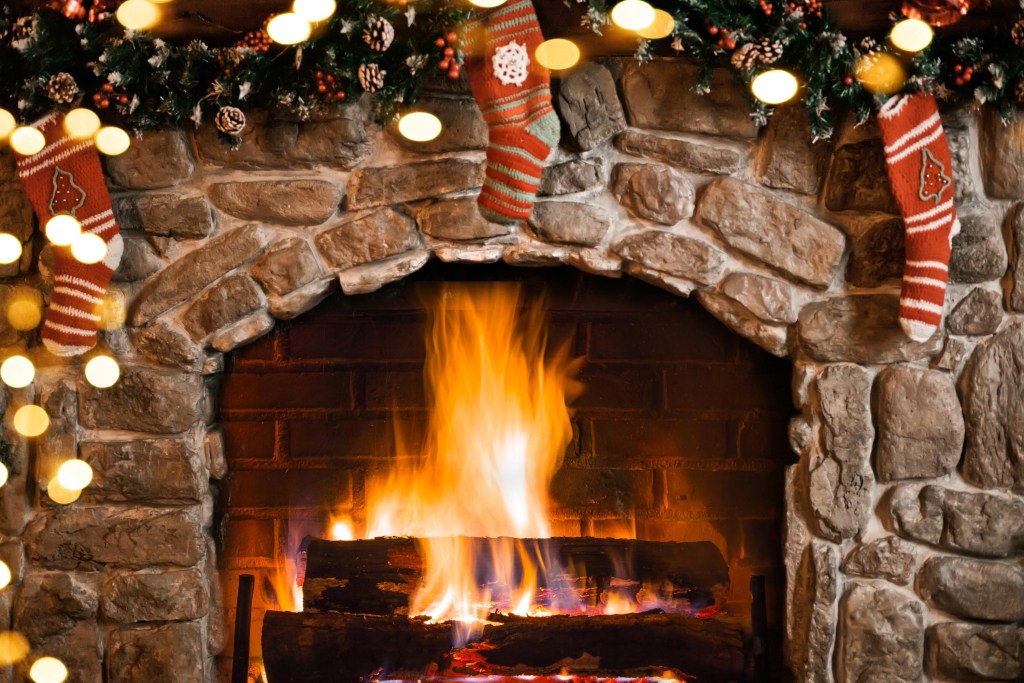 Rustic-style homeowners should bring the outdoors in
Farmhouse and cabin-style fireplace mantel holiday decor should reflect the rustic charm of your home. Whether you opt for live or faux natural elements, bringing the outdoors in can be a perfect way to showcase your style. Drape garlands over the mantle adorned with pine cones, greens, poinsettias, and any other natural piece that reminds you of Christmas. Don't forget to include a few rustic frames with sweet, welcoming holiday quotes written in stunning calligraphy, nestled in between the garland.
Lots of stockings and a pile of firewood nearby can really tie in the farmhouse aesthetic for your design. Another fun aspect to include in your farmhouse mantel decor is plaid. Plaid looks excellent in farm homes during the holidays. Use this fabric on stockings, nearby pillows, or even as a framed piece of art!

Go old school for a vintage look
People in favor of vintage fireplace holiday decor might enjoy something more eclectic. Antique candle holders, porcelain pots with holiday plants, and vintage Christmas statues will look stunning on the mantel. The color palette is best kept neutral, and items should be a little worn or scuffed up for the best vintage look. This year, a creative approach to this style is using lanterns with small battery-operated candle lights or tea lights for a gentle glow.
Additionally, distressed mirrors dressed by evergreen garland can look stunning on the wall above the mantel. DIY the mirror yourself or find one at your local antique store.
Choose neutral tones for a boho mantel display
If you're a boho-style fan, you'll want to take a soft, neutral route with your holiday decor this season. Skip the faux-evergreen garland and choose something more minimal and eccentric. Garlands made of wood beads, large bronze bells, white yarn, or white pom poms look stunning when hung above the fireplace together. Additionally, white candles and porcelain candle holders, porcelain trees, and a few pine cones scattered throughout can make your decor the center of attention during the holiday season.
If you want to add more color, try something unique like vivid teal, warm orange, or bright yellow. These colors suit bohemian-styled homes beautifully and add a new sense of excitement for the Christmas holiday as these colors tend to diverge from the norm.
No matter your style, decorating your fireplace mantel for the Christmas holiday is an essential step to pulling off an incredible design. Don't skimp on your decor, and be sure to use candles, ambient lighting, and plenty of Christmas themes throughout your setup. And if you're not a fan of traditional holiday decor, don't shy away from choosing items that are more eclectic and unique. Christmas is an inviting time to warm up by the fire with friends and family, ensuring that your space is fit for the season.
Editors' Recommendations