Bohemian (boho for short) chic home decor fuses items that are unusual and bold with more relaxed materials to create a cozy yet striking design scheme. Often the look features a combination of natural elements with several patterns, textures, and colors that work together to create a more eclectic and maximalist home.
This style also relies heavily on saturated colors, those that are intensely pigmented. Instead of pale yellows and baby blues, this style relies on deep reds, bright oranges, royal blues, and other strong tones. Boho colors and decor were all the rage in the early 2000s, and the style is making a comeback, filling homes and closets with 60s-inspired decor, flowing materials, and lots and lots of layers. Thinking about bringing the boho style into your home? Keep reading to learn more about why this style deserves a place in your next remodel.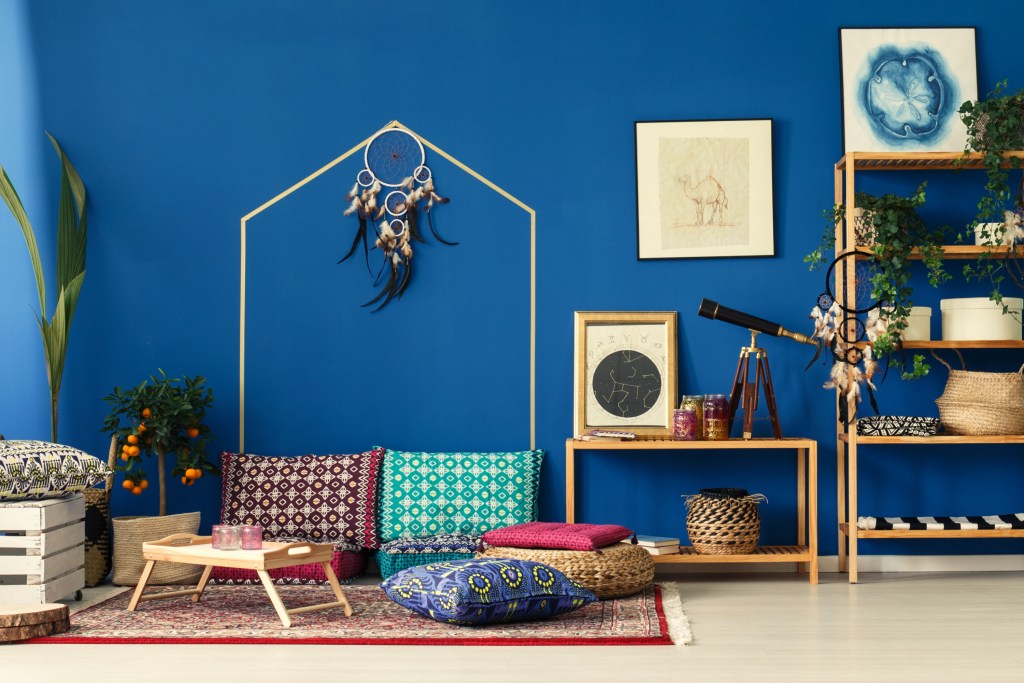 What is bohemian style?
The bohemian style tries to convey a lived-in feel, incorporating soft, light materials that are inviting and casual. This style is eclectic as well, encouraging designers to mix and match various textures and patterns to create an exciting room that has a lot of depth.
People often refer to the boho style as a global one, taking inspiration from every continent across the globe and bringing it into the colors, linens, and even the plants. Many designers also like to use thrift store items, keepsakes collected during travel, or repurposed second-hand furniture to give the space a little history and personality. Much of the trick to pulling of bohemian styles in your home involves making it look carefree, so focus on bringing in mismatched, unstructured pieces.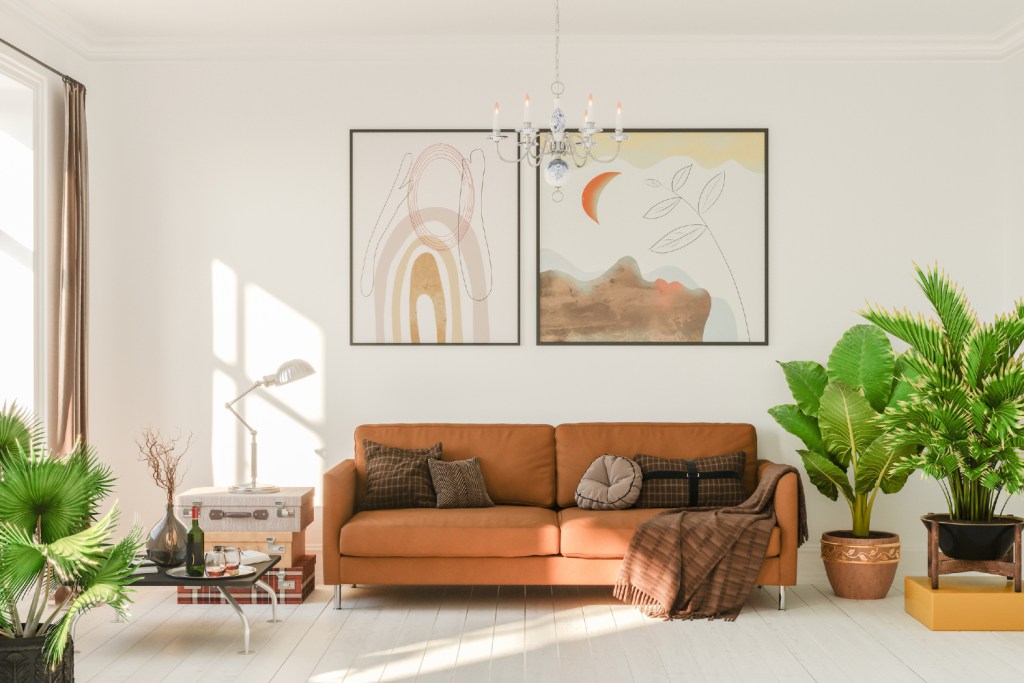 What are the colors of the boho rainbow?
Generally, the boho rainbow includes variations of mint green, seafoam green, navy blue, indigo, coral, salmon, beige, and taupe. Of course, there are hundreds of variations of all of those colors, with some having cooler undertones or glossy finishes. This comes in handy, however, as this style encourages using multiple shades of the same color. If, for example, your palette includes burnt orange, forest green, and royal blue, incorporate accents in darker and lighter shades of your primary hues for a more layered look.
If incorporating a lot of bold colors doesn't appeal to you, high-contrast neutrals or rich earth tones are a great way to go. And since the boho design style is defined by a multitude of textures, patterns, and materials, as well as globally inspired artwork, furnishings, and textiles, a rich neutral could be the perfect backdrop to highlight your unique design.
When determining your palette, the key is pairing warm and cool tones to give an energetic yet welcoming vibe. To prevent the room from looking overloaded with color, be sure to pair any rich, saturated, warm tones with cooler neutrals like light grey.
More about textures and patterns
As previously mentioned, a significant aspect of this style is its worldliness. Historically, the term bohemian refers to people who had few permanent ties and instead spent their time traveling the world, making music, and exploring art. The boho design style pays tribute to these wanderers, incorporating patterns and textures from other parts of the world.
Because these pieces are so distinctive, let them drive your color palette:
Think about Turkish rugs, contemporary Nigerian paintings, Mongolian vases, and Nordic furniture.
In terms of patterns, keep an eye out for geometric prints, paisley, and mosaics.
Then, choose smooth, plush, and coarse textures to add an extra layer and depth to the decor.
It's very easy to go overboard here, so make sure you edit as you design. Pick one or two statement pieces, and fill the rest of the room with more subtle pieces that are still colorful and vibrant.
If you don't already have some pieces collected from past expeditions to display, visit your local artists' market, vintage store, or hop on Etsy to find unique pieces that will give your space some character. Going forward, start picking up local textiles or handmade items when you travel to add to your newly decorated living room. Alternatively, if a friend is traveling, see if they can pick up a trinket or two to add to your collection.
Boho colors and style are on trend these days and for good reason. The trendy look gives you the freedom to explore color and pattern combinations that have previously been taboo in the age of minimalism. With this style, you have the freedom to incorporate old items with new ones and bright colors with muted hues, then mix it all together and see what happens. As long as the result is comfortable, welcoming, unique, and colorful, you've done well. If that amount of freedom paralyzes you, don't worry. Start small and pick just a few colors or a single influence and build your home around that. Over time as you continue to add personal touches, it will become the bohemian home of your dreams.
Editors' Recommendations