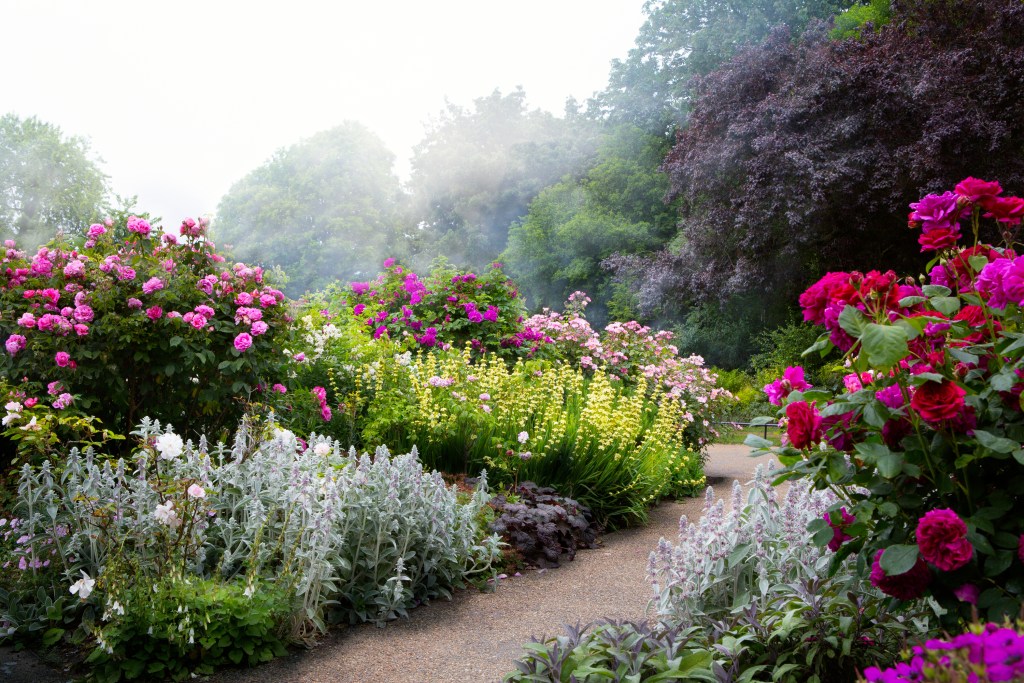 If you're looking for something new and unique to do with your garden this season, consider an English cottage garden design. English gardens are informal, traditional, and serene, and they require dense plantings to make them come alive. Usually, they have a mix of ornamental and edible flowers and plants and use perennials, layers, and a lot of color. They're both formal and whimsical in design and can use brick, rocks, and mulch as structures to house the plants.
If you're wondering how to lay out an English garden, we've got some tips and tricks to do just that, along with some ideas to get your creative juices flowing.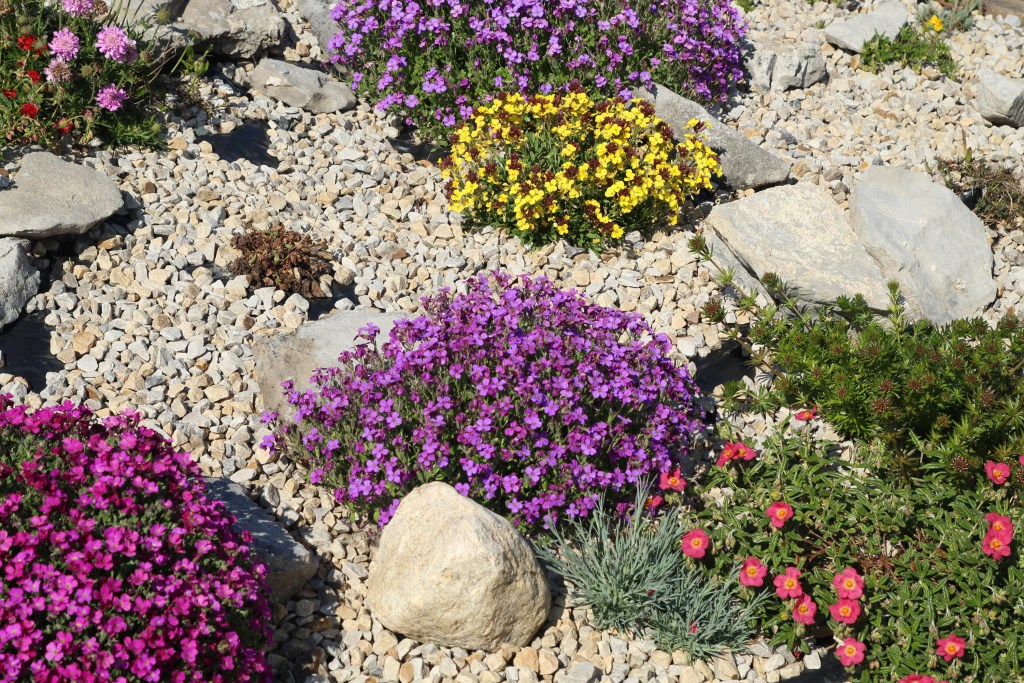 How do you make an English cottage garden?
If you're new to the English cottage garden concept, you may be wondering, "How do you structure a cottage garden?" The answer can be anything that speaks to you.
Plant a hedge
This can contain boxwoods, yews, or shrubs that allow the garden to be contained in some way. It also gives the garden a more formal look and structure that can be enjoyed from all angles.
Focus on perennials
English gardens vary from season to season and use the best of what's available. You can plant bulbs to enjoy in the spring, winter berries or small evergreens to appreciate in the winter, and grasses to admire in the summer.
Plant in layers
The beauty of an English garden is that it offers depth and texture. Plant larger plants and shrubs in the back, medium plants go in the middle, and smaller plants and flowers adorn the front.
Use a decorative structure
Another foundation of an English garden is the use of structures within or surrounding it. This can take on many forms, from water features to arbors, a trellis, or a white picket fence to give the space added character and charm.
More is more
When it comes to perfecting an English garden, the general rule is more is more. Pack as many plants into your garden as possible, letting them spill out into walkways and sitting areas. The goal is to enjoy everything the garden has to offer, and it's not meant to look or feel too manicured.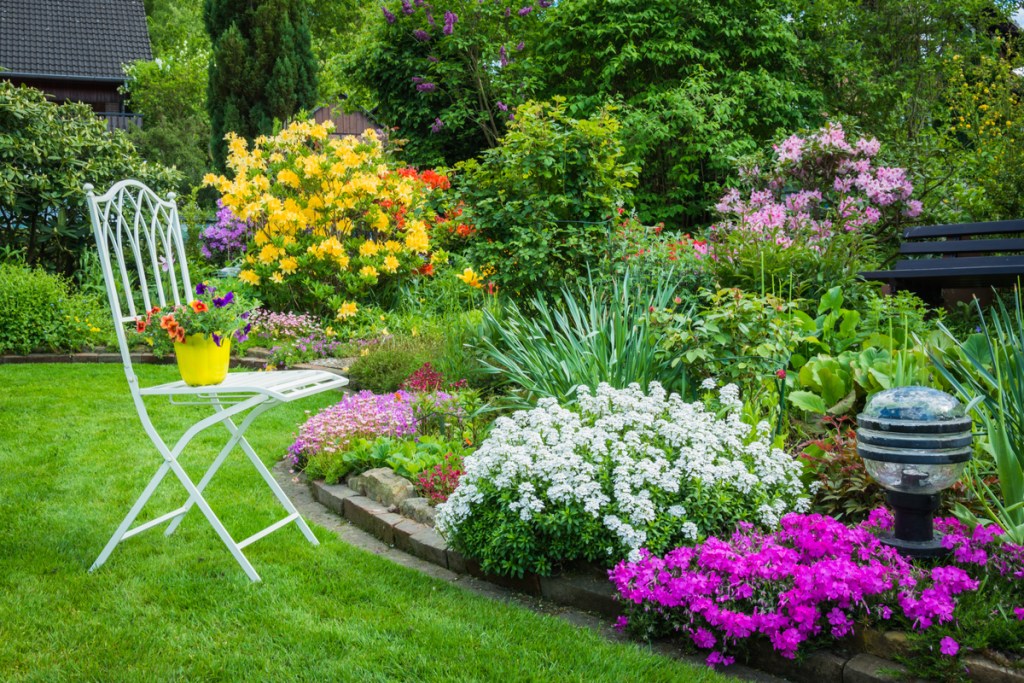 What is the difference between an English garden and a cottage garden?
The big distinction between cottage gardens and more formal English gardens is the sheer size and scale of both. Cottage gardens have evolved over centuries and contain annuals and perennials, herb plants for cooking, and fruit trees for harvest. They are typically arranged within a wall or shrub border and are smaller in scale. English gardens are grander in size and scale and include only plants and flowers, not plants designed for the kitchen.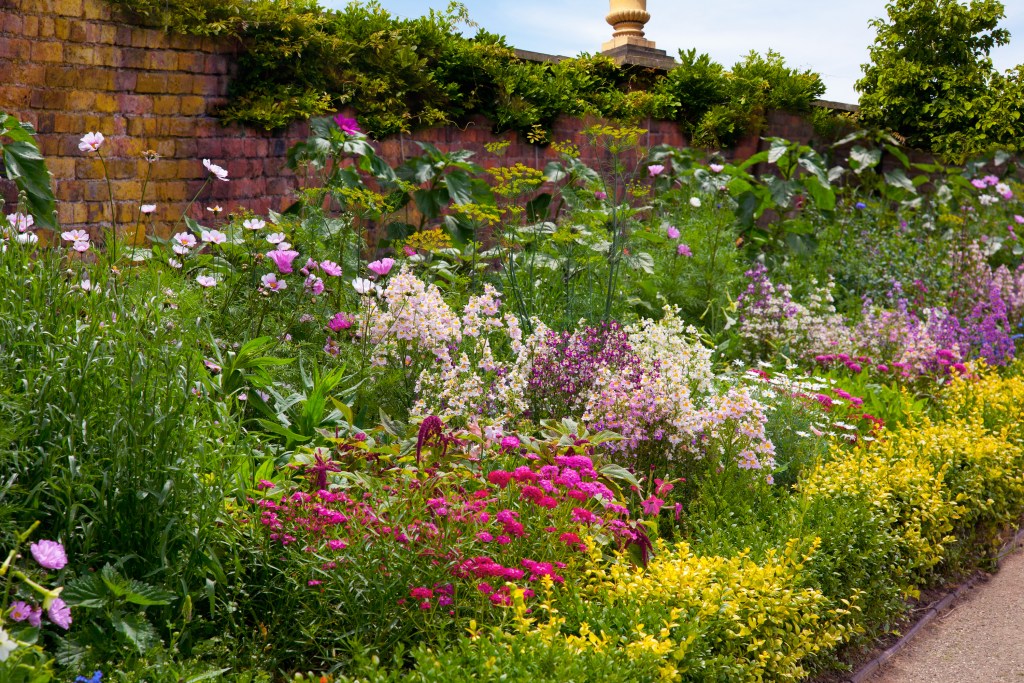 What are other hallmarks of an English garden?
Here are a few other recommendations for creating a lovely English garden.
Include surprise elements
English gardens should also be whimsical. This could mean a garden bulb, a birdbath, or a vintage watering can situated amongst the plants.
Find a sunny spot
Because of the sheer amount of plants and greenery, you want to ensure your garden is located in the part of your yard that receives the most sun. This will allow all of your plants to grow and thrive all year round.
Create a path or walkway
One of the hallmarks of an English garden is the ability to enjoy it. Many have paths leading up to the garden, or they are planted on either side of a walkway leading up to your front door. Access to enjoy the space is key.
Mix colors
An English garden isn't monochromatic. Use all the colors of the season to fill your space. Think pinks, purples, yellows, and oranges, all mixed with greenery from shrubs and hedges: The more variation, the better.
Use climbing plants
If you have a fence or other structure, include climbing plants like roses or vines and add in honeysuckle, wisteria, or morning glory. Let them climb and stretch to provide height and interest.
The sky really is the limit when it comes to creating a lush English garden. You can plant it in the front or back yard, in an enclosed structure, or grow it naturally with plants as the guide. As with any garden, the key is to be able to enjoy it, so put down some Adirondack chairs or a rocker, grab a cup of tea and a book, then relax and enjoy the oasis you created.
Use bunting
Popular in the U.K., a lot of English gardens use bunting — which can be a British flag if you're traditional or another vintage design. It's similar to garland but in a pendant shape, and you can drape it over an entrance or doorway or attach it to a fence in the garden itself. While it's typically put out for a holiday or event, many gardens have them all year around.
Editors' Recommendations