Your home's porch not only gives your property a quaint curb appeal but also gives you a prime, private lounging spot during the warmer months. This is especially true for screened-in porches, which usually serve as nice getaways from the main part of the house.
Since screened-in porches have this half-indoor, half-outdoor quality to them, you may be thinking, "How do I decorate my screened-in porch?" Here are six screened-in porch ideas to turn this area of your home into the tranquil summer paradise of your dreams.
Large floor rug
First, we recommend laying down a floor rug that covers most of the space. This will help tie the decor together and give it a uniform look. It can be either an outdoor or indoor area rug depending on what suits the location of your porch. Be sure to choose one with a pattern and colors that make you feel calm and relaxed.
Potted palm plants
What's a summer hangout spot without tropical plants? This season, potted palm plants are in. So fill in any empty areas of your screened-in porch with the tallest palm plant you can find.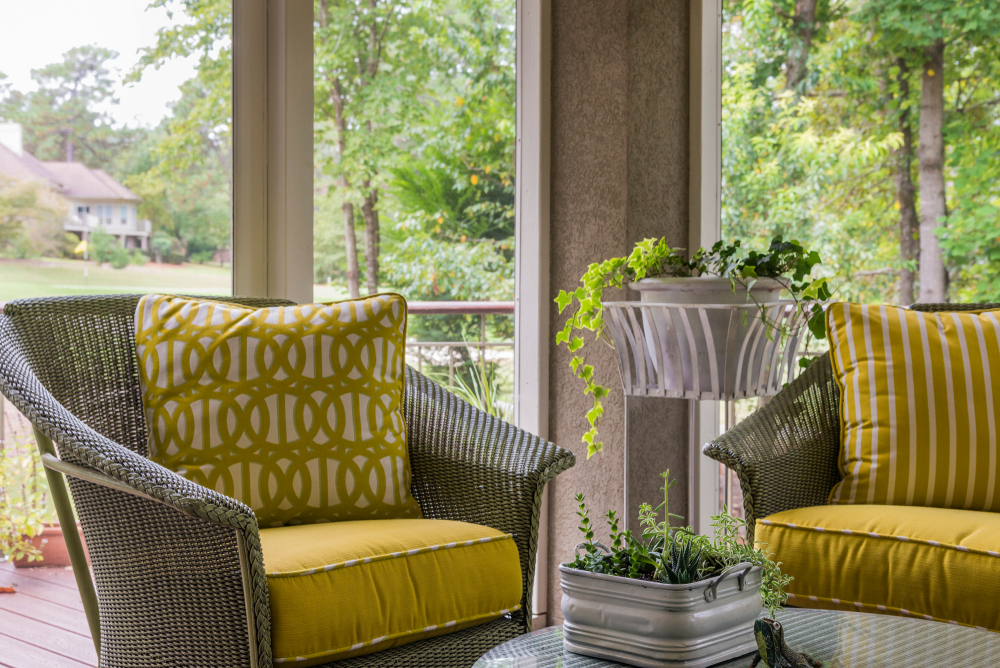 Cozy cushions
Your screened-in porch likely has some kind of seating, whether it's a bench, couch, chairs, or all three. We suggest adding the fluffiest, coziest cushions you can find for that furniture. You can even mix it up with some floor pillows or stacking pillows and cushions in a corner. This will give your porch a real homey feel.
Curtains
A screened-in porch idea we really love? Curtains. They help offer a little more privacy from within this little hideaway space you've created. Plus, you can match the curtains with your cushions and rug and create the perfect color scheme for the chill mood you desire.
Wall of string lights
Screened-in porches need a light source for when you're enjoying the space during the evening. One way to light up the night is with a wall of dangling string lights. These types of string lights have multiple strands hanging vertically and covering a wall. They'll not only give a strong glow, but they'll also look gorgeous.
Lanterns
Another lighting idea is to hang lanterns from the ceiling or from hooks on the walls. Lanterns are pretty perfect for screened-in porches because they also mix outdoor and indoor vibes while offering a good amount of light.
Sometimes you need some space from your house but not actually go anywhere. Your screened-in porch can be your own corner of the home to rest and relax. But they're much different from regular porches and need some extra TLC when it comes to decor. These screened-in porch ideas should help transform it into your own summer paradise at home.
Editors' Recommendations