Whether you're moving into a new space or looking to redesign a room in your existing home, the placement of your furniture impacts the energy and function of the whole space. Equally as important is the area rug's placement in the living room. There are so many colors, patterns, and textures out there, and you're sure to find one that brings out your own personal style. The difficult part comes when it's time to situate it among your furniture.
There are a few considerations you'll need to keep in mind before choosing and placing your rug. Here are a few tips on how to place an area rug in the living room.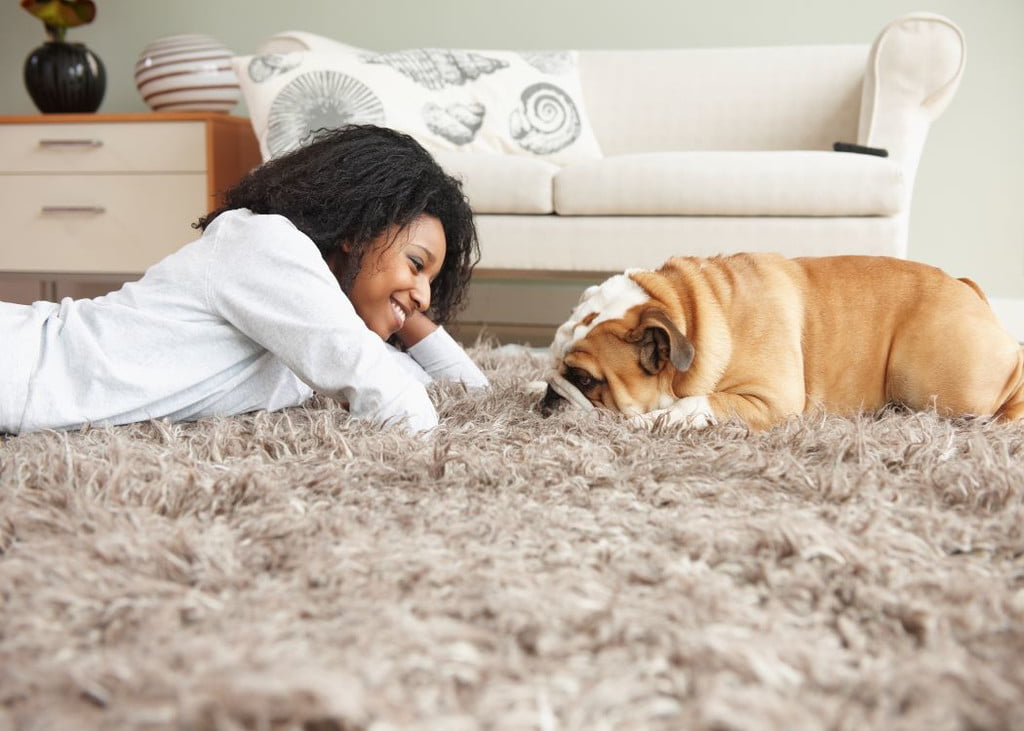 Smaller rooms
If you have a small living room, opt for a smaller area rug, like a 5-by-8-foot rug, and anchor it underneath your coffee table. This ensures there's enough space on all sides to walk around, and it gives the room a center point. To make the room feel bigger, look for a larger rug, say one that is 8 by 10 feet, to rest underneath all of your furniture. Instead of acting as an accent, the rug becomes the statement piece of the room, encouraging guests to look wall to wall which makes the room appear larger.

Medium-sized spaces
If you have a medium-sized room, place an 8-by-10-foot rug and place just the front feet of your larger furniture (i.e., the couch and loveseat) on the rug itself. Make sure the rug extends out from the edges of the furniture as well, to ensure there's a flow between the furnishings and the rest of the room. If you have rather muted or one-toned furniture, this bold blue and ivory Persian-style rug from World Market will add character to the room without overwhelming it with too many textures and patterns.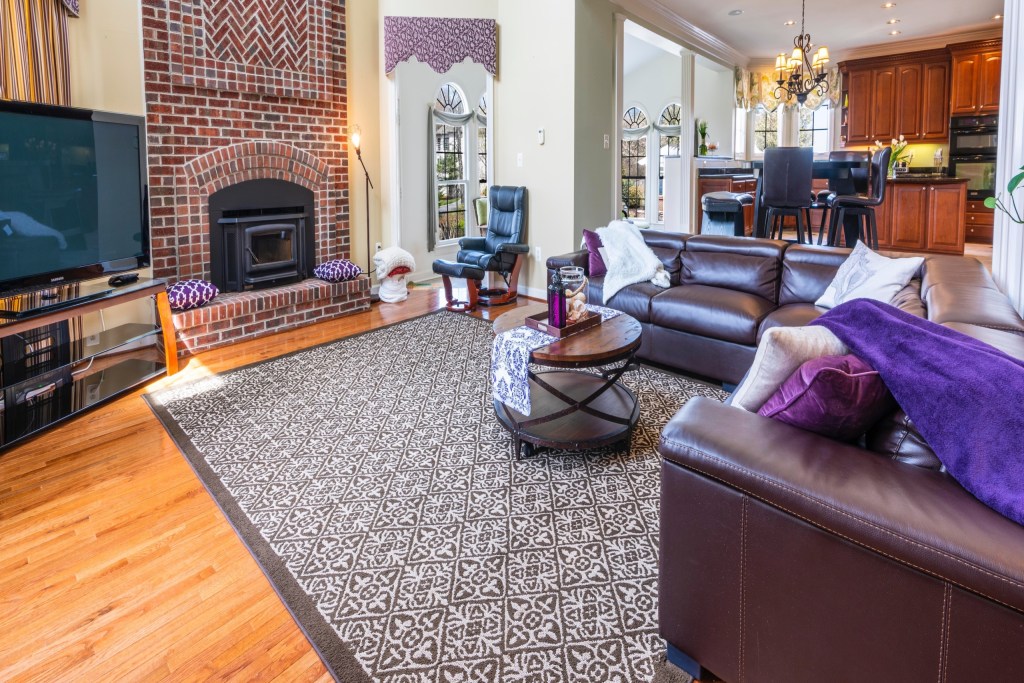 Large living rooms
If you have a large space to design, you certainly have the most options available to you. To anchor the room and highlight the relaxation area, place all of your furniture atop a 9-by-13-foot rug. Alternatively, you could buy several area rugs in smaller sizes and group furniture on each one. For instance, if you have two side chairs, place them on one 5-by-8-foot rug, then run a complementary rug underneath the coffee table and couches. This fits a more eclectic style, and it only looks cohesive when you have a large area to work with.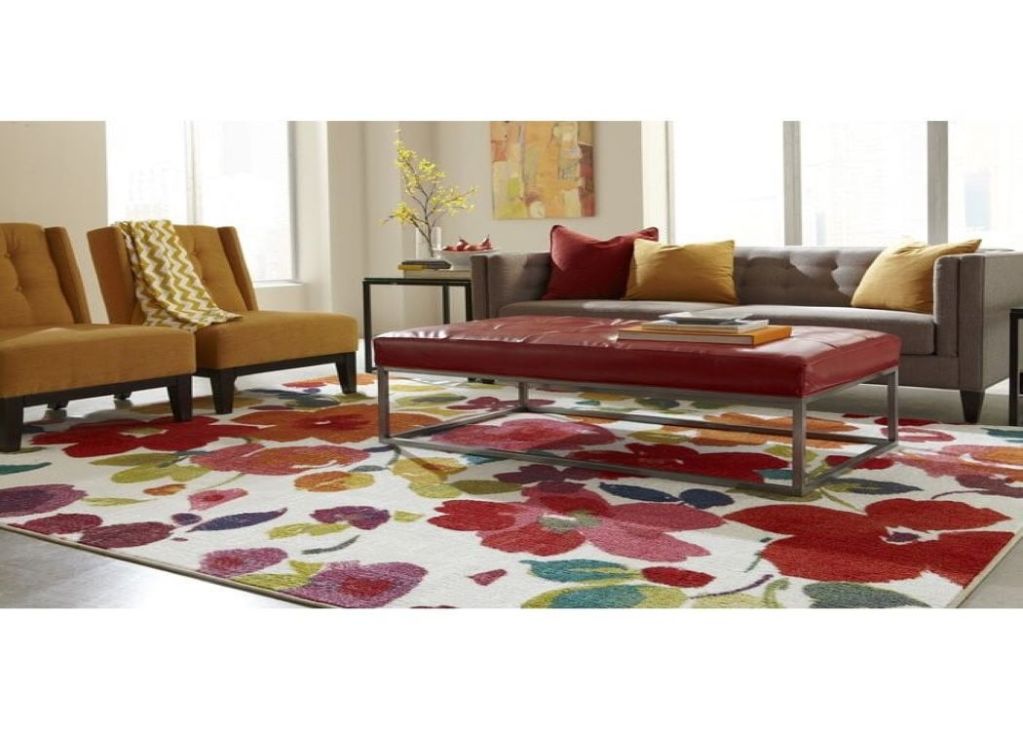 Common mistakes to avoid
Before purchasing a rug, measure the entire room to make sure you buy a large enough piece. Remember that it needs to extend under the front legs of your furniture at the least. A rug that is too small will break up the room and make it appear generally disjointed. Once you place it, make sure there is equal floor space on all sides of the rug.
Finally, don't be afraid of colors or bold patterns. It may seem logical to play it safe and buy a neutral rug, but rugs are known for bold, busy patterns, so why not add a little fun? We love this floral blue area rug from Wayfair which gives a more coastal look to your living room. If you're not ready to commit to a ton of color, this geometric black and ivory area rug, also from Wayfair, is a more neutral choice that pairs well with colorful and textural design elements.
Because they are an investment, make sure you do your homework on the fabric you're choosing and the best way to clean it. The living room is a high-traffic area for many, so keep plenty of carpet/rug cleaning products on hand to handle stains like dirt, sauces, and wine. If you have pets, invest in a good wet vacuum for pet stains. There's nothing worse than finding the perfect rug just to watch it deteriorate over time. Routine cleaning and maintenance will keep your area rugs looking good as the day you bought them.
Buying an area rug isn't cheap — they can cost hundreds, even thousands, of dollars. Ensuring you find the right rug that fits perfectly in your living room is certainly important, but it shouldn't be stressful. Have fun while shopping and push yourself to choose a feature that best reflects your personality and personal design aesthetic.
Editors' Recommendations