Outdoor fireplaces create the perfect space for entertaining and relaxing in the comfort of your own home. At the end of the day, there's no better way to unwind than with the warm glow of a fire and a good glass of merlot. With our beautiful outdoor fireplace ideas, you can create the perfect ambiance to match your home decor and make the most of your patio. Give your backyard a makeover, and invite your loved ones into a pleasant space that lets you enjoy an evening under the stars.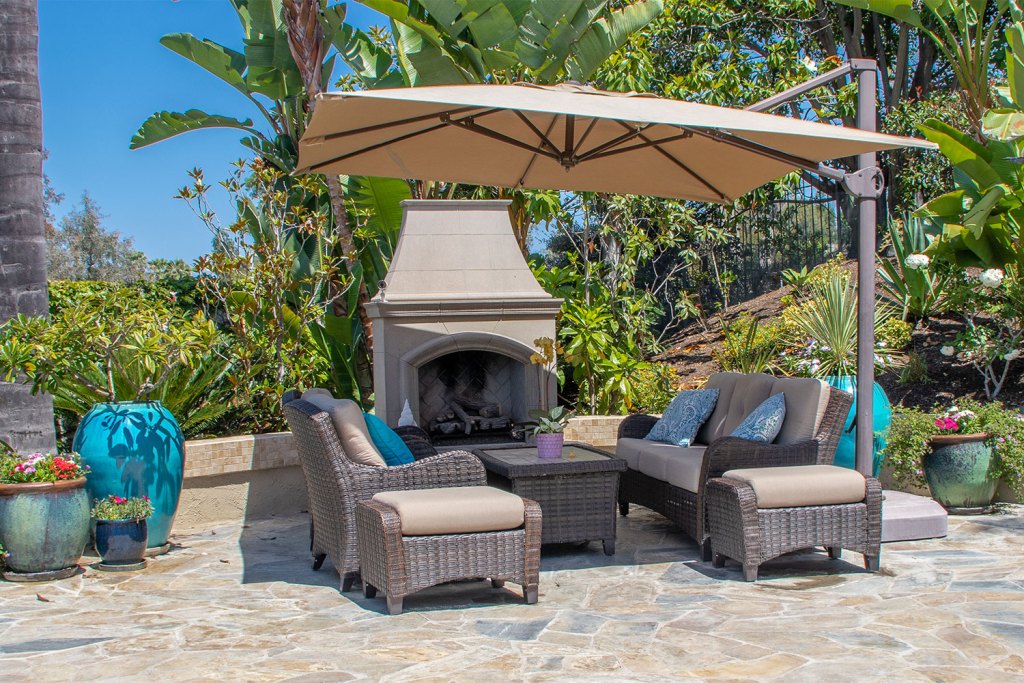 Outdoor living area
One of the greatest benefits of having a backyard is that you can create an extra outdoor living area. Why limit your gatherings to the living room when you can turn your patio into a social space? Whether you want to enjoy dates at home, make s'mores with the kiddos, or throw parties with friends, outdoor living is always more comfortable with the right seating. Consider these ideas for creating an outdoor living space — with the patio fireplace as the focal point, of course:
Adirondack chairs are a laid-back, classic choice that gives your outdoor living space a casual vibe.
If you're going for a more elegant feel, deep-seat rattan chairs add a handsome, outdoorsy appeal.
With an easy chaise lounge, you can lay back and spend hours watching the wood burn.
Poufs are versatile accessories that let you kick your feet up or create additional seating when you have extra guests.
To create a personal space within the outdoor living area, add a hanging egg chair that gives you or your guests a sense of privacy and relaxation.
Accessorize the space
Once you've set up your seating area, it's time to accessorize your outdoor living space. HGTV has a few eye-catching ideas. These are our favorite little extras to warm up your backyard sitting area:
Throw blankets are a must for any cozy outdoor love seat or cushioned chair.
For a more rustic look, consider the natural feel of a tree trunk coffee table.
Define the seating area with a beautiful rug for added texture and color.
Create a space for entertaining
If entertaining is the main use of your outdoor living area, here are some ideas to set the party mood:
Use a bar table with stools for guests to sip their drinks and sit more casually.
An attractive portable drink chiller keeps your beverages cold and decorates the space.
Strategically-placed LED lights create a sense of lounging under the stars, and add to the warm lighting your patio fireplace provides.
Outdoor dining area
While some people like to chill outdoors, others prefer to enjoy their meals al fresco. You know you've made it when you can host a delicious dinner party right by your outdoor fireplace. Location is important, says The Spruce. Here are some ideas to turn your patio and yard into a bonafide outdoor restaurant without ever leaving your home:
If your deck has a roof or exposed beams, outdoor chandeliers add a dramatic touch that's elegant and provides lighting.
A reclaimed wood dining table is popular for casual dining in the open, and it'll complement a wood-burning fireplace.
If you miss dinners by the campfire — but not sleeping in a tent — a picnic table in your yard is the way to go. Plus, with the patio fireplace, you can mimic the vibe of a real campfire.
Lantern candle holders deliver extra lighting with a soft glow and a romantic feel. They're perfect for dinners for two.
When evenings are warm, a ceiling fan can give you that extra breeze. You can still enjoy the lovely gleam of your patio fireplace while counteracting the heat a bit.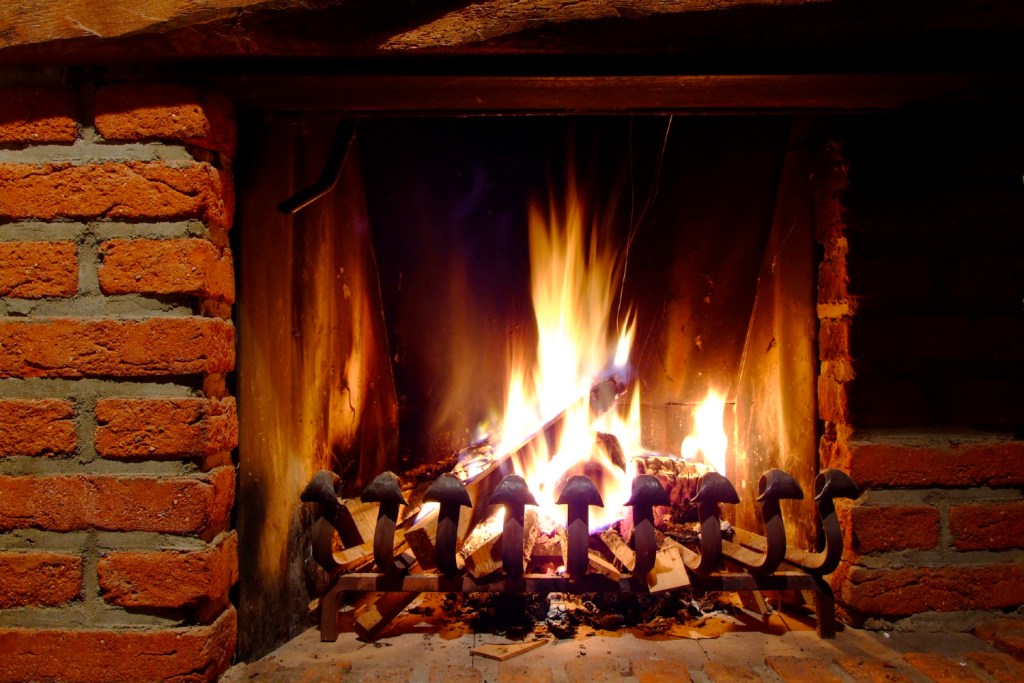 Unique outdoor fireplaces
Multi use outdoor fireplaces can still have a lot of personality. The DIY Network shows several unique ideas. Show off your sense of style with our favorite ideas for unique outdoor fireplaces:
Cool off by the fire in a galvanized metal tub. These low-maintenance personal pools look fantastic and are an inexpensive alternative to traditional hot tubs.
Bring the tropics to your yard with tiki torches that enhance your patio fireplace. Complement the setting with a pina colada, and you're good to go!
String lights add brightness without taking away from your fireplace.
Define your outdoor space with a gazebo next to the fireplace. This provides an extra sense of privacy and comfort.
There's nothing like a hammock to relax by an outdoor fireplace. Hang your hammock from columns or a frame, and enjoy a unique outdoor space just for you.
To enjoy your patio and fireplace year-round, change up your decor with every season.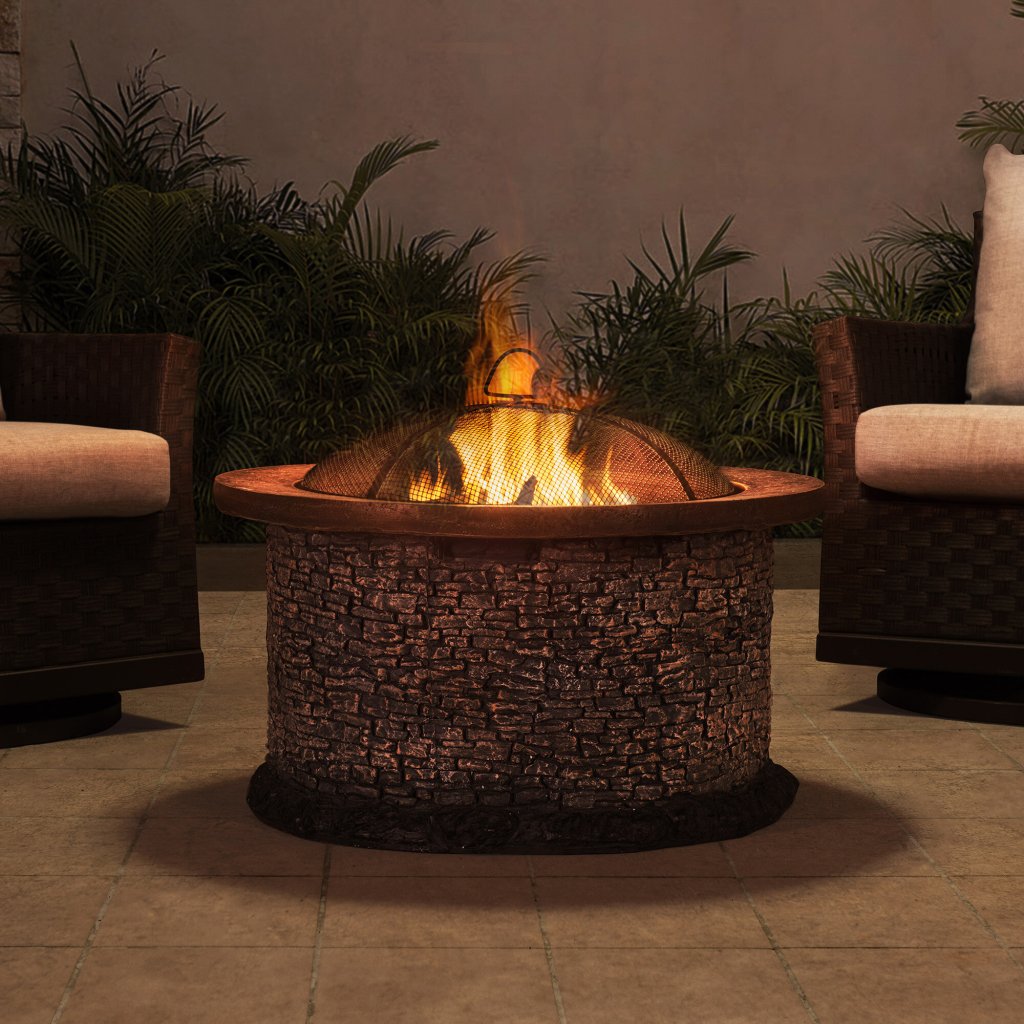 Create your own patio fireplace
If your home doesn't have a built-in outdoor fireplace, you can still create your own without breaking the bank. On level ground, use some gravel to define the area where you want the fireplace. Then, it's as simple as adding a wood-burning chimney or a fire pit to make your own outdoor fireplace.
Steel and clay are two popular materials for wood-burning chimneys. They're safe to use and easy to set up. Plus, they look great with any decorating style. Just add some comfy chairs — or pull from our list of ideas above — and sit back to enjoy an evening by the fire.
You don't need to go far to enjoy relaxing nights outside. With our favorite patio fireplace ideas, you can create the backyard space of your dreams and make lasting memories by the fire. Gather your loved ones around a warm setting that makes you want to spend all your evenings in nature.
Editors' Recommendations