Who doesn't love a night around a blazing fire? More and more backyards are becoming extensions of the home with "rooms" that rival any indoor space. Fireplaces and firepits provide an attractive focal point and also offer a gathering spot. Not only does adding one create an instant photo op, it also extends the time you can enjoy your outdoor space. Fireplaces and firepits each have their own benefits, but which is right for you? Here, we will explore both options to determine the perfect one for your space.
How do you use the space?
Think about how you want the space to function. Is a quiet escape or a busy and social entertaining spot? If you have visions of friends and family gathered around roasting marshmallows, the firepit is ideal. Its circular design invites conversation and allows everyone access to the warmth of the fire. This means you will be able to fit more people, and by nature of the circle, they may be more interactive.
On the other hand, if you looking for a relaxing setting to unwind at the end of the day, a fireplace may be a better match. They work wonderfully for more intimate get-togethers and by design can be made to offer additional privacy. Fireplaces provide a cozy spot to read a book, relax with family, or share a romantic evening. Another popular option is to mount an outdoor television above the mantle just as you would in the family room. Fireplaces are not limited to an indoor setting. There are beautiful outdoor fireplace ideas you may want to take inspiration from if you'd rather unwind outside.
What is your style?
Are you casual and outdoorsy? Elegant and formal? Just like any other part of your house when outfitting an outdoor space, think about how you want it to feel. It will serve as a focal point, so it is potentially one of the most important choices. A fireplace surrounded by an outdoor conversation set with comfy all-weather cushions will have a different ambience than a laid-back firepit surrounded by sturdy Adirondack chairs.
Each option has its own character.
There is no doubt that a fireplace adds an architecture statement conveying the feeling of a true outdoor room. Likewise, the outdoor space can be decorated to reflect this, and the space will feel more formal. On the other hand, the firepit, whether built-in or portable, will reflect more of an outdoor experience. In that regard — unless it is a gas version — since it doesn't have a chimney, it may also leave you smelling like a campfire long after you go inside.
What works best in the space?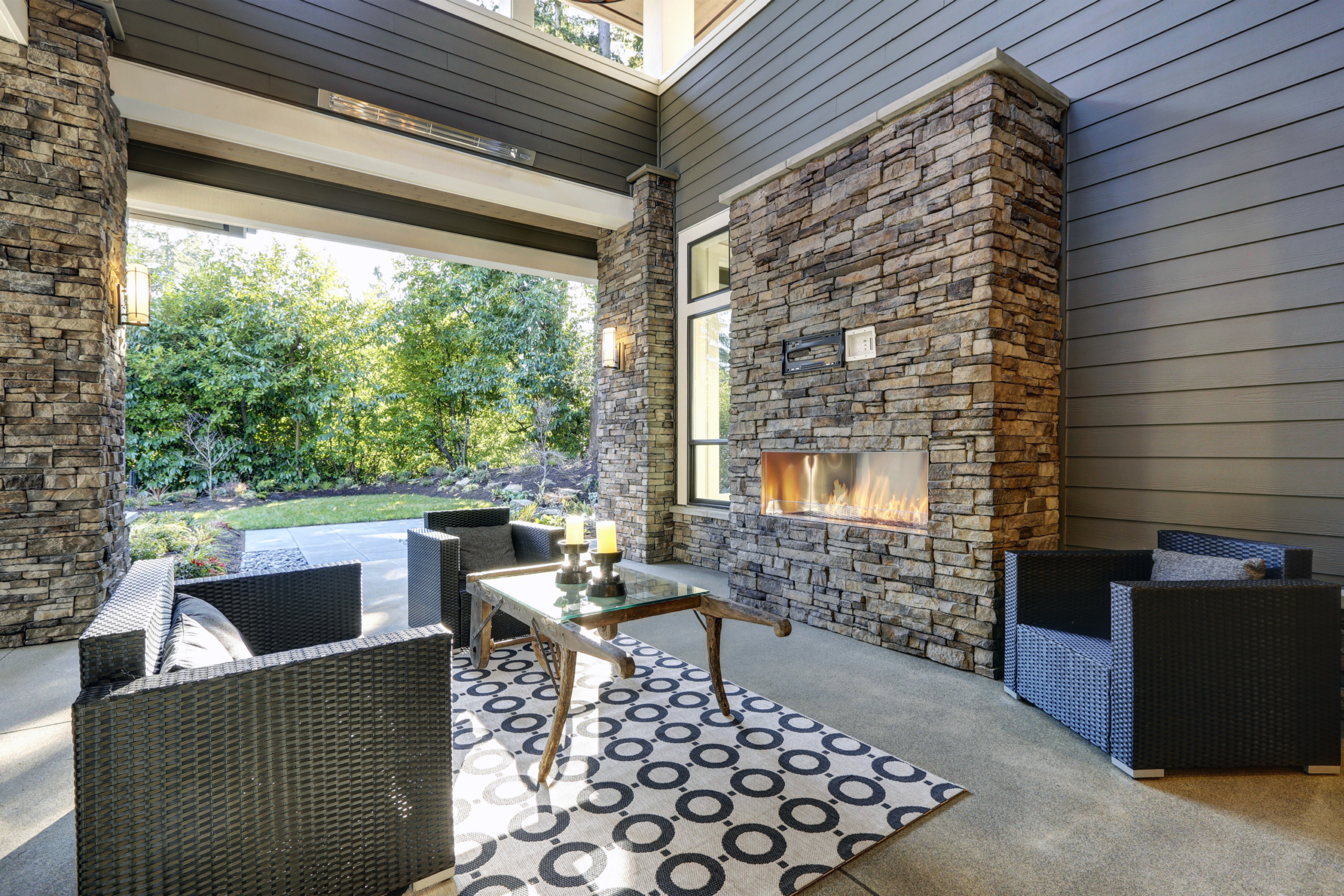 A fireplace is a permanent, built-in structure typically covered in stone, brick, or concrete, which includes a chimney. It can be constructed on the back of a house or as part of a patio area to add interest or privacy. Since it is custom, it can be built to closely match the exterior of your home and patio. Typically, it is located on the edge of the seating area, so it takes up a lot less "floor space."
Since firepits can come in any shape, they offer more flexibility about where they can be located. They can be built-in but are often movable, which will give you more options if there are times you want to switch locations or remove it altogether.
Another thing to look at is the way each one puts out heat. A fireplace will hold on to and radiate the heat better simply because it is more contained. Its three enclosed sides will protect the flame, and it will not be as susceptible to wind. With its open sides and no chimney, winds will not only affect the fire in a firepit, they will also have an impact on where the smoke is directed.
What's your budget?
The last factor to consider is budget. Firepits are easier on the wallet and have a wider range of options. Think about whether you will be staying in the home or if you may want to take it with you to a future residence. A fireplace is an investment and will certainly require a bigger budget; it will also be a permanent fixture — meaning if you move, it isn't coming with you. However, because fireplaces are built specifically for that location, you will have more opportunity to customize.
No matter which option you choose, a fire feature is a great addition to any outdoor space and will allow you to use it long after the temperatures drop.
Editors' Recommendations