You can breathe new life into old furniture with just a little paint and some elbow grease. You don't always need to buy new, especially if you have an antique piece or a personal one that's been passed down from generation to generation. Odds are, all it needs is a facelift to transform it into a statement piece that elevates the overall design of your home. With this handy guide, you'll be able to paint wood furniture and ensure that the finished product is exactly as you'd hoped.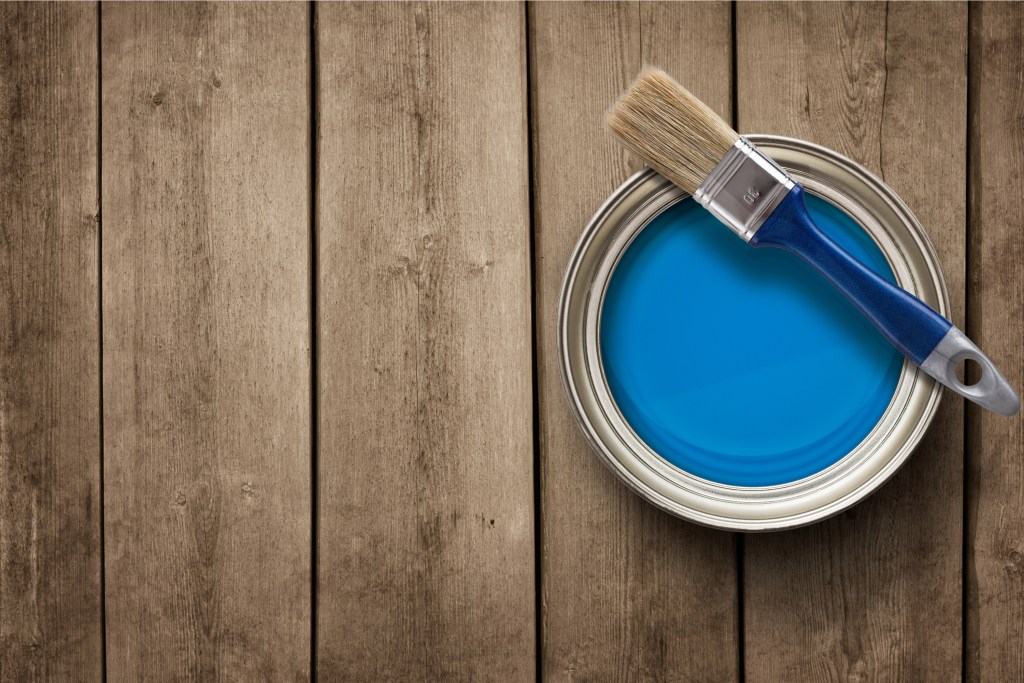 What materials do I need to paint furniture?
Before you dig into this project, make sure you have everything you need on hand. Nothing hinders your momentum like constantly taking breaks to head back out to your local hardware store. Here are the basics to get you started:
Primer
Paint of choice
Sandpaper or sander
Sanding block
Paintbrush or roller
Paint stirrer
Drop cloth
Sealant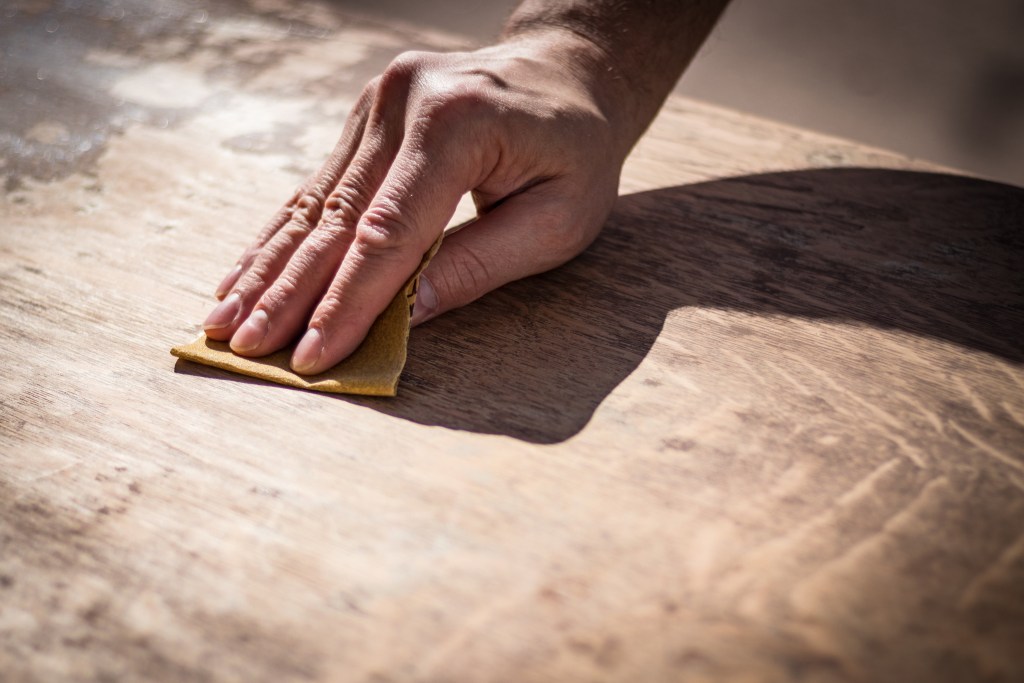 What do I need to prep before I paint?
It's important to prep the piece of furniture before you begin to give yourself a smooth, clean surface. This will result in a more polished final project that looks professionally done.
Using soap and warm water, clean the piece of furniture thoroughly to get rid of any dirt or grease that may be on it.
Then, allow it to dry thoroughly and completely.
Next, sand it to get rid of any uneven areas, leftover paint, and imperfections. We recommend using 120-grit sandpaper for this part. For larger pieces, consider using an electric sander to save time and energy.
Once it's completely sanded, wipe it down with a wet cloth to remove any lingering dust and debris.
What kind of paint do you use on wood furniture?
Satin or semigloss paint is the best for wood furniture since they're easier to clean and hide imperfections better. Experts also recommend using either latex or oil-based paint and picking a primer of the same kind. Both varieties are available in thousands of colors, and the finishes are extremely durable. This means the finished product will hold up to the heavy use and wear and tear, a feature that is especially important for pieces like dining tables or desks. If you have any concerns, ask your local hardware store and they'll help you pick out the perfect type.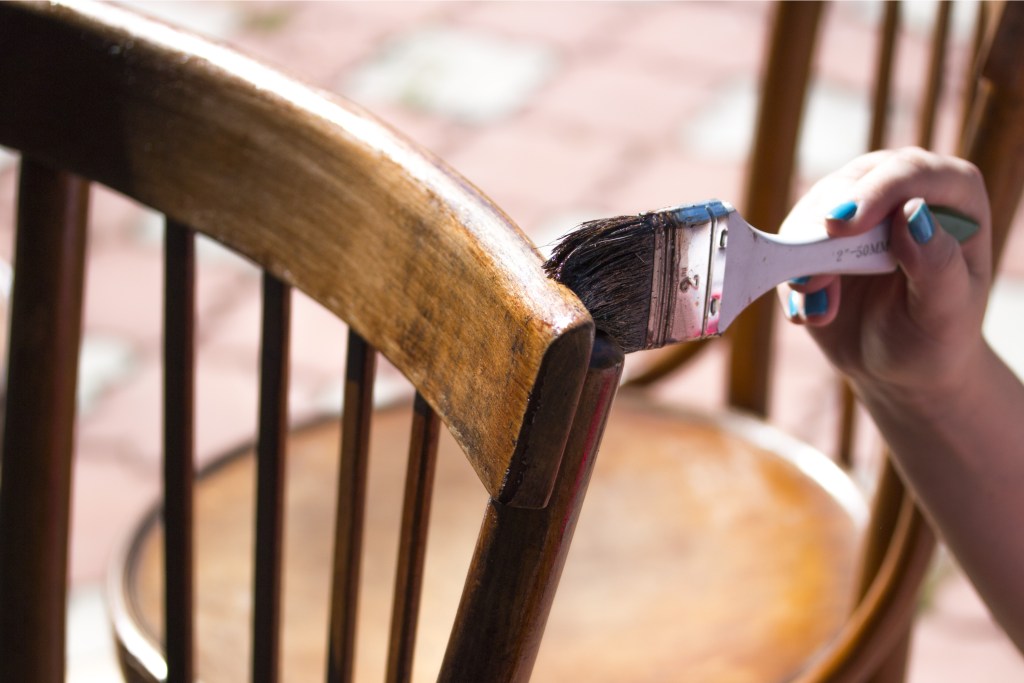 What is the best way to paint furniture?
Once the piece has been sanded, cleaned, and dried, you're ready to prime. Before you begin, remove all the hardware and lay drop cloths on the floor to protect it from any paint drips or splatter. Be sure to paint in a well-ventilated room, and wear any necessary personal protective equipment, like gloves and an N-95 mask.
Use either a paint roller or brush to apply one even coat of primer over the entire piece.
Once the primer is dry, sand the piece again. This will ensure the paint absorbs and coats the furniture evenly.
Depending on the size of the piece, choose either a roller or paintbrush and spread the paint evenly over the entire surface.
Let it dry completely then add an additional layer. Depending on the color of the paint and the condition of the wooden piece, you may need 2-4 coats of paint.
Finally, if it is a piece you will be using a lot, like a dining or kitchen table, seal it to ensure it's protected against water stains and food. The more time you can allow the paint to dry before sealing, the better. This ensures the piece is ready to absorb the sealant.
As long as you follow these steps, you'll soon have a finished product you can be proud of.
Painting wood furniture is a fun and easy way to give an entirely new look to an old piece of furniture. This is also a great opportunity to inject more personality into the space and get creative with the colors, patterns, and textures you choose. If you're going for a more farmhouse feel, you may want to use neutrals like deep brown, ivory, or black with hints of navy and forest green. If it's more retro, you can be a bit bolder with the color palette, opting for candy apple red and electric blue. To add a little decorative element, paint the insides a different color or even line it with patterned wallpaper. The sky is the limit when it comes to refinishing furniture, so if you have fun with the process, you're sure to love the finished product.
Editors' Recommendations