This year, we're seeing more vintage decor taking center stage. From grandmillenialism to retro patterns, the reemergence of vintage trends has taken the design world by storm, prompting new takes on old schemes. With so much experimentation and nostalgic fun on the rise, Chairish — which specializes in vintage furniture, art, and home accessories — has shared some striking vintage home decor trends that you can expect to see this year.
A resurgence of pattern
Pattern is an essential aspect of home design, and while recent design trends have leaned toward more simplistic styles, there's a new craving for over-the-top and extravagant vintage designs.
Marble
Marble has made a comeback and is being used in all sorts of home decor. Aside from classic tiling, marble can be found on vases, mugs, tabletops, statues, and even textiles. While the traditional black and white marble still holds center stage, designers and homeowners alike are experimenting with fun colors like blue, pink, and green to create a unique and luxe feel to their spaces.
Tortoise patterns
Tortoise patterns have often appeared on eyewear in the past. However, this unique pattern now adorns all sorts of interesting spaces in interior design. From decor to wallpaper, tortoise patterns offer a bold pattern to make a statement in your home. Maximalists may find a tortoise patterned table to be the perfect addition to their curated design, while more traditional designers will favor the striking look for an accent wall or piece of decor to spark conversation.
French and Flemish pattern
French and Flemish-style art patterns are also stepping into the spotlight this year. With a nostalgic, soft appeal, these artistic pieces bring a sense of sophistication and grace to any room. Tapestries, rugs, artwork, and specially designed furniture are the primary methods of expressing this luxurious and elegant pattern. So, if you're looking for a touch of antiquity with a curated and regal aesthetic, this is the way to go!
Grandmillennial style takes center stage
If you've been perusing new designs and the latest trends in home decor, it's likely you've come across grandmillenialism. A blend between modernity and vintage home decorating, this style has completely reinvented vintage home design. Here are some of the best trends within this style.
Antique florals
Antique florals are reentering the home. While traditional floral arrangements are quite popular, there's also a new take on the use of floral patterns. From upholstery to wallpaper, vintage floral patterns are becoming a staple in many homes. You may find these floral patterns mixing and matching with one another or dominating the space to create a colorful and curated collage that feels homey and relaxing.
Regal furniture
Pieces that radiate regality have also become a trend within many home designs. Trunk chests, chaise lounges, grand pianos, statuesque busts, and ornate mirrors are among the many unique pieces that have taken prominence in vintage design. These pieces, while regal, are often quite affordable and can be found and restored from antique malls and thrift stores alike. As a result, homeowners are enjoying the ability to curate a space that feels both elegant and authentic, adoring their freedom to choose pieces that speak to their unique styles and suit the aesthetic of their homes.
Eclectic pieces
Alongside curating a space through pattern and regal vintage home decor, a common trend this year is choosing more eclectic pieces to add to the design. The weird, quirky, and obscure are favored in home design right now. With a focus on personality and authenticity, it's no surprise that people are looking to choose pieces that reflect themselves and their aesthetic while designing the room of their dreams.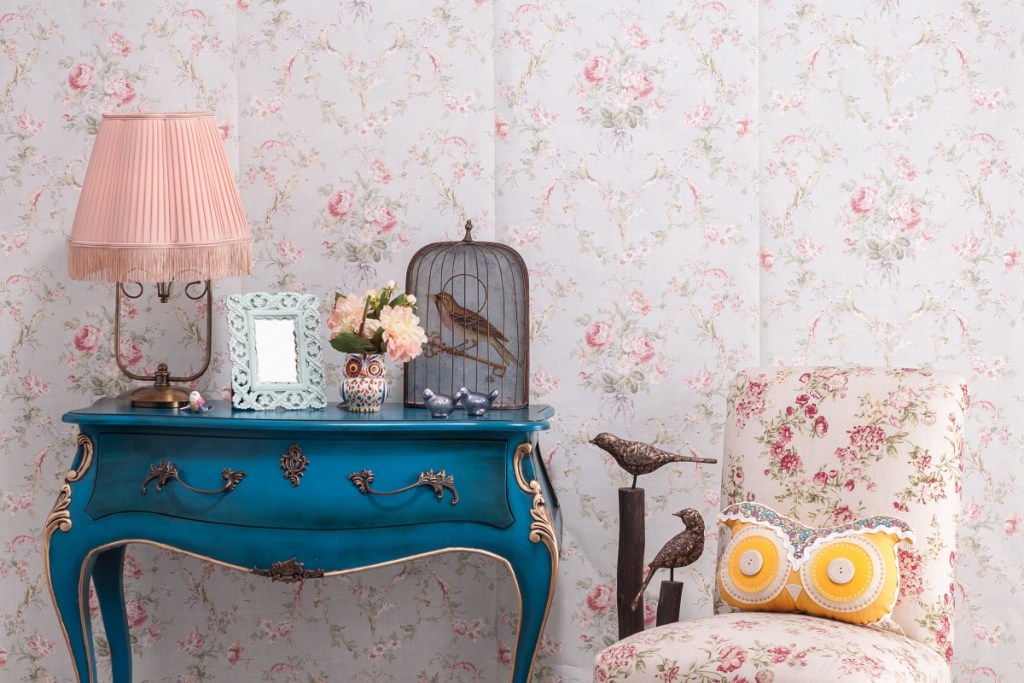 A blend of modernity on the rise
While vintage home design typically leans heavily on antiquity, the revitalization of this style in recent years has urged many designers to blend modernity with their vintage and retro designs.
Metal finishing
Metal finishing is an excellent example of this blend of styles. This year, metal lampshades, picture frames, decor pieces, and finishes are becoming more prominent in many households. Their sleek appeal brings a bit of modernity to a vintage space. However, you're likely to see a vintage twist with intricate metalwork and ornate adornments surrounding these lovely finishes. This trend is especially fitting for industrial and rustic designs that could use a vintage touch.
Contemporary surrealism
While many people will focus on rustic or regal decor for a vintage home design, taking a retro and contemporary approach could be equally refreshing and exciting! Contemporary surrealism pays homage to pop art and the '70s aesthetic that many homeowners adore this year. Collage wall prints, surrealistic pieces, and bright pops of color are entering many homes, bringing light and inspiration to interior design. If you're a fan of color and need something more unique and inspiring, we highly recommend hopping on this trend.
Vintage interior design has a number of notable trends emerging this year. From metalwork to florals, there's something here for everyone. No matter your design style, vintage home decor could be just what you need to spruce up your design and incorporate more of your personal flair into your home.
Editors' Recommendations