The holidays will be here before you know it, and if you're already in the mood to decorate your front porch for Christmas, you're in good company. The holidays are a time to go all out decorating, and your front porch sets the tone for the rest of your home's decor, so it makes sense to spend some time thinking about its design.
Some of the design depends on how large your front porch is and your overall budget to deck the halls. Then, consider what you have to work with, like the windows, railings, front door, and steps, to come up with a plan. You don't need to spend a lot to get a final product worthy of St. Nick himself.
Deck out your front door
One of the most stunning ways to decorate for the holidays is a Christmas wreath. You can either buy one or DIY it yourself using a wreath form, florist wire, some festive ribbon, and whatever else inspires you from the season, like cranberries, pinecones, evergreens, or mini ornaments. If you don't have the time to craft your own this year, check out this gorgeous prelit eucalyptus and pine wreath from Pottery Barn that would "wow" any guest. For a finishing touch, hang whatever wreath you choose with a decorative ribbon.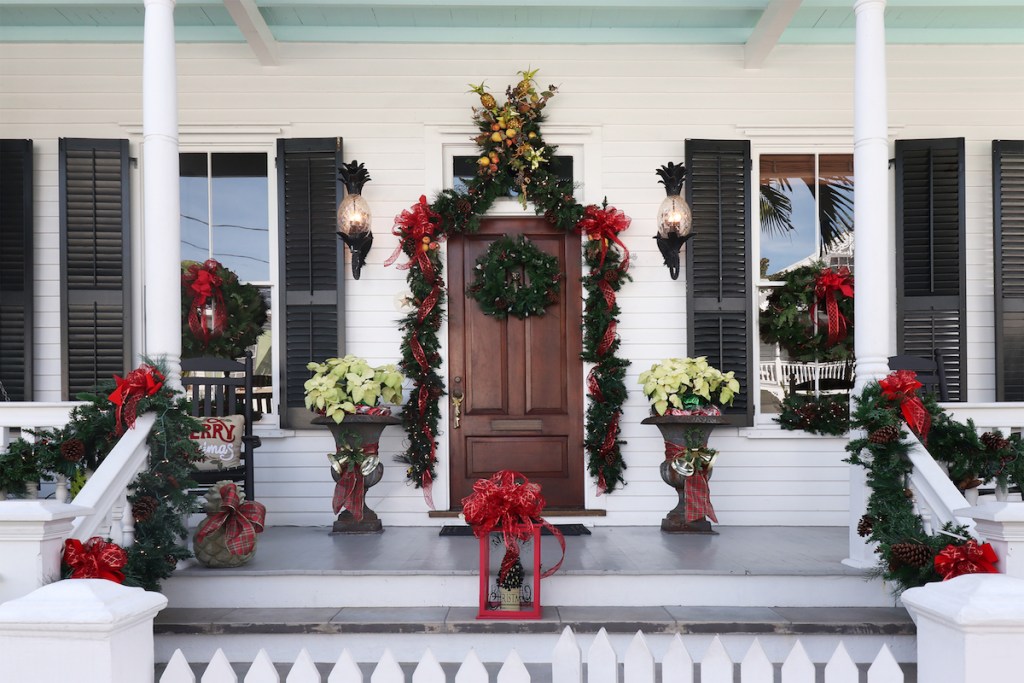 Reuse your summer planters
Don't pack away your planters just yet — you can use them to create seasonal stunners on either side of your front door. Fill them with small evergreens, poinsettias, sticks from your yard, and other seasonal pieces. You can either leave them more natural or buy a set of string lights and wrap them around the plants or trees for a touch of warmth. If your planters are more summery in their design, decorate them with garland or twine, and voila — you now have planters perfect for the holiday season.
Use your banisters and railings
If your porch has a banister or railing, this is the perfect decorating opportunity. Use outdoor pre-lit garland and wrap it around each railing, post, or banister. You can add mini ornaments or glue on pinecones to elevate the design look. Not only will it look gorgeous adorning your porch, but it will also give off extra light, which is a welcome benefit to anyone coming up your steps in the ice and snow.
Put up an outdoor Christmas tree
A Christmas tree isn't just for the living room — why not keep this tree outside where it belongs? Prop up this pine tree against the porch corner and decorate it with farmhouse-inspired ribbon and ornaments. You can also buy pre-lit outdoor trees like this one from Lowe's, for less than under $170, to save yourself time and energy spent outside hanging lights and ornaments. This statement is the perfect way to welcome friends and family as they pull up to your house for Christmas dinner.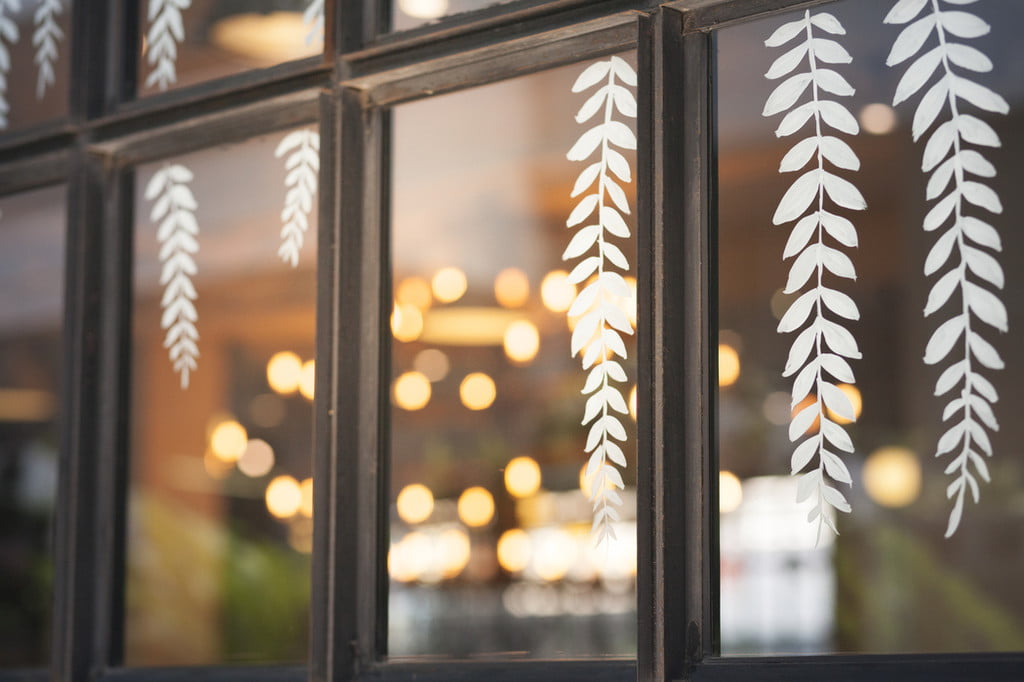 Don't forget the front windows
Your front windows are a perfect place to hang small wreaths by ribbon so passersby can get a small peek into the festivities inside your home. You can also find a fun neon sign like this "Merry Christmas" one that you can face out towards the front street, spreading joy to all your incoming guests and passing neighbors. Finally, you can always go the classic route with prelit candles that you can place in all the windows that face the front of your house. This is a look that never goes out of style.
These are just a few options for creating a classic and timeless front porch for the holidays. We encourage you to take inspiration from these festive tips and tricks and create your own unique design scheme. Don't feel pressured to create the brightest and most elaborate porch on the block. Use your space wisely and add natural touches, festive lights, and decorative accents to create the perfect Christmas winter wonderland.
Don't forget that although your porch is the perfect stage for your holiday decorations, they should still be functional. If you live in a region that sees frequent snow, make sure you clear off your front porch and stairs (if you have them) so guests feel safe walking up and not slipping.
Editors' Recommendations