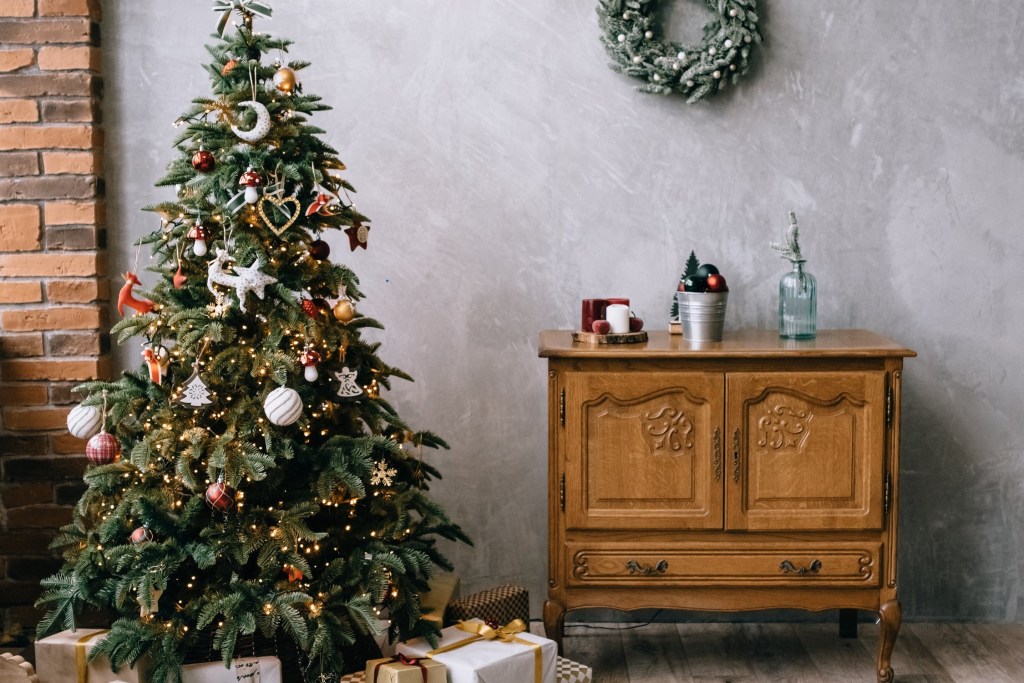 Getting your home ready for Christmas should be a source of joy, but sometimes it can be a challenge to find decorations that fit your style and your budget. Whether you want to pick up a few classic items or are ready to decorate your entire home with a whimsical holiday vibe, you can find the best Christmas decorations at these stores.
Browse Wayfair from your sofa
Wayfair offers a wide array of Christmas decorations for your home so you can share the joy of the holiday season with your neighbors and guests. Set up an outdoor Nativity scene, candy cane inflatables, a life-sized nutcracker, or reindeer in your backyard. You can also shop on Wayfair for the little things like lights for your Christmas tree or your home's facade.
Deck out the inside of your home with holiday pillows, area rugs, wall art, candles, and other decorative accents. Wayfair's selection includes Christmas-themed snow globes, tabletop trees, Christmas figurines, nutcrackers, Christmas villages, Advent calendars, and stockings.
Basically, it's one-stop shopping for indoors and outdoors (without ever leaving your couch).
Consider Lowe's for your tree and outdoor needs
If you want to spruce up your home with a Christmas tree, but you don't want to deal with pine needles on the carpet (and other hassles of a real tree), you can buy an artificial one at Lowe's. This hardware superstore offers traditional green trees, as well as ones in less conventional colors, like white and blue. Since the trees are pre-lit, you won't have to worry about buying and stringing up lights either.
Lowe's offers both fresh and artificial garlands so you can decorate the outside of your house or wrap them around the banister of your staircase. Lowe's selection of outdoor decorations also includes gift boxes, sleighs, and Mickey Mouse-themed decor.

Check out Target for its variety
Target provides Christmas decorations at a wide range of price points, so you can create a winter wonderland on any budget. The selection includes full-sized and tabletop trees, ornaments, tree toppers, wreaths, stockings, and Advent calendars. You can also decorate your home with a festive Santa or reindeer figurine, a Christmas-themed sign, a snow globe, or a bird dressed as a Christmas tree. Target's Snowed In Cabin Collection includes a set of reindeer figurines, church and barn figurines, Nativity figurine sets, lanterns with trees inside, and holiday-themed signs that are perfect for a rustic scheme. Target also offers exterior decorations like wreaths, signs, and pathway lights shaped like candy canes.
Shop for affordable Christmas decor at Walmart
Look no further than Walmart for festive decorations for every room in your home. You can choose from tabletop and full-sized Christmas trees, lights, ornaments, wreaths, Santa Claus plush huggers, Christmas-themed quilts, decorative nutcrackers, ceramic Christmas trees, stockings, wall art, and other decorations that you can place on a table or hang on a wall.
Adorn your yard with a variety of inflatables, ranging from a traditional Nativity scene to elf legs and Jack Skellington from The Nightmare Before Christmas. Finish off the look with a series of pathway markers decorated like Christmas presents that can delight family and friends as they approach your house via a walkway or driveway.
Michael's is a DIYer's dream store
The craft store Michael's has all the fun and creative pieces you need to make your home your own North Pole. Pick up a wreath to share a touch of the holiday spirit with your neighbors and guests and set up a pre-lit Christmas tree, available in a wide range of sizes from 18 inches to 16 feet tall, to welcome friends and family into your home. Get your creative juices flowing and pick out an unfinished tree so you can decorate it as you see fit using paint, glitter, and other materials.
Spread some joy by decorating the mantle with stockings, choosing from varieties that include solid colors, plaid patterns, and decorative snowflakes and snowmen. If you don't have a fireplace, you can always hang your stockings from a decorative holder. Michael's also offers several charming Christmas-themed Lemax figurines, including ones that depict Santa's toy shop, a skating rink, and a group of shops.

Choose Frontgate for distinctive tree decor
Frontgate sells Christmas trees with both slim and full profiles so you can pick one that fits the space in your home. A Snowdrift Noble Fir Tree can let you recreate the look of a forest after a snowstorm, and it will look simply magical paired with elegant ornaments and a stylish velvet tree skirt. Frontgate sells other indoor decorative items, including Santa and reindeer figurines, nutcrackers, and decorative pillows and bows.
Frontgate also carries a series of miniature trees that you can use to line a pathway leading to your house so family and friends will feel welcome as they make their way to the door.
Go to Macy's for traditional Christmas fare
Macy's is almost synonymous with Christmas, offering wreaths that are exclusive to the department store and include designs that incorporate birds, berries, pinecones, and pine needles.
Macy's also offers Christmas trees in a variety of styles, ranging from classic to elegant and whimsical. You can adorn your tree with ornaments from a vast collection that includes several designs that were created exclusively for Macy's, as well as an angel tree topper, tree collar, and tree skirt. The collection of indoor decorations also includes both traditional and contemporary designs, such as figurines depicting religious figures as well as others that illustrate Santa, the North Pole, and the Grinch.
These stores are our top picks when it comes to Christmas decorations, whether you love a look that's timeless or one that's a little more trendy. Head over to a location in your area or hop online to browse these selections and find what you need to get into the holiday spirit.
Editors' Recommendations