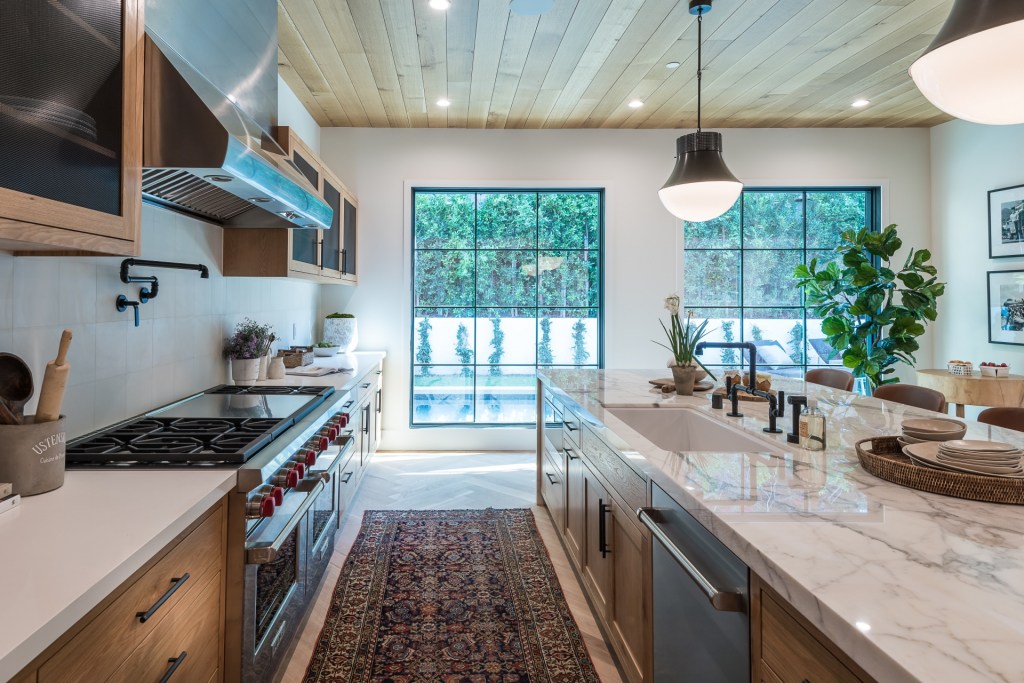 Shiplap isn't just for walls, designers are using this stunning decor on ceilings, and the results speak for themselves. Not only do shiplap ceilings add a ton of character and charm, but you can use the look to cover up a dated popcorn ceiling, add a customized designer feel to a space, or for height and depth to a boring room. There are so many ways to use color, patterns, and textures to make a statement in a bedroom, kitchen, or bathroom, and with all the DIY videos available, it may just be a project you consider taking on yourself.
Shiplap ceiling options
You can use original shiplap boards for your ceiling (think Joanna Gaines) and join the boards together with a traditional rabbet edge or you can opt for an easier, more cost-effective way by using thin pieces of underlayment (either full boards or by using thin strips that are 1/2-inch thick) to create the shiplap look. If you're planning on painting the shiplap or the entire ceiling, this is an easy trick to get the look without the cost. You can lay the boards in a horizontal or vertical pattern or do something unique with a chevron or herringbone pattern to create another dimension.

Adding character to shiplap
We mentioned above that adding color to what used to be white shiplap on walls is an easy way to add a new design element. We love using darker colors in a room with high ceilings to draw the eye up (think army green, navy, or even black) and lighter colors like pale yellow, ivory, or light pink for rooms with lower ceilings. If you have a room that's minimalistic and mostly monotone, consider using that same color on the shiplap ceiling and then adding beams running the opposite direction in a walnut or black to contrast and add further dimension.
Getting started
If you want to start small, find a little nook in your home or a guest bath and try that ceiling first to get the hang of measuring, light placement, and constructing the wall. Then, you move on to lay out a 6-by-6 space (size depending on how large the overall room is) over a kitchen island or primary bed and create a pattern design that's sectioned off from the rest of the ceiling. As you gain confidence, you can move to larger rooms and more intricate designs in your shiplap ceiling.
As always, the internet has a wealth of information if you want to do it yourself, but if you're not sure or don't have the time, there are plenty of designers in most local areas who will take on the shiplap ceiling project for you. Just be sure to ask for references and do your homework to find a contractor that's right for you and will deliver a product that will stun you and your guests.
Editors' Recommendations