The kitchen is the heart of your home, and at the center of all the action is your kitchen island. It's where you'll prep and enjoy delicious meals as well as entertain friends and family. When necessary, it can transform into a home office or homework station for the kids, no matter the time of the day! This multipurpose space deserves its own lighting to not only illuminate your work but also to show off your personal style.
Unlike other rooms in your home where a single ceiling light may suffice, your kitchen island needs its own designated lighting display. The right lights over your kitchen island can create ambiance and style, and pull together the overall design of your kitchen. However, with so many lighting options to choose from, it can be overwhelming to determine which will work best in your space. So, if you're looking to renovate your kitchen island lighting, here are some bright ideas for an instant upgrade.
How do you choose island kitchen lighting?
When you start the search for island kitchen lighting ideas, you'll want to figure out a couple of things first: style and size.
Style
From pendants, globes, lanterns, string lights, and chandeliers, there are plenty of lighting options to hang over your kitchen island. Before adding any lights to your shopping cart, however, the first step is deciding which design style you want to showcase in your space.
Whether you are going for a modern aesthetic, a mid-century modern look, an updated farmhouse feel, or another design, these styles will help narrow down the lighting options. Since each category of design has specific styles, colors, and materials that are often used in its lighting, let your kitchen design inspire your lighting choices. This step can be tremendously helpful when you have a sea of gorgeous lighting choices to pick from.
Size
When it comes to the size of the lights, first measure your ceiling height and the island length. Usually, the higher your ceilings and the longer your island is, the wider and taller your lights can be. If you are working with lower ceilings and a shorter island, you'll want to choose more slender and narrow lights. Lights that are too big can overwhelm the room, and lights that are too small will be lost and can make the room seem choppy.
If you need a visual to help you choose your lighting size, use painter's tape to mark off the length and width of the lights, or cut pieces of paper to the same dimensions as the lights and place them on your island for comparison. While this is not an exact science, it can be helpful when deciding between lights of different sizes.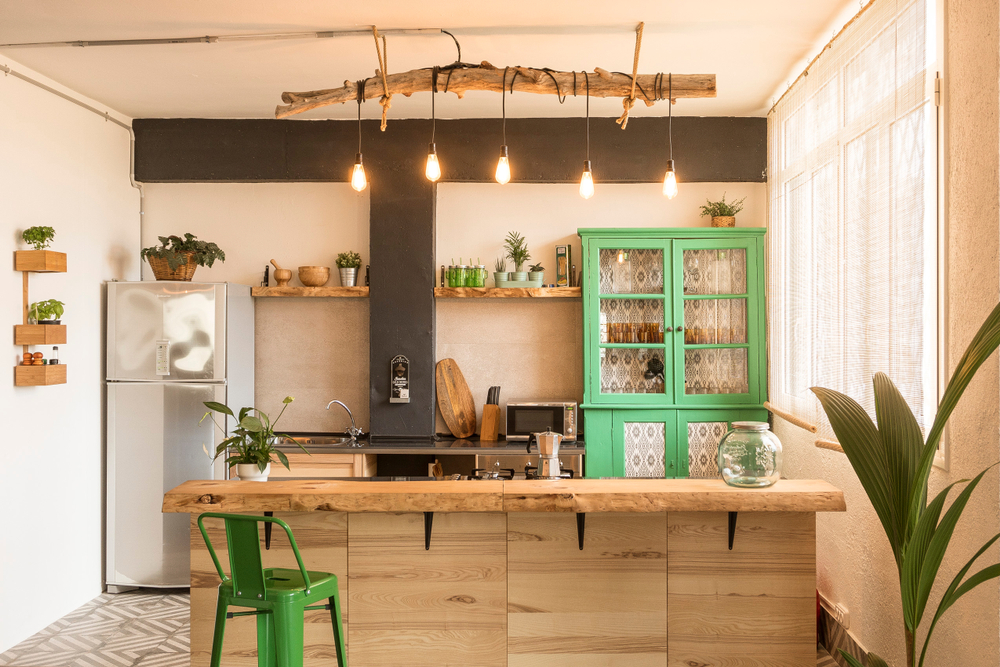 How many lights should be on a kitchen island?
Design experts suggest starting with the rule of three when it comes to lights over your kitchen island. This handy design guideline suggests that using items in odd numbers is visually more interesting and more appealing. For lighting purposes, an odd number helps create balance and proportion. Having three lights rather than two also helps illuminate more of the island countertop.
If measurements and numbers are the way you design, use the length of your island as a guide. For a 5- or 6-foot island, two lights may suffice, but if you have an extra long island, four or five lights might be a better fit. The lights should hang at least 2 feet apart.
If you're choosing extra large lights (or the reverse) and you've picked out slender lights, creating a visual display can help you choose the right number. Again, cut pieces of paper that are the same dimensions as the lights and place them on the countertop. You'll want the lights evenly spread out and not hanging off the island.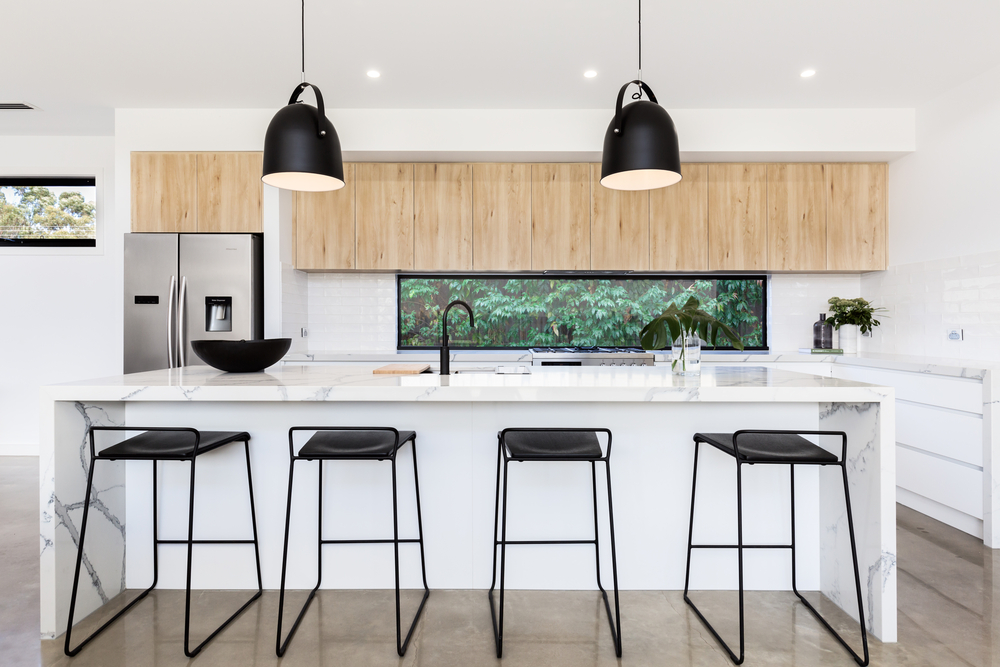 How low should lights be over a kitchen island?
Break out the measuring tape, because here's how you can figure out the correct length to hang your lights. Traditionally, lights should hang between 30 and 36 inches from the island countertop. Your ceiling height can change these measurements slightly, but as a rule of thumb, you'll want to be able to look across your island without the lights obstructing your view.
The lighting in your kitchen is critical to the design and function of the room. Since the kitchen island is the centerpiece of the room and a space where you spend so much time, you'll want to choose lighting that keeps the area bright for taskwork and stylish for your design dreams.
While a standard run-of-the-mill light will do the trick, opt for something that will spotlight the design of your kitchen. Whether you go with a chandelier of baubles, a trio of oversized antique lanterns, or three globe lights that mix high design and function, make sure you choose lights that you'll love turning on and off for years to come.
Editors' Recommendations