When you're looking for kitchen countertop ideas to uplevel your next remodel, it can be challenging to know what will be best for your space. Choosing the right kitchen counters is an essential part of any kitchen redesign. And as with most features in your kitchen, they must be both functional and beautiful. Your countertops will arguably get the most use out of all your kitchen features, so you need a material that can keep up with your lifestyle. However, it's also important that your countertops reflect your home's decor and overall scheme. Design-wise, the right counter can tie together the look of your room and bring your design to the next level.
With so many different natural and synthetic countertop materials to consider, it's difficult to know what will work best for your home. That's why we turned to a pro for guidance. Amber Carfield, Design Director at Scottsdale, Arizona-based Kitchens by Good Guys, told us all about her top recommendations for countertop materials. Keep reading to discover the best kitchen countertop ideas that will look amazing in almost any home.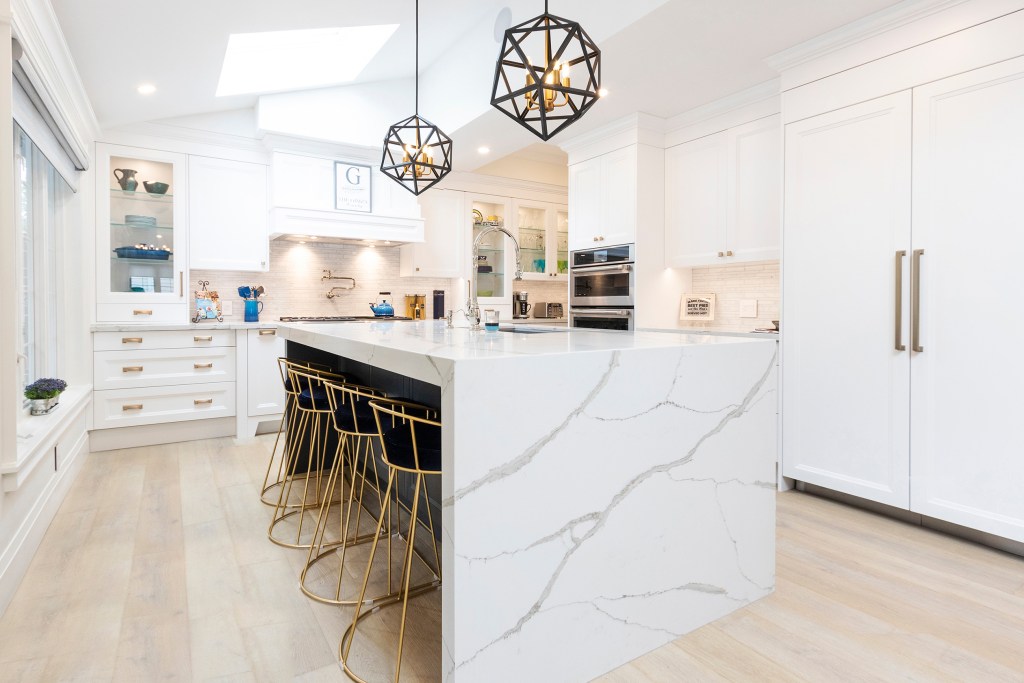 Quartz: Long-lasting and stylish
"When it comes to kitchen countertop materials, a quality material is quartz," Carfield said. The synthetic material is made to replicate the beauty of natural stone without the additional care requirements. Quartz is a composite stone made with genuine crushed quartz that is combined with a resin binder. This process allows manufacturers to create countertops in a variety of colors and designs, making it easy to find an option that will look incredible in your home.
One of the best features of this material is its durability. According to Carfield, "You can use high heat items directly on the quartz because it is protected to about 450 degrees Fahrenheit." The kitchen expert also recommends these counters because they don't require a lot of work to remain beautiful and functional for years to come. Quartz is very hard, never needs to be re-sealed, and is "not porous like other stone like marble, so it isn't going to stain." Additionally, this lovely material can add an air of elegance to even the most rustic of spaces. What could be better?
Quartzite: Natural and low maintenance
If you prefer the look and feel of natural stone in your kitchen, you should consider quartzite counters. "Natural quartzite is another material that is quite popular," says Carfield. "It has a similar feel to granite but is less aggregate, so it has more of a veiny pattern. It is often more neutral in color and a very popular choice right now among homeowners."
In addition to its naturally sophisticated, upscale appearance, we love quartzite because of its functionality, too. The material is one of the more durable and longest-lasting natural stones. Quartzite is harder than granite and can withstand a bit of wear and tear. The material also holds up to heat fairly well.
However, quartzite requires a little more maintenance than quartz. Like all-natural stone, it must be sealed before use and re-sealed regularly. Otherwise, liquid can penetrate the surface, leaving it impossible to remove stains. But unfortunately, this is the trade-off for the beauty of natural stone counters.
When implementing this stunning countertop into an outdated kitchen, you can give your entire space a fresh revamp that adds a bit of modernity and sophistication to your kitchen design.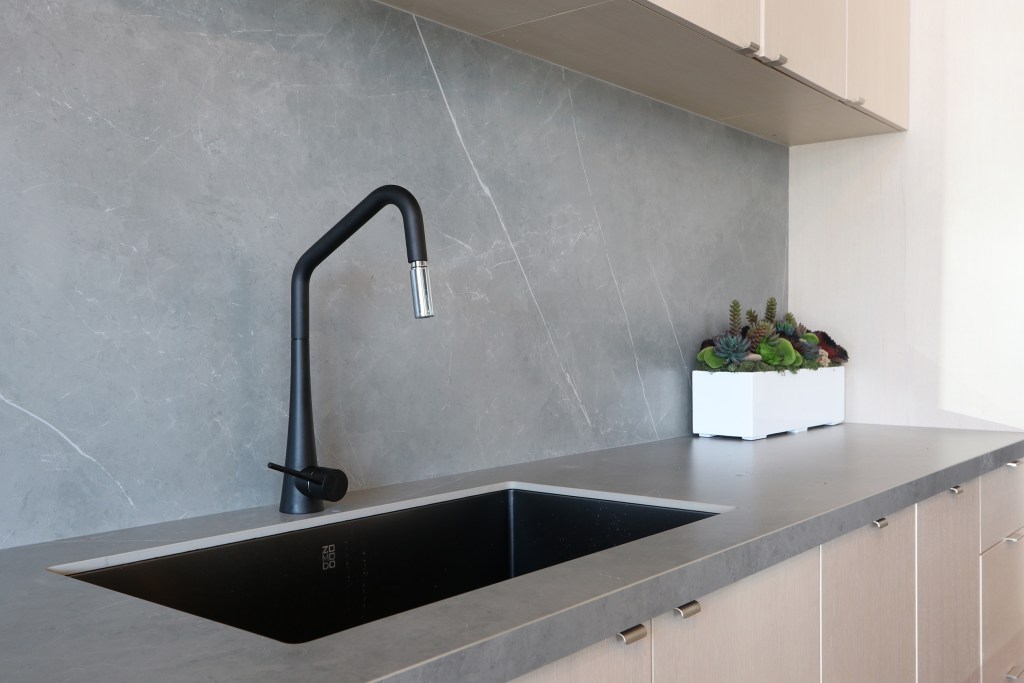 Porcelain: Trendy and durable
"A new trending countertop material is porcelain," Carfield said. When people first hear porcelain, they think of delicate dolls and collectible tchotchkes, but the countertop material is actually quite elegant and durable. Porcelain is made of clay that is heated to an extremely high temperature. Manufacturers then add pigmented glazes to create different patterns and colors on the slab.
The end result is an incredibly dense material that looks great and is highly durable.
Porcelain is often made to look like marble, but it can be found in various colors and designs. It is low maintenance, easy to clean, and can stand up to almost any damage. You won't need to worry about staining, scratches, heat, or UV rays with porcelain.
Because of its resilience, the material is an excellent option for both indoor and outdoor kitchens, according to Carfield: "Porcelain provides all the same qualities as quartz and can be used in exterior applications in direct sunlight. Unlike quartz, it will not yellow or change color due to direct sunlight."
The right countertop material can make or break a kitchen renovation project. Your kitchen countertops should look beautiful but also be able to keep up with your cooking habits and lifestyle. All three of the materials recommended by Amber Carfield meet and far exceed these expectations. Quartz, quartzite, and porcelain are all incredibly stunning and can be found in a variety of designs suitable for any home style. Plus, they are all tough and durable materials, so you can continue to use them for many years to come. With any one of these excellent expert suggestions, you can't go wrong.
Editors' Recommendations