Each year, homeowners aim to spruce up their spaces and invite a fresh look into the home. And according to the experts, changing the kitchen design is the way to go if you're looking for an uplifting and inviting interior. Let's face it, what once worked for your kitchen may not be as trendy as you think.
Now your space feels drab or incomplete. But what is it lacking? As home design shifts away from the cold and minimal aesthetics of the past, we can expect warm and comforting schemes in 2023, which may be just what your kitchen needs to feel more luxe and lively.
So, if your kitchen is in dire need of an update, then we have just the tips for you. Here are some of the most incredible expert kitchen design trends of 2023 to look out for.
Lean into natural elements
One of the most prominent trends entering home design in 2023 is using natural elements. Gone are the days of plain white subway tile, polished quartz countertops, and other man-made materials that seem almost too perfect. Instead, 2023 kitchen trends are leaning into a natural and organic feel.
Nick Lines, director at Internal Doors, said, "using natural materials like stone and wood" will be a welcome trend in 2023. "This can add a beautiful touch to any kitchen, and it also helps to make the space feel more inviting and warm." As homeowners crave a sense of comfort, it's no surprise that interior design is inviting more natural elements into the space to inspire that sense of peace and tranquility.
Carrie Schulz, head of design at Block Renovation, also offers her take on how natural elements will affect 2023 kitchen design. Schulz suggests that homeowners "lean into natural or handmade textures like marble, terrazzo, or integral color plaster." We also recommend considering handmade backsplash tiles like zellige for a more organic and natural look.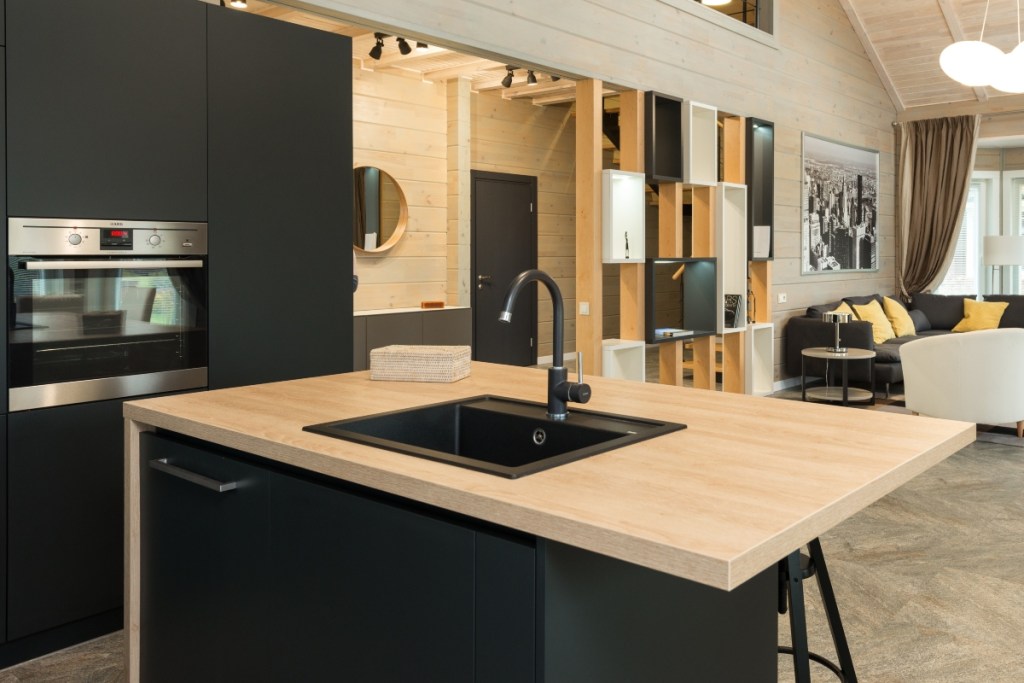 Go for opulent tones and textures
When looking toward some of the latest trends in home design, experts like Barry Schneider, owner of the European Kitchen Center, attend exhibitions like the EuroCucina trade show in Milan, Italy, to gain inspiration. Schneider told us that "more luxurious, opulent colors and textures combinations were seen in abundance." Features like black cabinets, leathery textures, Fenix laminate, ribbed and fluted wood veneer finishes, and black aluminum accents were some of the most popular trends Schneider witnessed at the show.
As 2023 kitchen design enters the home, one trend many experts are taking notice of is the use of highly contrasting colors. While opulent shades and textures are surely paving a path for themselves, the use of dark and light tones is making a statement in the kitchen. Bob Bakes and Paul Kropp, co-founders of Bakes & Kropp, said, "contrast is key. We might choose to use a very high-gloss finish for the cabinetry and offset it with a matte wood finish for open shelving or accent panels." This is a great way to blend dark, trendy tones like black with more natural textures.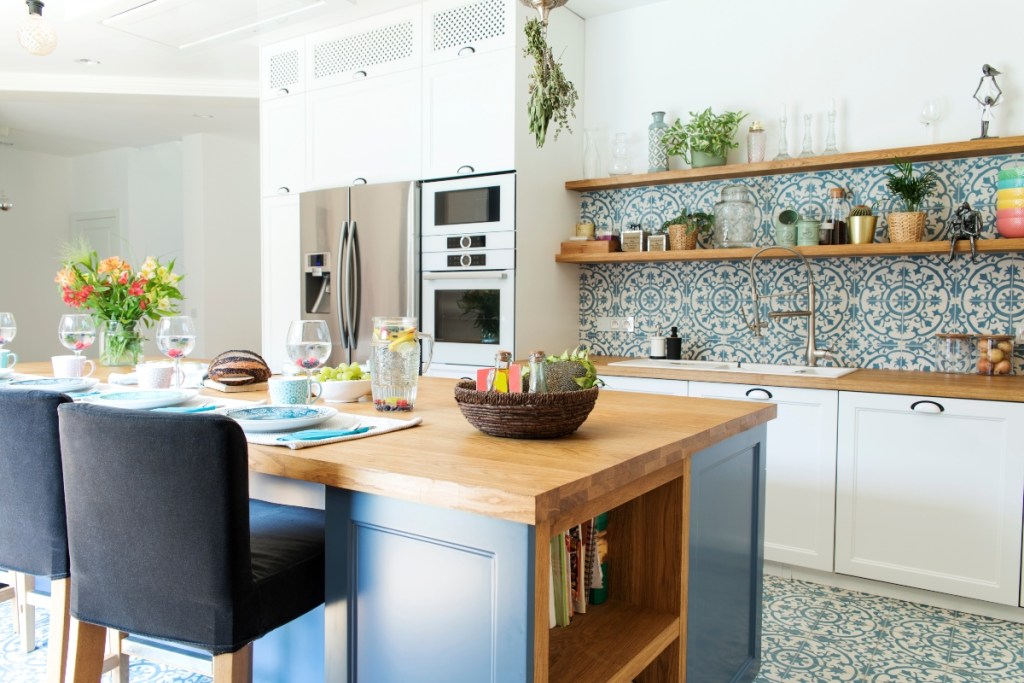 Invite the outdoors in
With a natural theme well underway in kitchen design, many experts suggest looking for ways to invite the outdoors in. Whether with plants and biophilic design or with an earthy palette, designers are loving this outdoorsy aesthetic. As Carrie Schulz at Block Renovation, said, "Neutrals, greens, and blues, combine to create calm, grounding spaces. After an extended pandemic spent indoors, it's little surprise that people would be drawn to these natural palettes reminiscent of the outdoors."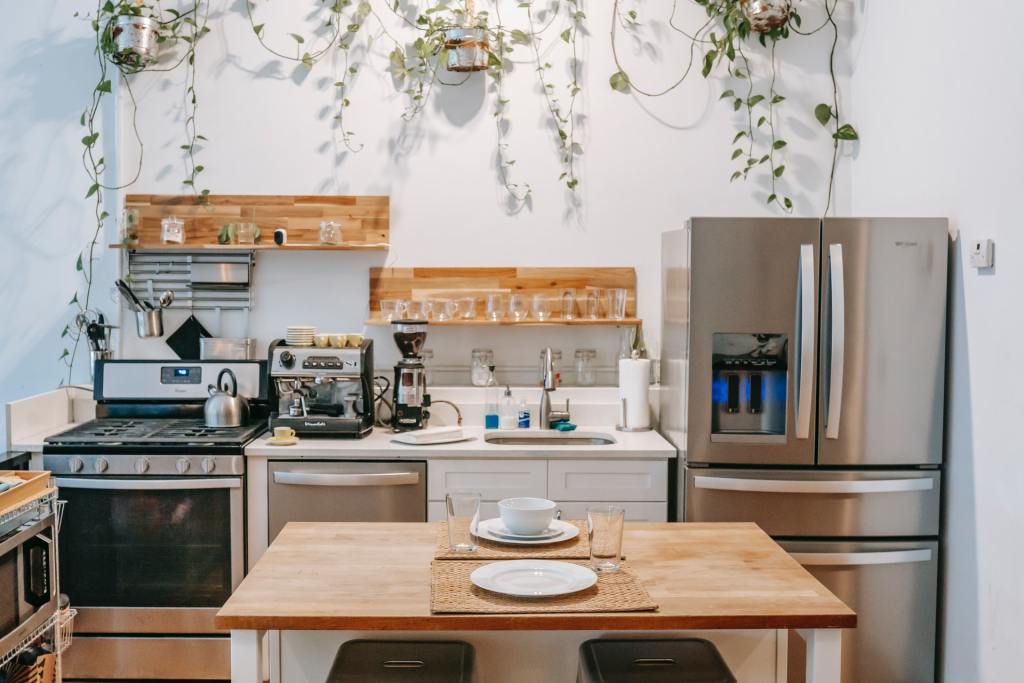 Don't neglect the details
As you begin updating your kitchen design for a fresh 2023 aesthetic, it's important to pay attention to the details. Teri Simone, head of design and marketing for Nieu Cabinet Doors, stated, "Frequently referred to as the 'jewelry' of the space, kitchen hardware can be a simple method to improve the room design without taking on a major remodel."
Tones like bronze, gold, metals with patina finishes, light wear, and mixed metals offer a more organic and lived-in feel that many homeowners are craving in 2023. Consider swapping out your existing hardware with more luxurious pieces. Or, add these small details throughout the space with updated light fixtures or countertop touches.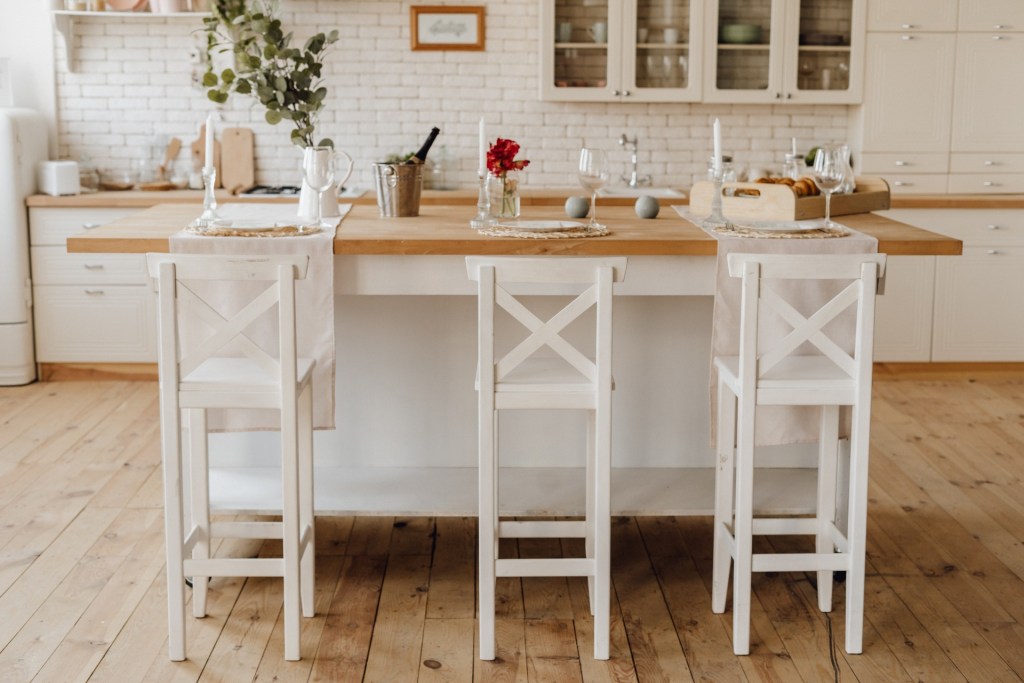 Make the space multifunctional
COVID changed the lives of many, completely overhauling how we use the spaces in our homes. Homeowners are looking at their unused spaces with a new perspective and are aiming to make their homes a multifunctional environment. Teri Simone at Nieu Cabinet Doors said, "Consider that your kitchen island is used for more than simply food preparation and seating; it also doubles as a space for kids' homework, snacks, and family time while meals are being made." Simone suggests adding "elegant sit-up islands" to your space or opting for more storage solutions to make the kitchen a central hub.
Mary Maydan, founder and principal of Maydan Architects, said, "I expect kitchens to continue to grow in size and importance with sophisticated appliances, USB and charger plugs, and designs that provide space to hang out, not just cook and eat." Consider revamping your kitchen island to fit specialty charging ports, more storage, or comfier seating. Making your kitchen a space where the entire family can come together at any time of the day is certainly a wholesome trend that we expect to see in 2023.
The kitchen is one of the most-used spaces in the home and it's about time it had the spotlight in home design. If your space is feeling outdated, consider a fresh coat of paint or updating the existing hardware. And for those who may benefit from a grander renovation, consider adding natural materials like wood countertops or stone backsplash. Invite the outdoors in and make your kitchen a welcoming communal space for the entire family.
Editors' Recommendations