Looking forward to 2022, there's one trend we simply can't ignore when it comes to interior design: green homes. Green design is all about sustainability, biophilic schemes, and natural elements that create a space where homeowners can feel relaxed and rejuvenated. If you're interested in hopping on this trend, then we've got you covered. Below are are our best tips for incorporating green home design into your space.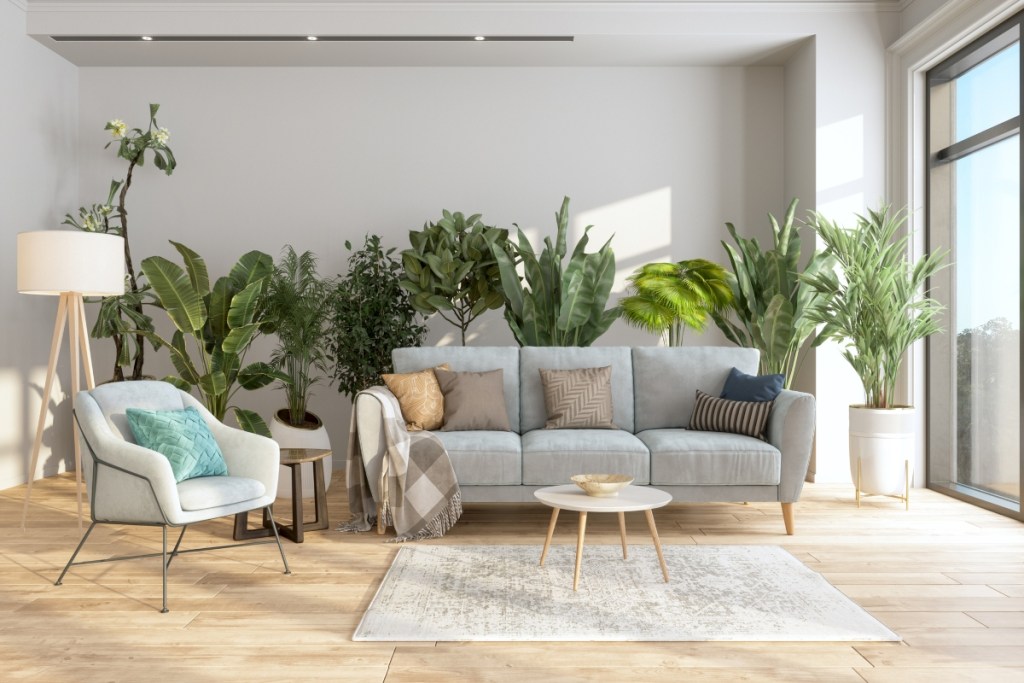 Why green design is growing in popularity
This type of home design aims to invite more peace and serenity into the space. After a tough couple of years of quarantine, work from home, and general pandemic-related anxiety, people are looking for a breath of fresh air in the home. Green design offers just that, literally and figuratively, using natural materials and oversized plants. It's no wonder paint companies like Sherwin-Williams and Valspar chose shades of green as their 2022 color of the year.
Further, with the climate emergency becoming more and more severe every day, many people are choosing more sustainable solutions in their homes whether it's using secondhand decor, opting for renewable energy, or making small lifestyle changes like composting food scraps.
How to incorporate green design into your home
Below are some of the best ways to incorporate green design into your space.
Focus on biophilic design
Whether you use house plants or opt for nature-inspired wallpaper, the biophilic design reconnects homeowners with the outside world using decor that's reminiscent of nature. To achieve this in your home, bring more houseplants to your space, situate furniture to face windows rather than walls, add plant-themed wallpaper or wall art, and use natural materials like wood, wool, or stone throughout the space.
Furthermore, biophilic design is also about creating an environment that feels authentic and calming, so items like mini desk fountains, white noise machines, landscape paintings, and open windows are crucial aspects of this trend.
Opt for sustainable materials
Rather than purchasing mass-market art or items made of plastic, this trend in home design urges homeowners to explore sustainable alternatives. Try to source furniture and decor from local artisans or purchase from eco-friendly brands and online retailers. Look for tables made of bamboo, furniture crafted from recycled materials, and locally made blankets to decorate your home sustainably. However you go about it, sustainability is one of the best ways to take advantage of green design and do your part to limit the amount of trash that ultimately ends up in the landfill (or the ocean).
Try out multipurpose furniture
In addition to sustainability, the green design trend also favors multipurpose furniture, saving money for homeowners and preventing the production of multiple unnecessary products. For example, rather than buying a separate guest bed and a couch, purchase one piece of furniture, like a day bed, that answers both needs. This two-for-one aspect of home design not only saves money for the long term but limits the number of materials, shipping, and waste needed to decorate the home.
Dual-purpose furniture also saves space, making the entire space look bigger. Additionally, with less clutter, there are more flat surfaces for light to bounce off of, improving the illumination throughout the room. So, whether you opt for a pull-out sofa bed, extendable dining table, or a mobile storage cart, you can cut down on waste and clutter all while coming in under budget.
Green design isn't just about natural elements
Protecting and celebrating nature, first and foremost, ensures the planet is happy and healthy enough to continue to support life. However, nature is also just nice to look at. In addition to creating a sustainable home, make sure your green design is also aesthetically pleasing. It's all about creating a space that looks and feels serene.
Greens, neutrals, and blues can be bright and lively, plus, they satisfy our innate need to connect with nature. Be sure to use a lot of cozy materials like cotton and wool so you can snuggle up and enjoy the space. Include plenty of options for soft lighting as well so you can unwind after a long day in a more ambient environment.
Green design is more than just adding plants to your interiors (although it is an important aspect). It's about using sustainable furniture in your design, adding greenery through plants and paint, and opting for natural elements that will reconnect you with nature and the beauty of the world that exists right outside your window. After spending so much time inside, it's time for a refreshing change, and green design offers just that.
Editors' Recommendations