A wreath on the front door is one of the first signs that a holiday has arrived. Even after you've taken down your Halloween pumpkins and stored your Christmas ornaments, hanging a beautiful winter wreath on your front door ensures you can welcome guests and decorate your front porch long after the holiday has passed.
If you're looking for some seasonal inspiration, look no further. These are some of our best tips for finding a winter wreath that will keep everyone feeling merry until spring.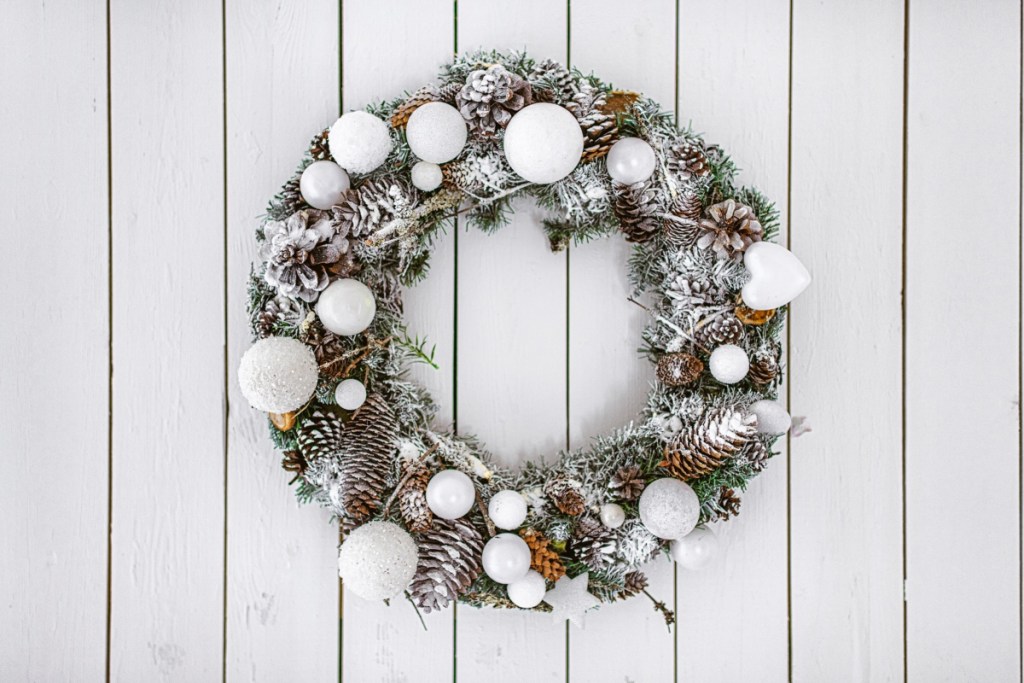 What is a good front door wreath for January?
Similar to hanging up a fall wreath, a winter wreath should reflect the season without focusing too much on a single holiday. The colors, natural decorations, and any signage should evoke the wintery landscape just beyond your porch. While some might argue that a Christmas wreath can last you long into January, it's not quite the same as seasonal adornment. The most notable difference is the color palette. Christmas wreaths tend to cling to an evergreen, red, and gold color palette. Alternatively, winter wreaths pull in the light blues, ivories, and charcoal grays of the winter months.

What goes on a winter wreath?
When adorning a winter wreath, less is more. While fall decor is all about celebrating the bounty of the harvest, winter decorations should be a little more muted, conjuring images of the perfect silent night. Instead of filling it with trinkets and flowers, opt for white or snow-dusted evergreens or perhaps a simple silver ring, depending on your style. Sparingly, add a few decorative pieces like pine cones, blue or white ribbons, silver or gold miniature ornaments, and maybe a winter sign or two.
If you plan to make your wreath, personalize the sign to welcome guests to your home and write out your last name, street name, or even a simple "welcome." Again, try not to make the wreath too busy. Since you'll be displaying it for a few months, it's best to go with something simple that will match your interior decor as well as the changing landscape.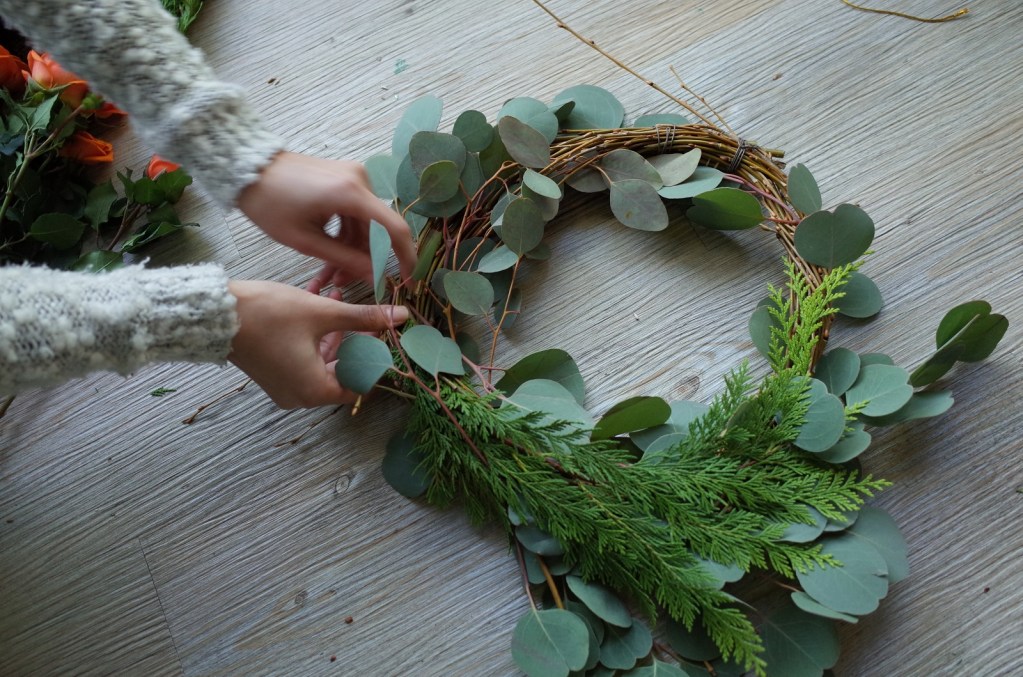 How do I make a winter door wreath?
For a minimal wreath, we recommend using a silver or gold hoop as your base. Then, a little off-center at the bottom of the wreath, add some small decorations like snow-dusted evergreens, a ribbon, or a few ornaments. Keep in mind that the focus should be on the wreath itself and any additional adornment should just be accessories. Once the trinkets, ribbons, and colors become the star of the show, it's time to start pulling back.
For bushier or fuller wreaths, purchase an evergreen or faux white evergreen wreath at your local home goods store. To decorate it, add some blue, white, or silver ornaments around the wreath. To try out a more dramatic and unconventional color palette, incorporate deep grays, forest greens, and even burgundy. As we mentioned earlier, handmade signs add a personal touch that infuses the design with a bit of your personality. Phrases like "Let it snow," "Hello winter," or a simple "Welcome to our home" are beautiful additions to your front door. To add some extra detail to your wintery sign, use hot glue to adhere a ribbon at the top or paint a few pinecones and evergreen sprigs on the corners.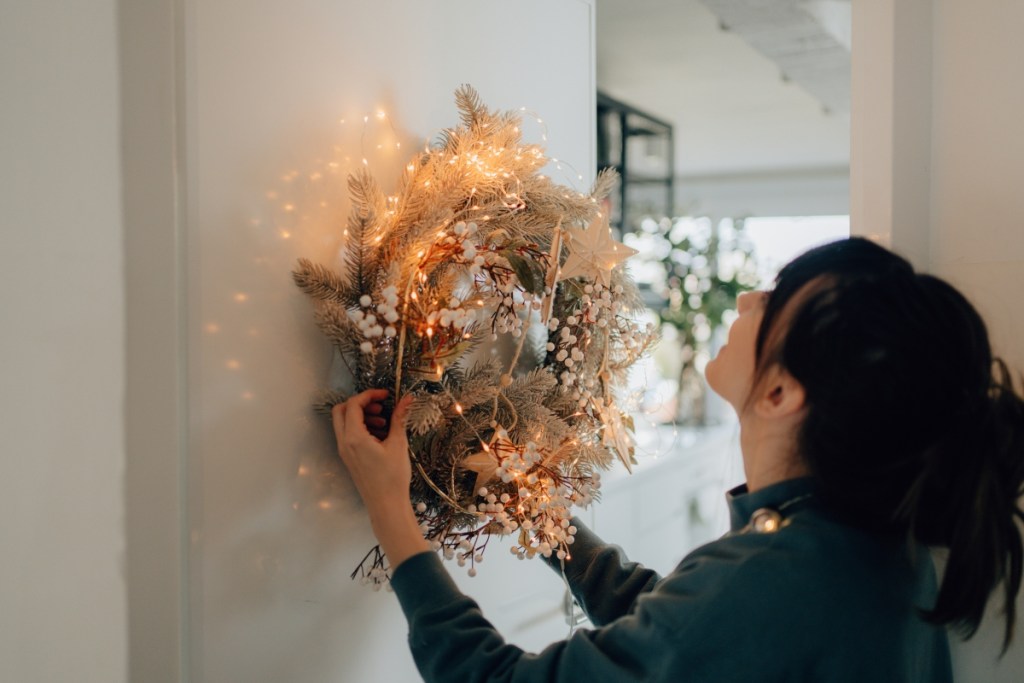 What can I put on the front door instead of a wreath?
If you aren't interested in placing a wreath on your front door, don't fret! There are plenty of wintery decorations that are not Christmas-themed that will look just as festive on your door. Oversized ornaments, miniature evergreens, a large standing sign, or a basket filled with winter plants like poinsettias can also add some life and vitality to your entryway. Additionally, add some soft light to the porch by wrapping fairy lights around large pots, up handrails, or even around the perimeter of your welcome mat.
This winter, give your decorations more mileage and diverge from the traditional red and gold accents, Santa hats, and North Pole paraphernalia. Finding the perfect front porch decor that can last throughout the chilly season is simple. Whether you choose to replace holiday decor with new pieces or adorn your space with one lasting theme for the entirety of winter, you can't go wrong celebrating the season with snowy, colorful, and personalized decor.
Editors' Recommendations