One of the easiest ways to give your home a total makeover? A simple coat of paint on the front door. Skip the traditional classic hues and opt for some colorful options that will give your home a pop of personality while creating a welcoming facade for your guests. Alternatively, if you're trying to sell your home, a fun door color may boost your home's curb appeal to prospective buyers.
In just one afternoon, you'll be able to switch up the shade of your front door effortlessly. The fun part is picking out your color— head to your local paint or hardware store for some paint chips, tape them to your door, and stand back to see which color stands out to you. Need some inspiration? Some of the most popular colors for front doors are teal, blue or navy, bold reds, sunny yellow or gold, green, and purple.
We've gone into more detail with these six amazing color options below.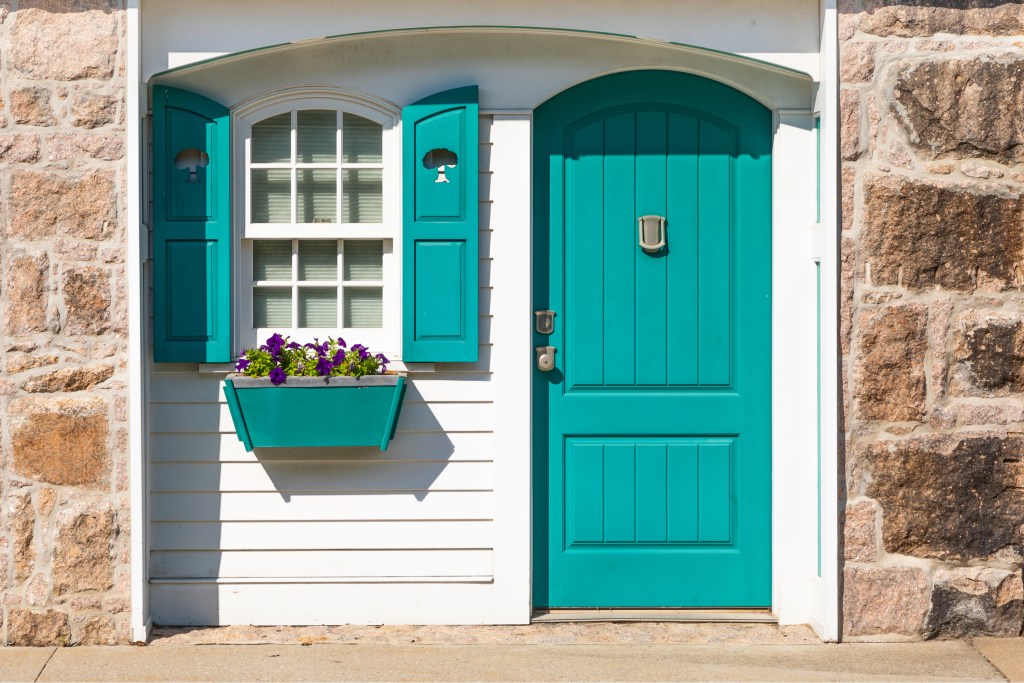 Popular colors
Teal blue
This exterior door paint color has become all the rage, thanks to its bright pop of color that isn't too overwhelming. Teal looks great against dark woods or lighter homes, so you can never go wrong with this color option. Luckily there are a lot of takes on the color, from modern saturated versions to more muted blue-gray options.
Recommendations: Peacock Plume by Sherwin-Williams and Mermaid Net by Behr

Blue or navy
A deep royal blue sits nicely against a brick home. If you're nervous about taking the plunge over to a brighter color, a navy blue is an option close enough to traditional black. If you have white siding on your home, either blue shade can give your home a nautical feel if that's what you're looking for. Either way, a classic blue is always a sure option.
Recommendations: Dragonfly by Olympic and Beacon Blue by Behr

Bold reds
A red front door always makes a bold statement, whether you opt for a vibrant red or a softer burgundy. Whether you have a brick home, a white exterior, or perhaps a mix of both, red looks great with any exterior. However, choosing the right shade is key.
Recommendation: Caliente by Benjamin Moore and Passionate Red by Modern Masters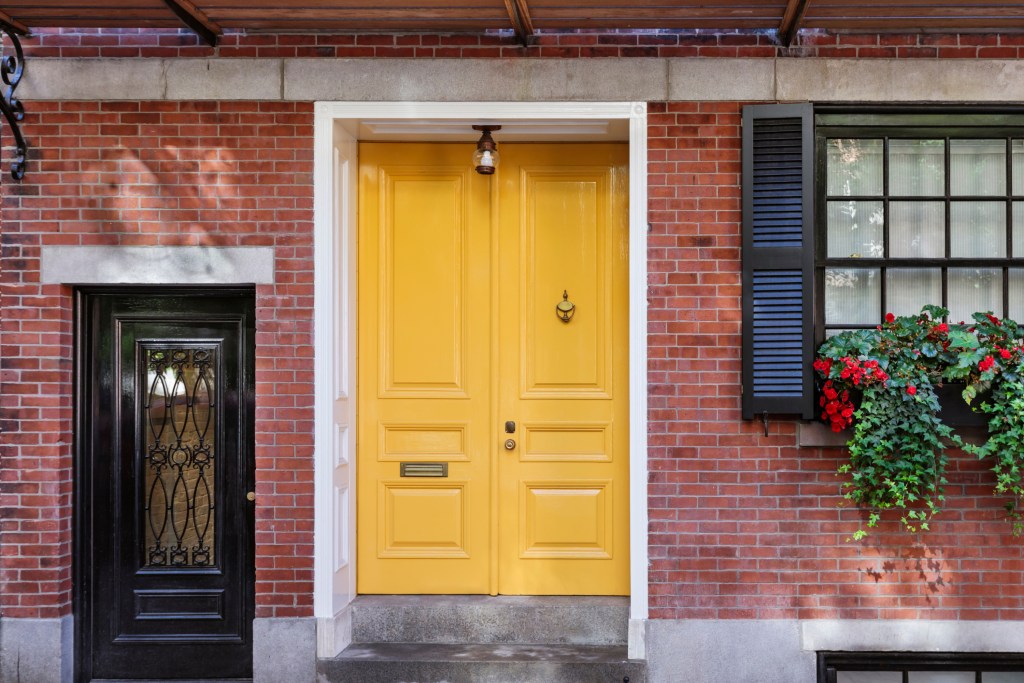 Sunny Yellow or Gold
Nothing says cheeriness like a bright yellow door, and a warm gold sends a similar welcoming message. The best part? Yellow hues look great with any home — it's up to you to pick out the version of yellow that best works for your home.
Recommendations: Satin Happy by Modern Masters and Stuart Gold by Benjamin Moore

Green
The many shades of green can completely alter the appearance of your home. It's the trendiest color this year, so feel free to embrace any shade, from a calming sage green to a bold pop of emerald. As long as the chosen shade complements the rest of your home, you can't go wrong with any one of them.
Recommendations: Evergreen Fog by Sherwin-Williams and Guacamole by Glidden

Purple
Traditionally, the color purple means creativity and open-mindedness. Painting your front door eggplant purple will immediately add a classy, classic look to your home. Go with this option if you want to make your home look both more sophisticated and welcoming.
Recommendations: Kimono Violet by Sherwin-Williams and Eggplant by Glidden
Paint types for your exterior door
Fortunately, you can use both oil-based and water-based paints on your front door. Many front doors are crafted from fiberglass, making them the ideal candidate for oil-based paints. Generally speaking, oil-based paints adhere to most surfaces better and longer than water-based paint. However, water-based paints dry a lot faster, are non-flammable, and are more resistant to color fading. You'll have to consider what works best for you and the surface of your door.
When choosing the right exterior door paint, you'll also want to consider the finish. If you want no shine at all, stick with a matte hue. When a paint color has satin in its name, it usually has a semi-glossy finish. At the end of the spectrum, you'll find glossy paint colors for the ultimate shine.
You can opt to paint your door while it's still hanging in place or take it off the hinges for an extra step. Before you grab your paintbrush or roller, make sure you clean down your door first. Prime, paint with the exterior paint, let it dry, and then you're good to go. Be sure to test the paint first, though; you want to make sure it's a good match.
The best part about painting your front door is that you can easily repaint it when you get sick of the color or if you decide you don't like your original choice. Any one of these popular front door colors will elevate the architecture of your home with one day's work. If you've been looking to tackle a DIY home project, this may be the one for you. With just some primer and a coat of paint or two, you'll have a brand new home in no time at all.
Editors' Recommendations