It's that time of year when you can decorate your home for the holidays, showing off your personal flair with ornaments and decorations that suit your tastes. For farmhouse lovers, this can mean hot cocoa bars, Christmas-themed pillows, and plenty of candles or holiday lights! But, while you may already have a plan for the rest of your home, you also want to ensure that the coziness and Christmas tidings are just as spectacular when it comes to your Christmas tree. So, today we're sharing our comprehensive guide for a stunning farmhouse Christmas tree that is sure to make your holiday season feel cozy and magical.
Fuller trees make a statement
The first step to a successful farmhouse Christmas decor is picking a tree that makes a statement. Fuller trees look best in farm homes since they appear more natural than thinner alternatives. The bushier the tree, the better it will look in your home. Typically, real trees blend more cohesively with farmhouse decor. However, not everyone can put a real tree in their living room. So, if you opt for a faux tree this year, try to choose one that comes with filled-out branches and needles that are sturdy and realistic.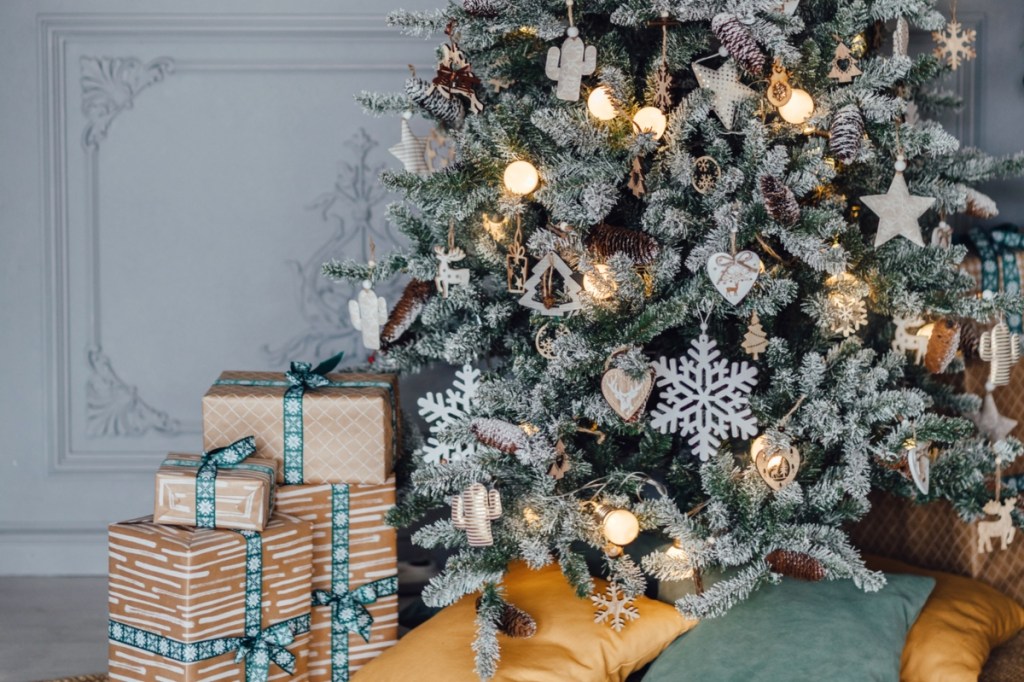 Snow-dusted trees are a farm home favorite
Additionally, snow-dusted trees are a farm home favorite. This is especially true when it comes to purchasing a faux Christmas tree for your home. Snow-dusted trees work perfectly with a neutral farm home color palette and make for a wonderful base in your Christmas tree design. Many homeowners adore the snow-dusted pine needle look that feels more genuine and eye-catching than a typical evergreen tree.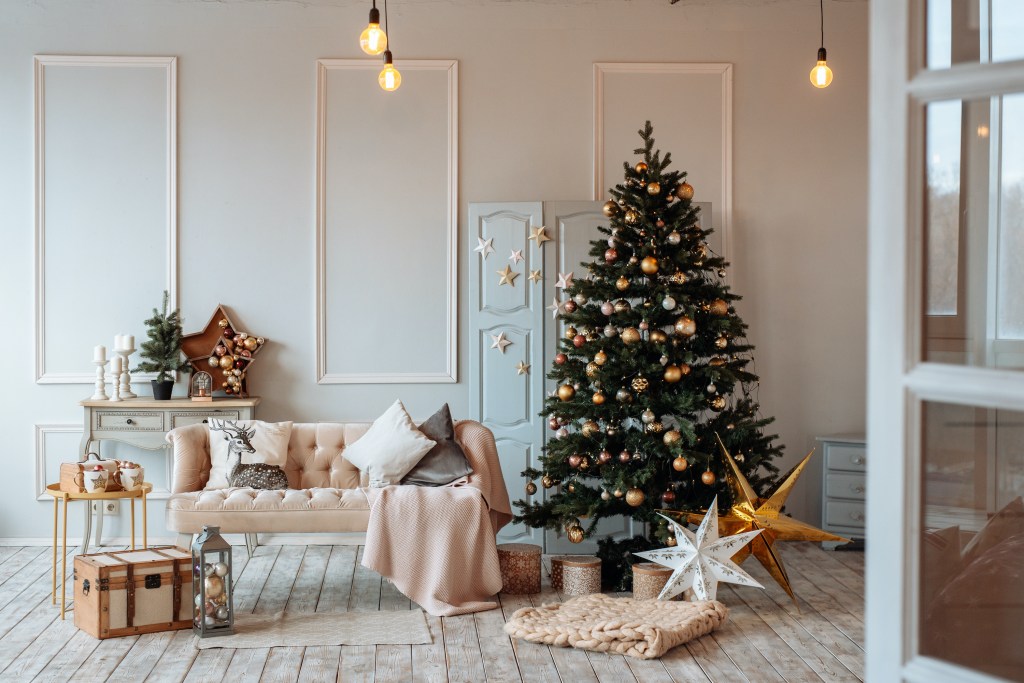 Stick with a neutral color palette
As we mentioned above, most farm home decor tends toward a neutral color palette. Therefore, try to incorporate neutral tones into your Christmas tree as well. The typical red and green colors or multicolored lights often found in Christmas decor can look tacky and kitsch in your farm home. So, we recommend using colors like warm yellow, white, cream, tan, brown, or other soft neutrals for your Christmas tree decor. It's also best to stick with three to four shades for your entire tree so that your colors blend seamlessly and don't clash with one another.
Or, opt for red and plaid
If you prefer more color in your Christmas tree design, a classic red paired with black-and-white plaid is a popular trend this year. Use red, silver, or white ornaments throughout your tree and add red and plaid ribbons to create a colorful holiday look. Be careful not to go overboard with the red, as it's best used as a bold accent color. Additionally, limit the amount of black used in the palette so that your tree doesn't turn out looking gloomy.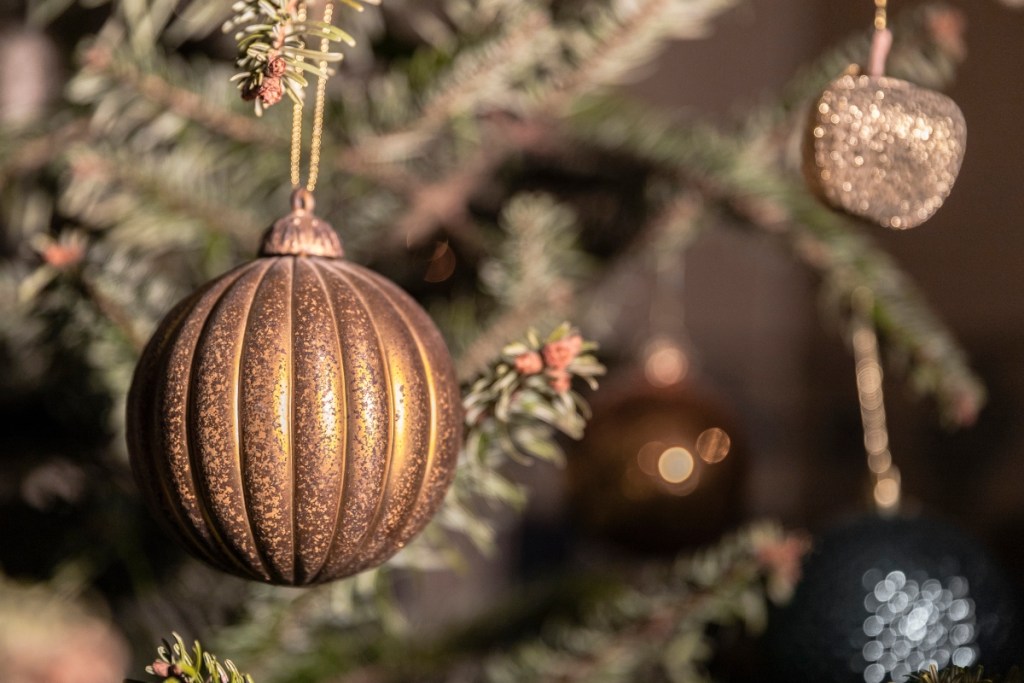 Try some handmade ornaments
Handmade ornaments are the perfect addition to farmhouse Christmas trees. Try making your own garland out of wood beads, yarn, white paper, or pine cones. Natural elements like sprigs, pine cones, mini wreaths, and twigs also look beautiful in farmhouse decor, as these elements create a rustic and authentic look that feels homey and welcoming.
Other DIY Christmas crafts like dried-orange-slice or hot-cocoa-ball ornaments, dried cranberry ensembles, cut-out snowflakes, and handmade cards are also fantastic additions to any Christmas tree.
If you want the handmade look but don't have the time to create your own decor, try using wood-carved statues, simple painted bulbs, or natural-looking garlands from your local craft or hobby shop. This time of year, there are plenty of authentic-looking ornament selections, so you can be sure to find just what you need.
Use lots of ribbons
Ribbons are a must-have on farmhouse Christmas trees. They add a gentle yet colorful touch to your design and are perfect alternatives to tinsel or sparkly garland. There are a few ways you can add ribbon to your tree for a stunning look. First, you could simply wrap the ribbon around your tree much like you would tinsel or garland. This is the simplest way to take advantage of this decor trend.
Alternatively, you could cut pieces of ribbon and tie them into bows. Scatter the bows throughout the tree branches for a natural look, and pair them with plenty of beautiful ornaments. You could even tie a large flower-shaped bow for the top of your tree in place of the traditional star for a unique take on your Christmas decor.
Finally, a trend people love this year is cutting your ribbon into six- to eight-inch sections and tucking the ends into the tree branches. This creates a rounded look to your ribbon and allows it to feel more natural and cohesive with your overall tree design. This curated look also prevents your tree from feeling too streamlined and instead creates a carefree aesthetic.
Farm home Christmas tree decor should feel natural and authentic. It should blend seamlessly with your existing design while also standing out and making a statement in your home. Try adding natural elements to your Christmas tree this year or adorning the branches with stunning ribbon to create a sophisticated look.
Editors' Recommendations