Wallpaper is having a moment — a moment that could be here to stay in 2022.
We know what you may be thinking: Wallpaper is so dated. But as the fashion trends of bygone eras come back into style, so do the patterns in interior design. In this case, it's actual wallpaper patterns.
"We're seeing a huge comeback in floral patterns, which are a wallpaper classic, but with a modern edge," said Aimee Lagos, co-founder of Hygge & West, an online, boutique wallpaper and home goods company. "Designers are playing with scale, color palette, and style, all to a really fun and refreshing effect."
Wallpaper gets its revival
When many people think of wallpaper, they might think of the faded, torn-at-the-edges paper lining the walls of their grandparents' house. Wallpaper fell out of the mainstream for a decade (or two or three) in favor of clean, crisp paint jobs. But today, designers are freshening up this age-old home decorating tool.
So leave what you think you know about wallpaper at the door. In today's culture, wallpaper is actually a great way to express yourself through home design, making the list of 2022 home design trends designers are loving.
"I think that wallpaper really allows people to show some personality through color and pattern, and it creates such conversational moments in a home," said Elizabeth Rees, co-founder of Chasing Paper, a removable wallpaper business. "A moment of wow in a home is what people will remember and what will live on in your memories."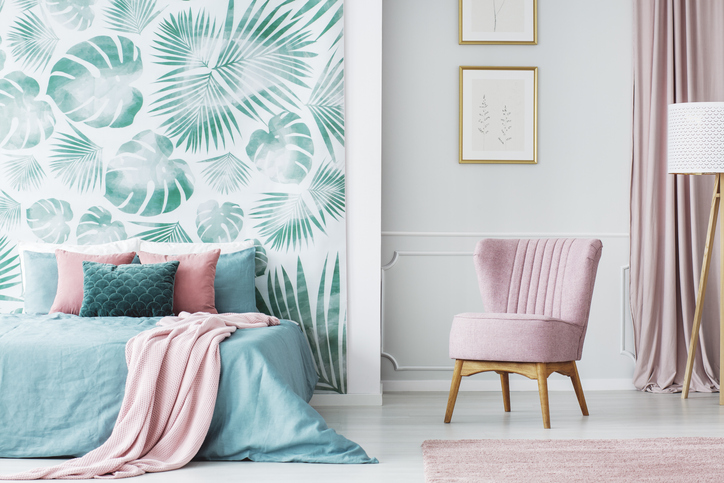 How to decorate with wallpaper
When you use wallpaper, the possibilities are endless. The exciting prospects of so many patterns and color schemes are exactly why wallpaper — as opposed to a simple, solid paint color — works so well in homes. For others, some guidance is needed.
Where does it go?
So, where does wallpaper work the best? The short answer is: anywhere.
"People used to say you should avoid wallpaper in small spaces, but we've found that pattern actually gives tiny rooms incredible impact," Lagos said. "If it makes you smile, it's a 'do' — no matter what any expert says!"
Lagos suggests adding pops of wallpaper in what she calls "unexpected peekaboo places," such as inside pantries and closets. This could be a great trial for someone who wants to introduce it into their home but doesn't want to dive right into putting it up across an entire wall. Rees adds that the bathroom is a good spot to have some fun with patterned wallpaper.
Plus, wallpaper isn't just for the wall anymore. Lagos says people are applying it inside cabinets, on the backs of shelves, and to ceilings and stair risers.
What patterns are 'in'?
If wallpaper is making such a comeback, there must be an aesthetic reason for it. According to Rees, current fashion trends tend to flow into the world of home design. This winter, she said, bold, multi-color stripes are popular both on clothing and wallpaper.
"We're also seeing a lot of '70s-inspired trends in fashion that seem to be represented in ditsy florals — lots of oranges, lavenders, and cobalt blues in homes," Rees added.
More traditional florals are seeing a resurgence, as well — but with a modern flare, according to Lagos. Vintage floral designs, often with dull colors, went hand-in-hand with 20th-century wallpaper. This is why many people associate wallpaper with yesteryear, but in reality, there's a whole world of updated wallpaper to explore.
Nowadays, wallpaper can be anything you want. It's completely customizable and there are hundreds of thousands of design options to choose from. So whether you're going for sleek and modern, bold and retro, or subdued and rustic, there is a wallpaper out there that will suit your style. It's all about what you love and what works for your unique space.
"We tend to avoid thinking about 'don'ts' when it comes to wallpaper (or any design decision)," Lagos said. "Pattern is all about fun, and what fun is there in sticking to the rules all the time?"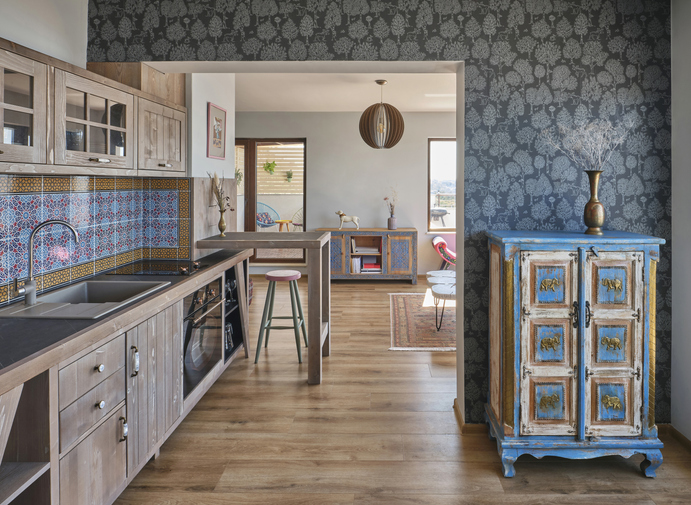 Tips for installation
Really, the only "don't" when it comes to wallpaper is: Don't skip out on the instructions. Read and carefully follow them to a T. Otherwise, the paper may not hold, and it could easily get messy — especially if you're using paste.
"Wallpapering is not a one-size-fits-all job," Lagos said. "Prepping your walls is key to successful installation and also easy removal down the road."
Most wallpaper sellers offer a variety of application types — traditional (paste required), pre-pasted (easily removed with water), and peel and stick.
If you're decorating a new home or looking to add some pizzazz to your existing living spaces, don't be afraid to try your hand at laying wallpaper. Instead of looking out of touch with contemporary home design, wallpaper can revitalize your living space and inject it with a burst of color, pattern, and personality. So have fun, follow the instructions, and enjoy your home makeover.
Editors' Recommendations