When you are choosing a paint finish for your home, it's important to know what kind of use and wear that room will endure. Each room in your home has different needs when it comes to choosing the right paint finish. Let's consider your home entryway.
This is the first room that you, your family, and your guests see upon entering your home. Choosing a paint finish that will provide the look you want and protect that look over time can be tricky. Paint comes in a variety of finishes. So, which paint finish is the right one? We will reveal the five most common paint finishes and equip you to choose the best paint finish for your home entryway.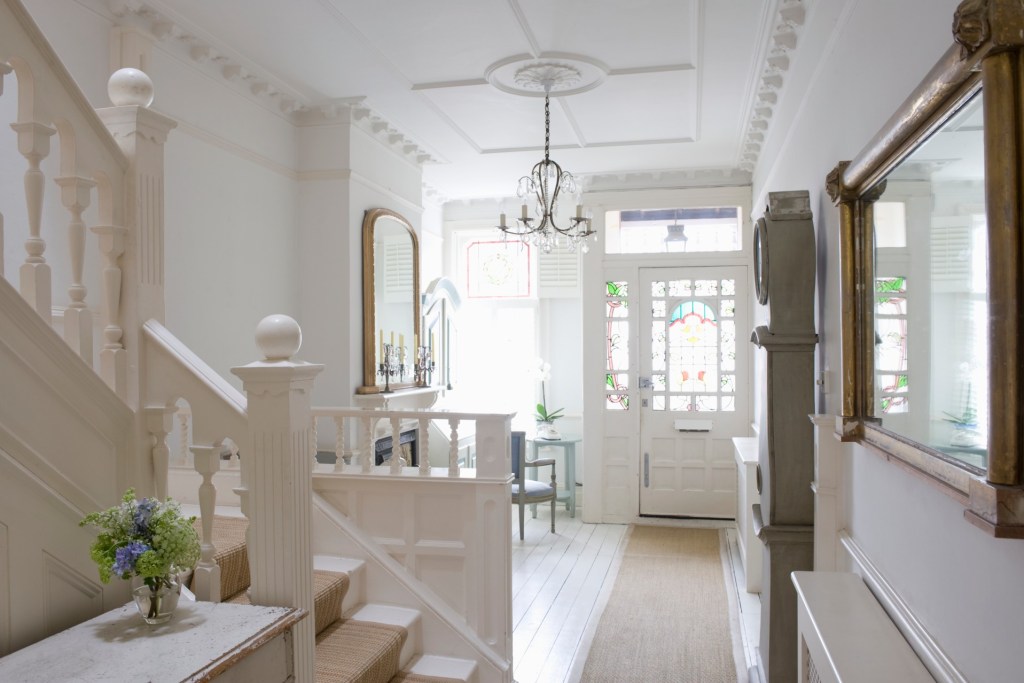 Matte finish
Sometimes referred to as "flat," matte has the softest and most welcoming look and feel among the five most common paint finishes. Its soft look helps to hide surface flaws like bumps and dents in your wall, says The Spruce. Matte has the least amount of enamel and therefore is the least durable. If your entryway is challenged by pets or young children, then a matte finish may not be the best fit for you. Its low sheen is pleasant, but the level of cleanability may leave you wanting more.
Eggshell finish
One step up from matte is the eggshell finish. Eggshell retains some of the great flaw-hiding qualities found in matte, but it has more enamel, which makes it a bit more resilient. It has a light sheen without being too shiny. You can lightly wipe an eggshell finish without fear of removing the paint. Eggshell is a popular compromise because of its attractive, soft look, and light durability, says Bob Vila. It may be a good fit for the average household with moderate traffic in the entryway. But if you are expecting heavier traffic through your entryway, then eggshell may not be durable enough for you.
Satin finish
A satin finish has even more enamel and is the finish that begins to show a shine. It is quite durable and easy to wipe without any fear of damaging your paint. When it comes to painting walls, satin finish is usually the highest sheen that may be used. Its reflective qualities cause it to reveal more texture on the wall, so it is more difficult to hide flaws, says Benjamin Moore. Only the highest-traffic areas or rooms prone to moisture and abuse require the high sheen that comes with a satin finish. If your entryway is expected to see higher-than-normal traffic or challenges from pets and young children, then satin could be a great choice for you.
Semi-gloss finish
Walls are not usually painted with a semi-gloss finish. It is most often seen on floorboards and other trim. A semi-gloss finish has more enamel than satin and is very durable. Its highly-reflective sheen on doors and trim is a nice compliment to walls painted with lower-sheen finishes.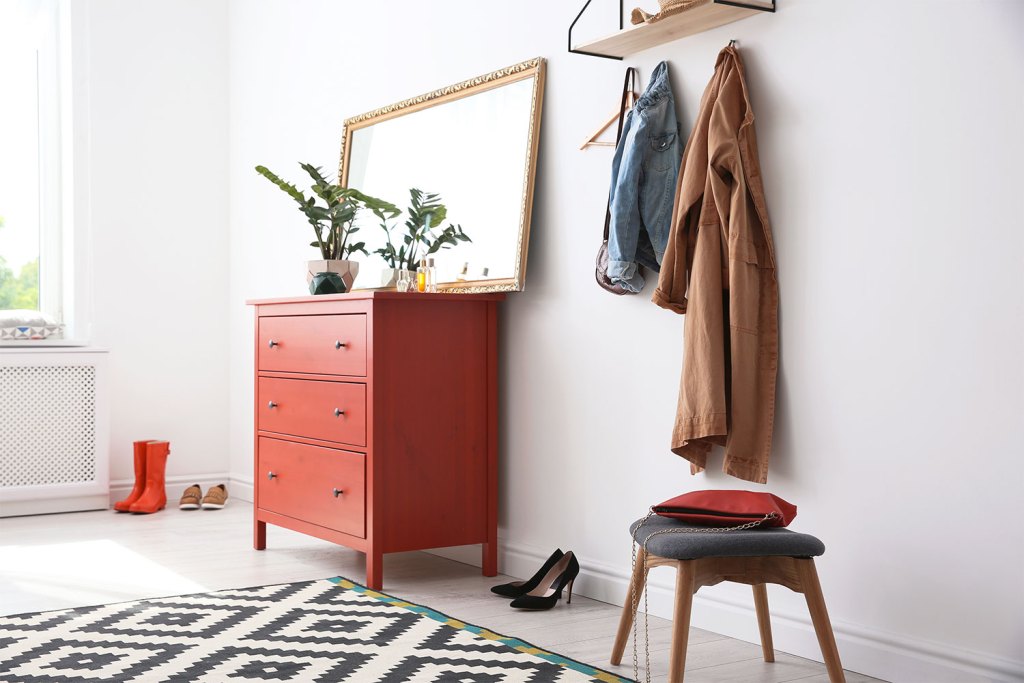 High-gloss finish
With the most enamel, a high-gloss finish is the most durable and the most shiny. It should be used exclusively on trim and doors. The high sheen that it provides makes it easy to wipe down and clean, but it will also reveal the most texture on the wall. High-gloss finish is best used on trim and doors as a compliment to the lower-sheen finishes used on your wall.
When it's time to paint any room in your home, you will need to decide which is the best paint finish for the job. Each room has its unique requirements and should be looked at individually. When it comes to the entryway to your home, we've highlighted five of the most common paint finishes: Matte, eggshell, satin, semi-gloss, and high-gloss. Each is worthy of being used in an entryway, whether on the walls, doors, or trim.
Your choice will likely come down to what level of durability you desire. Just remember that the tradeoff for durability is a higher sheen, which means it will be more shiny. And the more shiny the walls are, the less welcoming a room will appear. Whatever you choose, remember that the wonderful thing about painting is that you can always paint over it if you don't get the results you were expecting!
Editors' Recommendations