Before you make a big decision about undertaking a complete renovation of your dining room — including tossing out furniture or tearing down a wall– there's one weekend project that could totally transform how you see it. Instead of drastic and highly expensive renovations that could last months, there's one way to upgrade your dining room: Add architectural detailing.
Architectural details are a big part of making a room feel warm and welcoming, so adding in molding, wainscoting, or board and batten is the one thing that can transform your dining room in just a day or two. It's affordable and customizable, giving you a ton of freedom for your dining-room makeover. Let's take a look at what goes into making that happen.
Molding — The original architectural detail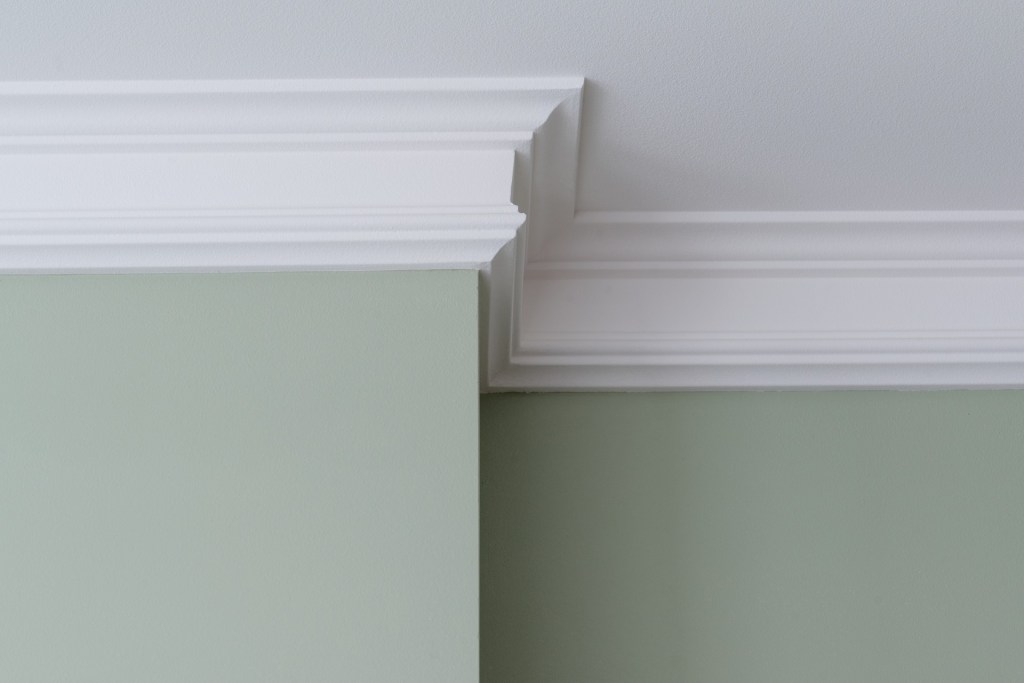 Molding is an architectural feature designed to help the walls transition to the floor or ceiling (or both). Crown molding, where the wall meets the ceiling, is a beautiful way to finish a room.
Molding, especially crown molding, is easy to customize. Love a minimal, modern style? Go simple. Dreaming about a historic property? Complex and layered is where it's at. Want something that creates drama? Paint the molding and the ceiling a bold color. It's all up to you.
Molding pieces are simple to measure and install yourself with some basic tools. In one weekend, you'll have a dining room that feels "finished" with beautiful architectural details everyone will love.
You can also use simple molding pieces directly on the walls themselves. Think of those decorative squares and rectangles that move along a solid wall that create texture and natural boundaries for displaying your art. They're easy to measure and install, and when you paint them the same color as the wall, you will get instant architectural interest.
Wainscoting — Accents with purpose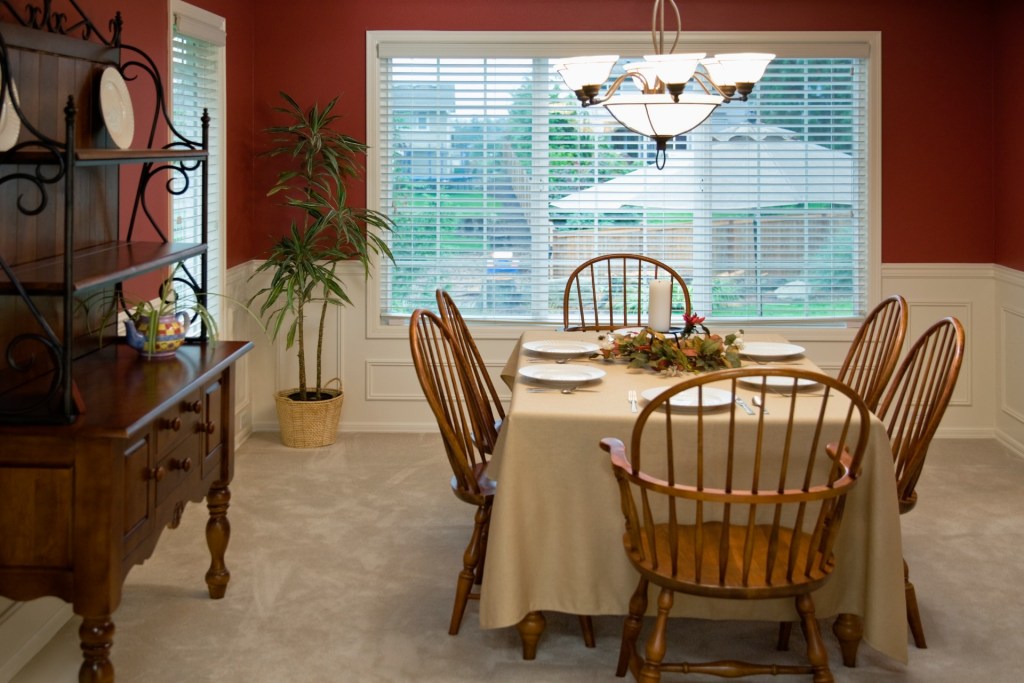 Originally, wainscoting was designed to protect delicate walls from accidental bumps and scratches from people, objects, and furniture. Now, this decorative paneling helps highlight walls and create visual interest in spaces where you want something that's a little more formal.
However, that doesn't mean wainscoting is stuffy. It includes a panel with a top molding piece, bottom molding piece, and panels that create a cohesive transition from the floor to the middle of the wall. You get to customize the look and complexity of the panels, giving you a simple, mid-century option all the way to the elaborate historic styles seen in estate homes.
Your dining room could include taller wainscoting panels with railing for displaying art, decorative plates, and other interesting pieces. Or you can choose a simple design in a uniform color to help the space feel warmer.
Wainscoting is customizable, allowing you to create your own design if you know your way around some power tools, or take advantage of pre-cut pieces to transform your space.
Board and batten — A modern take on wall detailing
Board and batten is technically a type of wainscoting. It uses vertical boards with narrow battens across the gaps. Add in the top railing and a bottom transition piece, and you've got the classic farmhouse details that are popular today.
Customizing board and batten for modern houses is also a cinch, giving you the freedom to customize a single wall or work your way around for visual appeal. Choose a style that moves three-fourths up the wall for a dramatic, modern-farmhouse interior, or you can include a smaller, simpler piece for a modern home.
If you're a beginner with DIY projects, this could be an excellent way to get some experience with your tools. Measuring and cutting boards of equal lengths — no fancy cuts needed — will give you some confidence in your DIY skills and create a customized look for your dining room with as much drama or elegance as you'd like.
It's all in the details
Considering the architectural details is an excellent way to upgrade your dining space without taking on massive renovations. These simple methods create visual interest and help a room feel finished. Whether you combine elements or choose one simple feature, you'll be able to create your dining-room makeover in no time.
The best part of each option is that you can customize the look and complexity to suit your preferences and the style of your home. Everyone can take advantage of crown molding, from simple rooms to the ornate features of historic homes. Take some time to find out what is historically accurate for your dwelling and build on that.
You can complete these projects in a weekend and give your dining room an aesthetically pleasing improvement. A few panels, boards, or molding pieces, and you're well on your way to a style-worthy dining space.
Editors' Recommendations