If you're in full spring cleaning and remodeling mode, you're not alone. This is the season to clear clutter, make room for new decor, and breathe life into the rooms you use most. One of the easiest and least expensive ways to tackle one such space is to paint your bathroom cabinets. It's a project that will take less than a day to complete but will transform your bathroom entirely.
The sky is the limit when it comes to choosing bathroom cabinet colors. While you can search for months for the perfect hue, there are colors that are on-trend now and will last well into the future. Not only that, if you're thinking about selling, picking the right shade can actually increase the value of your home.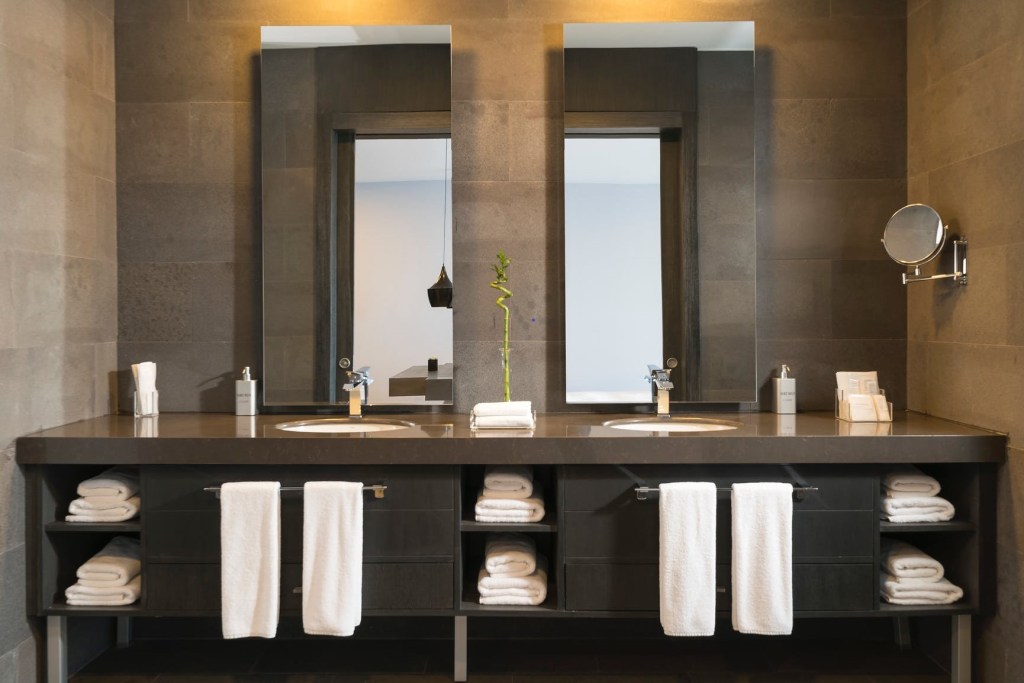 What kind of paint is the best for bathroom cabinets?
Because it's a room with a lot of moisture and humidity, picking the right type of paint is important.
Paints that are latex, oil, or chalk-based hold up the best under these conditions. Not only do they help protect the cabinets from scratching or chipping, but they're also easy to clean and won't warp or crack.
In a moisture-rich bathroom, semi-gloss and high-gloss paints work better than eggshell or flat paints to repel water, but they will give off a shinier look.
Use wood filler to prevent mold. Once you've sanded the cabinets and removed the hardware, make sure you fill any holes or gaps with wood filler. This will help keep water out of the wood, reducing the chances of mold. Give your cabinets a coat of primer before you paint for optimal results.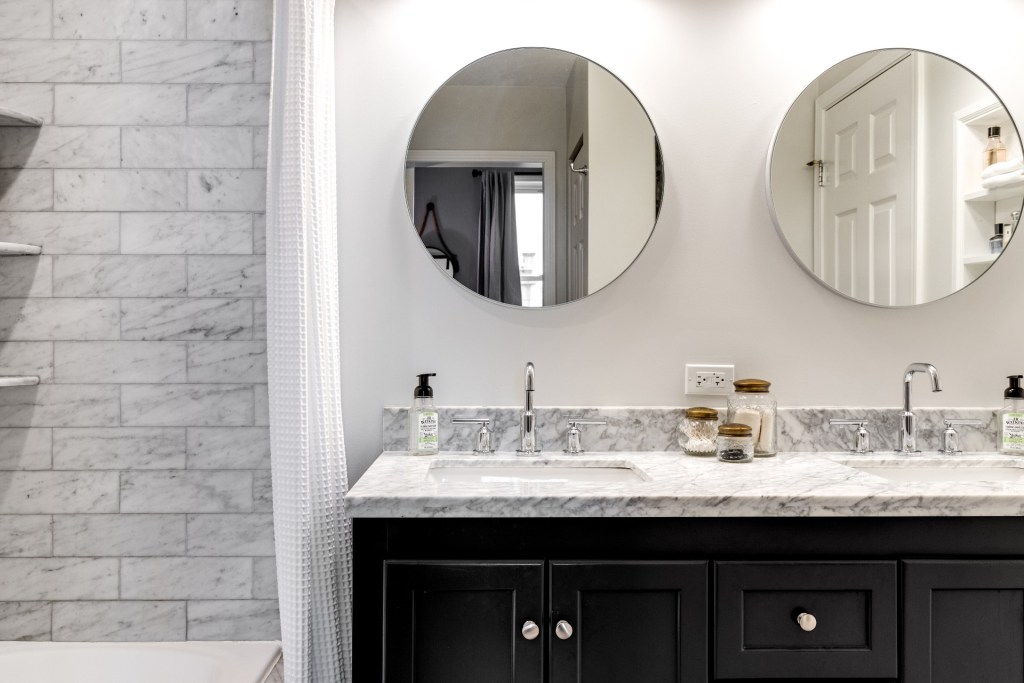 What vanity color is most popular?
When thinking about what color options will work best in your bathroom, ask yourself, "What colors do bathroom vanities come in today?" Researching the hot colors designers are using is a good indication of what hues are popular and will work well into the future. Sherwin-Williams' color of the year 2022 is Evergreen Fog, which we love for a bathroom because of its serene and calming qualities. Other popular colors are matte black, navy, and most shades of green.
If you prefer a lighter tone, mint green and blush are also popular to use in the bathroom. Of course, classic white will never go out of style, and it keeps your bathroom looking clean and bright. Before you land on a color, place a paint sample in the room for a week or so to ensure you're still in love with the color after living with it.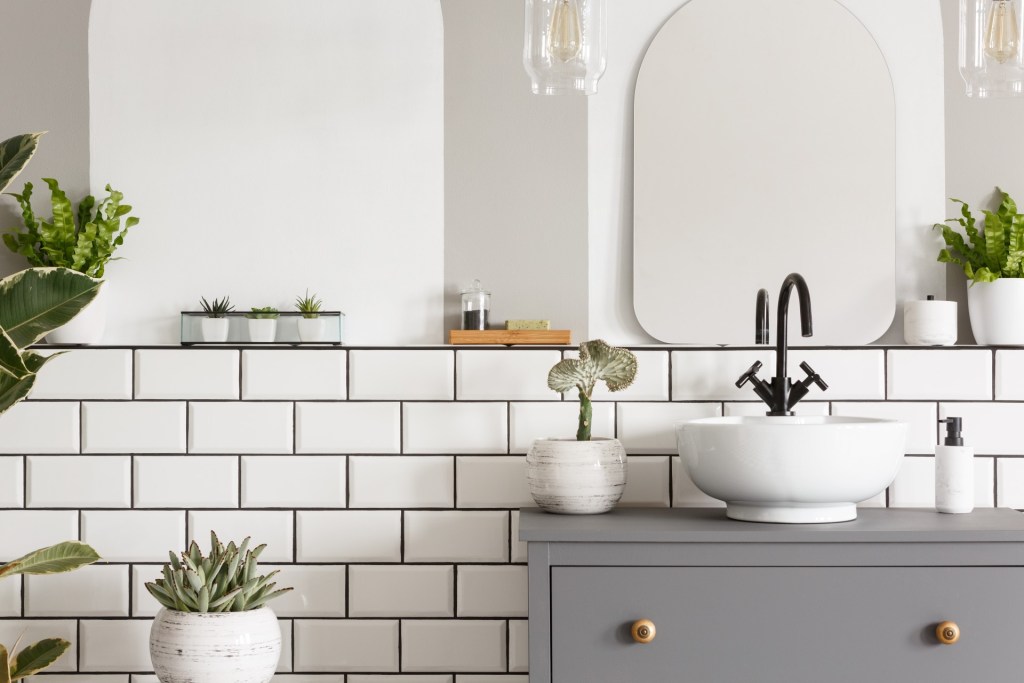 What other vanity elements are important to consider?
Your overall color palette
When thinking about your vanity color, you'll also want to consider the other colors in the space, including your floor, countertops, and walls. If you're looking to keep costs low, you may not be able to change out your counters or tile floor, so make sure the color you choose doesn't clash with either element.
Your hardware
If it's in your budget, another easy way to transform the look of your bathroom is by changing out the hardware. We love muted gold or brass handles and knobs, which go well with all of the above color recommendations. Since you have to remove the hardware before you paint, you may as well update it.
Your bathroom is a space that should be calming but also invigorating since it's where you wind down at the end of the day and refresh in the morning. Color is a personal choice, so find one that makes you feel happy. Just keep in mind that if it's too unique (for instance, hot pink or bright purple), you may turn off potential buyers down the road. (Of course, if you do eventually sell, repainting your cabinet a neutral color wouldn't be a tough job.)
As we said, this is an easy project that you can tackle on a Saturday as long as you have everything you need. Pick well-reviewed rollers and paintbrushes (you can ask your local hardware store for recommendations) so the paint goes on evenly. Make sure each coat dries thoroughly before adding a second coat. Use a drop cloth or old sheet so you don't get paint on your bathroom flooring or walls.
You'll be surprised how a coat of paint will completely transform the look of your bathroom. Color can make an immediate impact and turn your boring, outdated bathroom into one you look forward to spending time resting, relaxing, and getting ready for the day in.
Editors' Recommendations