Metal works of art add texture and distinct character to a room. Varied materials offer an array of choices from moody brass to contemporary steel. We've made a list of our favorite metal wall art to help you decide on the best accent for your wall.
Your choice of metal wall art will depend largely on size, metal type, and appearance. Think about whether you're looking for an accent piece or a showstopper. Common materials include steel, copper, bronze, brass, aluminum, and copper. From cool steel to warm brass, choose a material that meshes well with the rest of the room. Take a look at our picks for inspiration.
It's Cactus Small Birds Flying
Best Overall
Birds in flight are the quintessential decor. This five-piece set of flying birds made of recycled metal can be found at the fair trade shop It's Cactus – Metal Art Haiti. Because of the unique upcycled metal drum material, the colors range from dark silver to warm bronze. Each bird measures 6 inches long by 5 inches tall and 1 inch wide.
GIFTME 5 Boho Metal Flower Wall Art
Best Flower Metal Art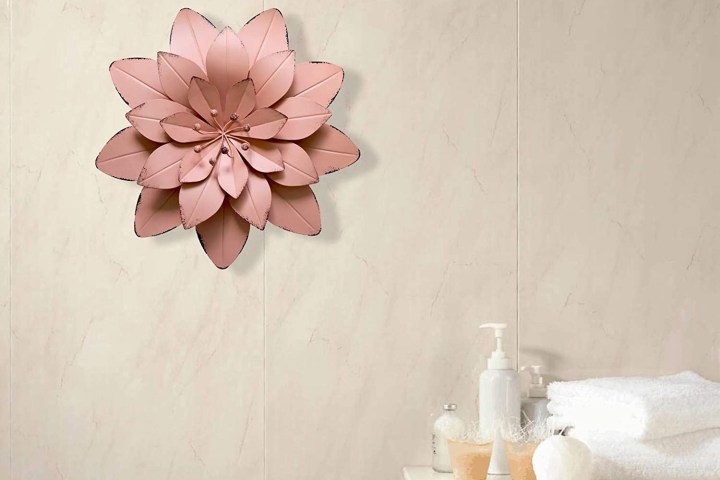 For a livelier bathroom, check out GIFTME 5's light blue metal flower art. Made of lightweight, molded metal, this accent arrives ready to hang with no assembly required. The two-layer flower measures 13.5 inches by 2.5 inches.
Statements2000 Silver Metal Wall Art
Best Large Metal Wall Art
This handmade seven-piece metal wall art from Statements2000 depicts plumage etched onto aluminum. Lines radiate from the bottom center in grays, whites, and blacks to create a sense of action. Installation is easy as the panels come ready to hang. The entire piece measures 68 inches long by 24 inches tall.
Metal wall art rivals traditional framed wall art for its versatility and uniqueness. They also add texture to a wall that can only be achieved through three-dimensional works of art. Our favorite picks on this list are sensible choices to help achieve your dream design.
Editors' Recommendations