With a 5-by-7 photo frame, you can keep multiple prints on any table without overcrowding. You can also stage your own wall collage with a set of 5-by-7 photo frames using photographs from the same event such as a relative's wedding. We've gone ahead and rounded up the best photo frames on the market to make your decision a little easier.
The 5-by-7 photo frame is the quintessential tabletop photo frame, thanks to its petite size. It's small enough not to crowd your workspace, but large enough to display small details clearly. Try a multiple pack if you're planning on curating a wall collage, or if you want matching gifts for your loved ones.
Some frames are lightweight enough for hanging, but many alternatives are best for adorning desks. Let's take a look at our best options.
GIFTME5 Silver Plate Picture Frame
Best Mother of Pearl
The GIFTME5 mother of pearl picture frame is the right option for displaying your wanderlust-inducing travel photos. A mosaic frame cased with a silver plate is a breath of fresh air on your hallway table and a wonderful pick-me-up on your office desk.
Giftgarden 5×7 picture frame
Best Value Pack
Giftgarden's 12-pack is the best value option for a simple wall collage. Line up these classic black photo frames for a streamlined look or mix it up with different size frames for a charming, eclectic effect. The composite wood not only imitates real wood but lasts for years.
LaVie Home 5×7
Best Simple Design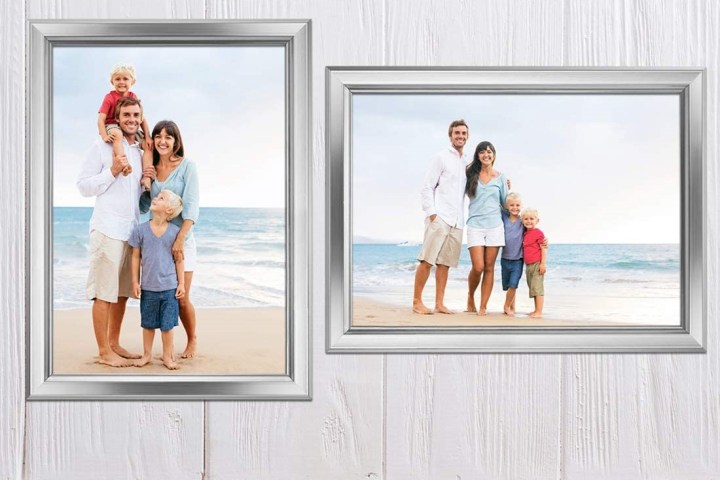 LaVie Home's pack features six versatile silver frames and real glass panels. This simple frame plays up an industrial chic loft and modernizes a shabby chic living room. Whether you're hanging up a collage or curating a desktop arrangement, back hooks and kickstand have you covered.
A 5-by-7-inch photo frame is your best option for flaunting your beautiful family portraits. Choose a classic black frame for a no-fuss wall collage, a novelty mother of pearl frame for accent tables, or a simple silver frame for a variety of uses. Try a photo frame from our lineup to personalize your wall or table in an effortless way.
Looking for more? Read on further to learn how to choose unique wall art for living rooms.
Editors' Recommendations