If you spend a lot of time in your kitchen cooking, entertaining, or baking, you know how important it is to have practical and easy-to-clean kitchen floors. The kitchen is where people gather to eat, which means there are always messes and spills to clean up. Because kitchen floors are expensive, you want to care for them properly and not worry about damaging them if you drop the odd glass or jar.
Certain floors hold up better in high-traffic areas, and you want to give careful consideration to exactly what those are before you invest in flooring. We've done our research on four kitchen flooring ideas that are both functional and trendy. Here's why we love them.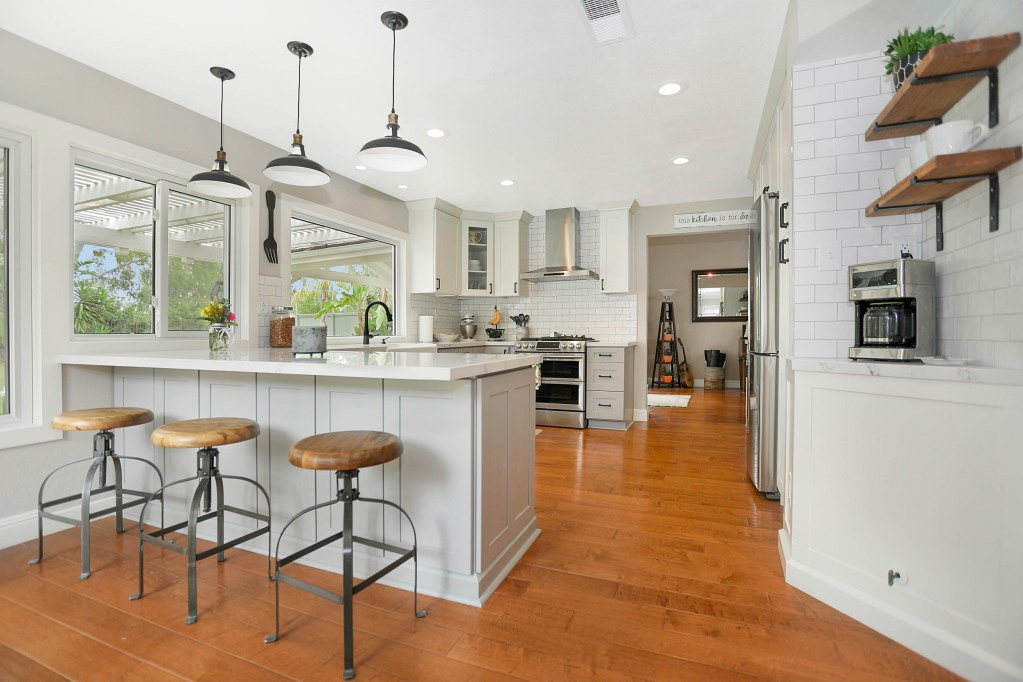 Kitchen flooring options
These four types of flooring for kitchens are gorgeous and will work well in even the busiest kitchen.
Hardwood
Hardwood floors are one of the most beautiful and classic options for a kitchen. They are sturdy and durable and will never go out of style. Because of possible moisture in the kitchen, be cautious when selecting hardwood floors.
We love engineered hardwood because it holds up to scratches and spills better than hardwood, but if you love a well-worn look, you may be just fine with traditional hardwood floors (which are softer under your feet than engineered wood).
Ceramic
Another option is ceramic tile. Ceramic is easy to clean, super durable, and comes in many trendy colors and patterns; it makes an excellent option for a kitchen. Ceramic is heat-, scratch-, and water-resistant, making it an ideal choice for a high-traffic area.
The cons are that individual tiles can break if you drop something on them, which can be a pain to replace. They are also cold and hard, so if you are considering tile, make sure you have plenty of rugs in the kitchen to stand and walk on.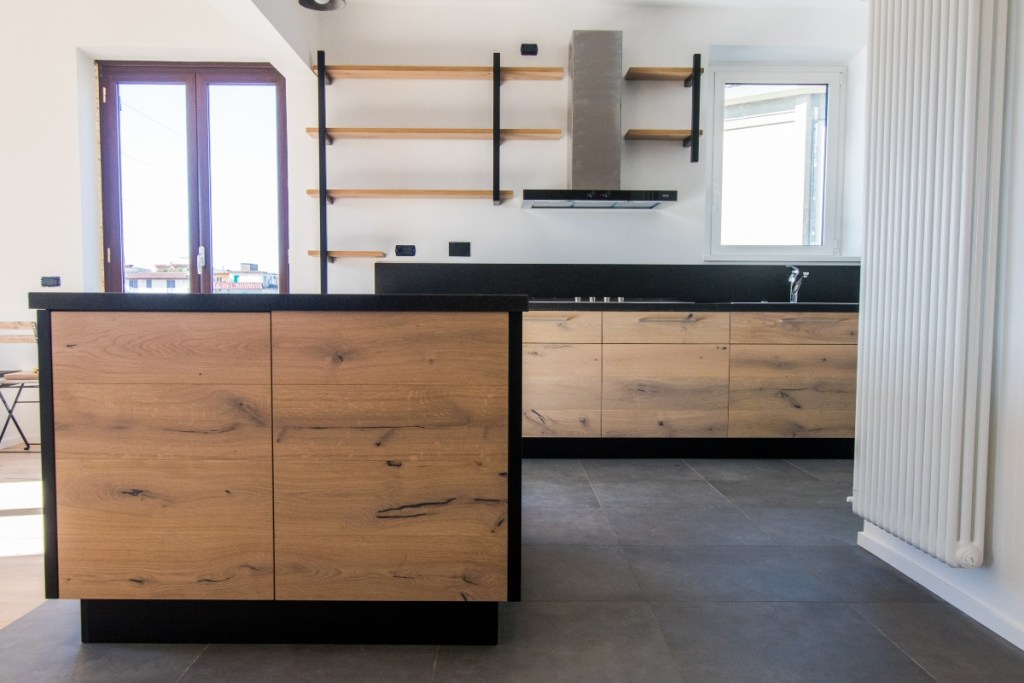 Concrete
One trendy option for kitchen flooring is concrete. It offers a modern and industrial design, and it's highly functional in the kitchen for the same reasons as ceramic tile. Concrete is easy to clean and can be poured on many types of subfloors. It's one you'll want to be done by a professional because it's not easy to get right. While it's relatively inexpensive, concrete is also cold and hard underfoot, so any money saved may be spent on rugs to keep your feet soft and warm.
Natural stone
Natural stone floors are also very on-trend and come in a variety of colors, sizes, and designs. Depending on which type of stone you choose (such as travertine, marble, slate, limestone, or another type), they offer different benefits and drawbacks. Natural stone can be porous, so if you are prone to dropping things — like, say, a jar of spaghetti sauce — they can begin to take on discoloration if not cleaned properly and quickly. The good news is natural stone will last a lifetime and is durable, making it a good choice for a kitchen.
Try something new with your kitchen flooring design
No matter which option you choose, you can have fun with how the floor is designed. You can lay wood, for instance, in a herringbone, diagonal, or random pattern to offer more character to the space. There are many options with different patterned tiles that can also be laid in various ways and with different tiles in certain parts of the room, like under a kitchen table. You can also lay in different-colored tiles within a more neutral floor to change up the design and make it more playful. Talk to an installer and walk through options because there are many choices that can completely transform the look of your kitchen floor.
Make sure you do your homework on the best option for your high-traffic area because that can mean different things to different people. If you have large dogs and small kids running through it daily, you may want a material that isn't super hard, but that also won't scratch easily. If you fancy yourself a home chef and are prone to spills, you may opt for a floor that's less porous.
Kitchen flooring has come a long way in recent years, so do your homework on the types of materials that exist and what the layout and color combinations are available in your area. The floor can become a gorgeous focal point of a kitchen, so choose wisely and make sure it's something you can look at and be excited about every single day. Kitchen floors aren't cheap, so you want to have confidence knowing you made the right decision.
Editors' Recommendations