'Tis the season to send our tastebuds on an adventure. From turkeys and hams to unique side dishes and desserts made from recipes passed down throughout the generations, food certainly takes center stage this time of year. However, who says your tastebuds have to have all the fun on Dec. 25?
Christmas table decorations can provide a feast for the eyes (and make your family and Instagram followers swoon). While some may think of it as another item on their to-do list, you may love getting your creative juices flowing by curating a gorgeously arranged tablescape. Allow these ideas to serve as inspiration.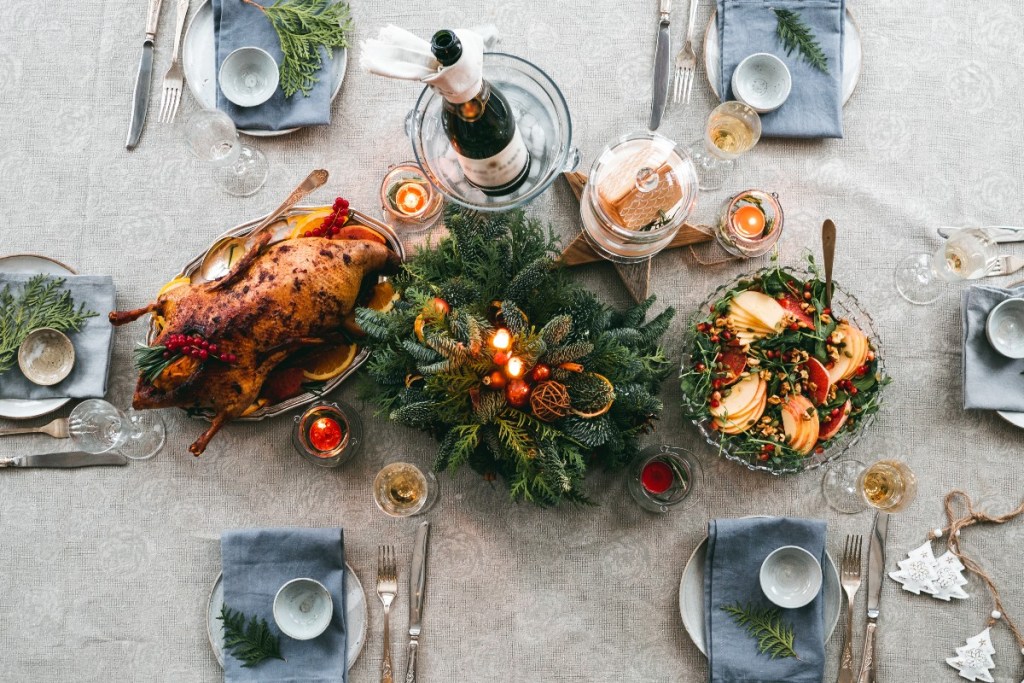 Centerpieces
Tell your turkey or roast to move over. Making room on your table for a centerpiece will draw attention to the table (rather than smartphones). You have plenty of options, from subtly beautiful assortments to statement pieces. Consider these ideas:
A bouquet
Florals aren't just for spring table settings, and you're also not limited to an obligatory Poinsettia. Red amaryllis is a beautiful winter bloom, and hypericum berries provide a festive filler.
Wreaths
You likely have a wreath on your door or over your mantel during the holidays. Well, how about adding one to your table? Setting out one adorned with thin metallic ribbon or cranberries is particularly perfect for Christmas dinner. Placing a candle in the middle adds warmth.
Bowl of pine cones
Using natural elements can cut down your carbon footprint and put you on Mother Nature's nice list. Collect some pine cones on your morning walk and set them in a bowl at the center of the table.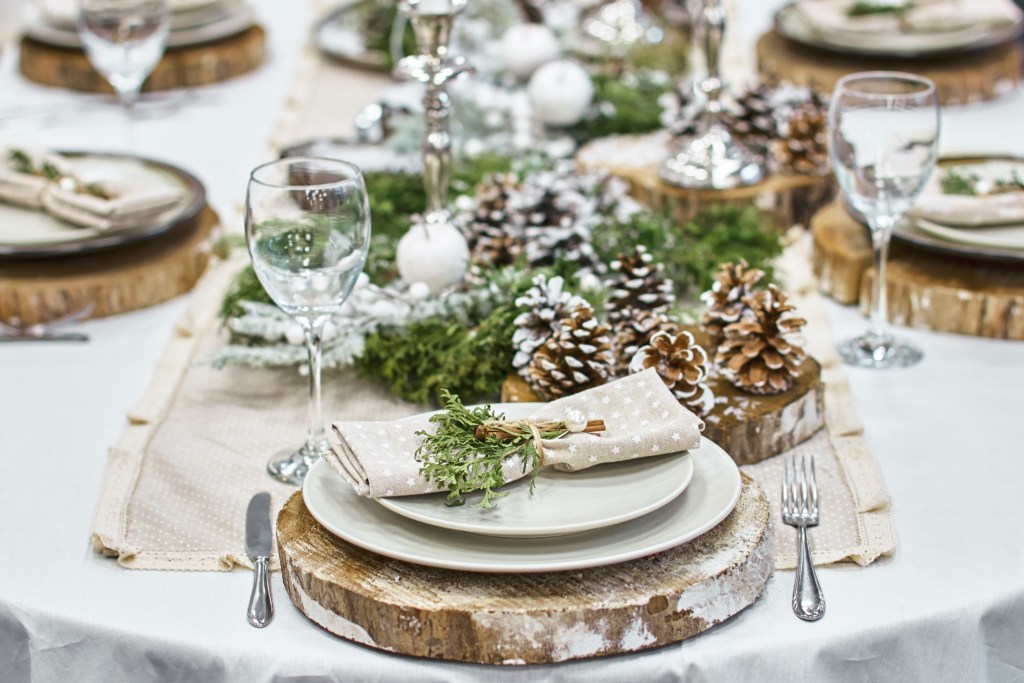 Napkins
Even your napkins can get into the Christmas spirit. While a traditionally folded one in a neutral tone works fine, having some fun with seasonal stitchwork and rings can add an element of joy to your place settings.
Find holiday-themed designs. Napkins with festive designs, like stitchings of cranberries or wreaths, are a subtle but pretty way to add some Christmas flair to your table.
Fold like a pro. Ensure your table is truly dressed to impress by forgoing the traditional napkin fold and opting for something more creative. In a few (sort of) simple steps, you can turn your napkin into a bow or candy cup (put some treats in it for a sweet surprise).
Napkin rings. If you want to use your usual napkins and aren't an origami master, napkin rings offer an easier — but still festive — fix. A faux tree trim with silver jingle bells or pretty gold-satin ribbons makes for nice touches. You can also use real pine cones or other natural elements to spruce up your napkin game.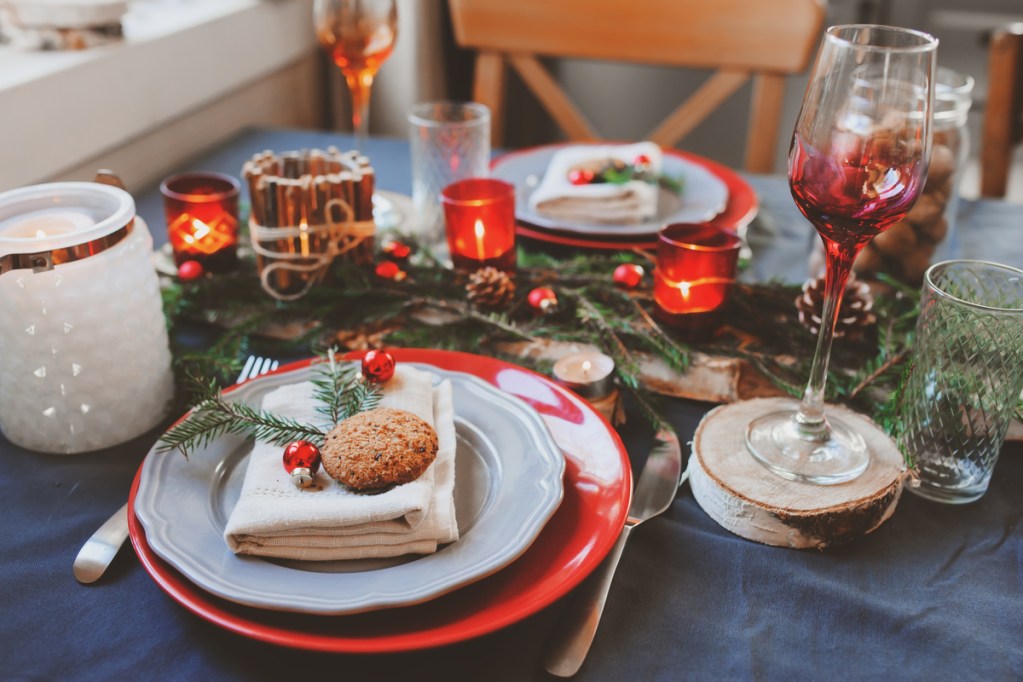 Place cardholders
Perhaps you want to assign seats at the table. It may ensure that your politically not-so-aligned uncles don't wind up next to one another or indicate where the "kid end" of the table is. It's also just a worthy excuse to make place cardholders. Sites like Zazzle have holiday ones, and you can add text to them, so you don't have to write names out yourself. Tree-shaped holders are also perfect for Christmas.
Runners
If you don't have room for a statement centerpiece because of all the food you're serving, a runner serves as a lower-maintenance alternative. Red or green cloth runners work well, as do ones with Christmas designs. These runners can go across the table without getting in the way of your food. (Bonus if the runner complements your napkin design.) You might also consider a garland, like one made of faux evergreen or Spanish moss. Though it takes up some room, it's a nice way to bring the outdoors inside during the coldest time of the year.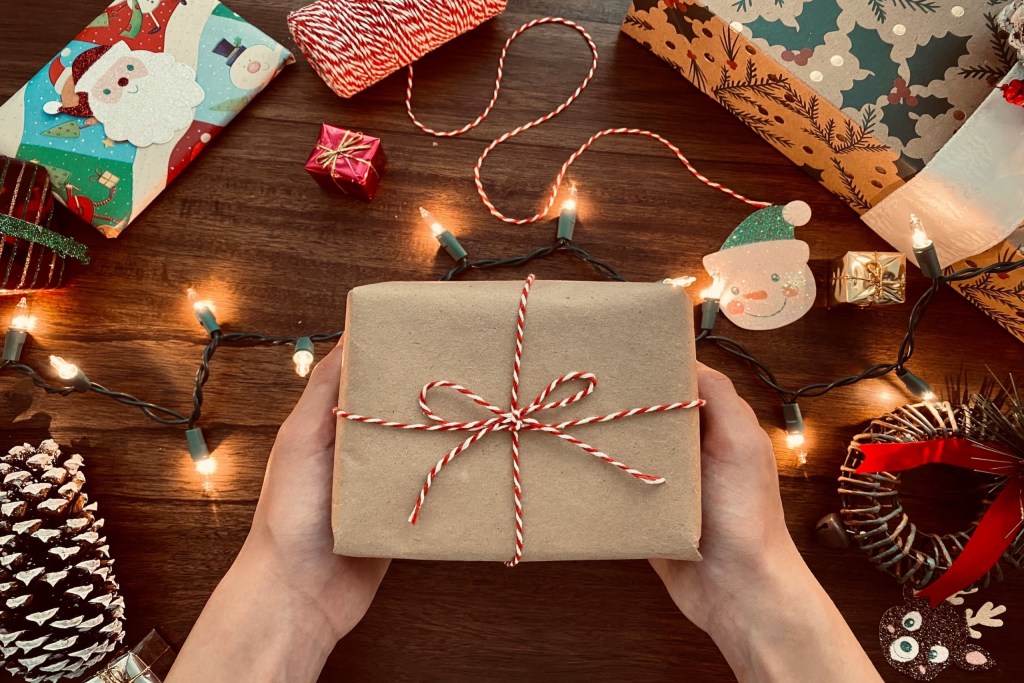 Personal gifts
You likely already gifted your guests something special, but a Christmas table decoration that they can take with them can ensure they remember your hosting prowess for years to come. For example, small tree decorations won't wind up taking up dust. And food gifts, such as a small bag of cookies or a small Godiva chocolate, don't last forever, but your guests' tastebuds won't soon forget them. These gifts are perfect for adding a special touch and often one final way to tell guests how grateful you are that they came to celebrate with you.
Sometimes, just getting Christmas dinner on the table feels like a win. However, if you want to go the extra mile this year, Christmas table decorations can make your place settings visually interesting and just plain fun. Centerpieces are an obvious choice, but blooms other than Poinsettia, like amaryllis, elevate any tablescape. If you don't have room for a centerpiece, opt for a runner instead. Even napkins can be a little merrier this time of year. You can find plenty of festive designs or get creative with your folding. And remember, favors that double as decorations are a sweet way to show your guests how happy you are to have them in your life.
Editors' Recommendations