The entryway is often an overlooked space when it comes to design. Because it's typically a spot where you go in and out or welcome guests into the home, you don't spend a lot of time in it. But its design is important for those very reasons. It's where people get a first impression of your home's style and where you place things at the end of the day that you'll need in the morning.
You should give some thought to how to decorate an entryway table so it is both functional and stylish. There is tons of entry table decor on the market, but you'll want to choose items that serve a purpose and complement the overall aesthetic of your home. Here are a few ideas we love.
How to decorate an entryway table
Size matters
Choosing an entryway table that's the right size and serves a purpose is important. If it's a small space, you'll want to choose one with built-in storage to keep items like keys, chargers, and shoes out of your line of vision.
Don't clutter the tabletop
Once you've landed on the table itself, it's important not to clutter the top with a bunch of decor. Instead, choose items that are stylish but leave room for you to place items like groceries or a laptop while you're putting on or taking off your shoes.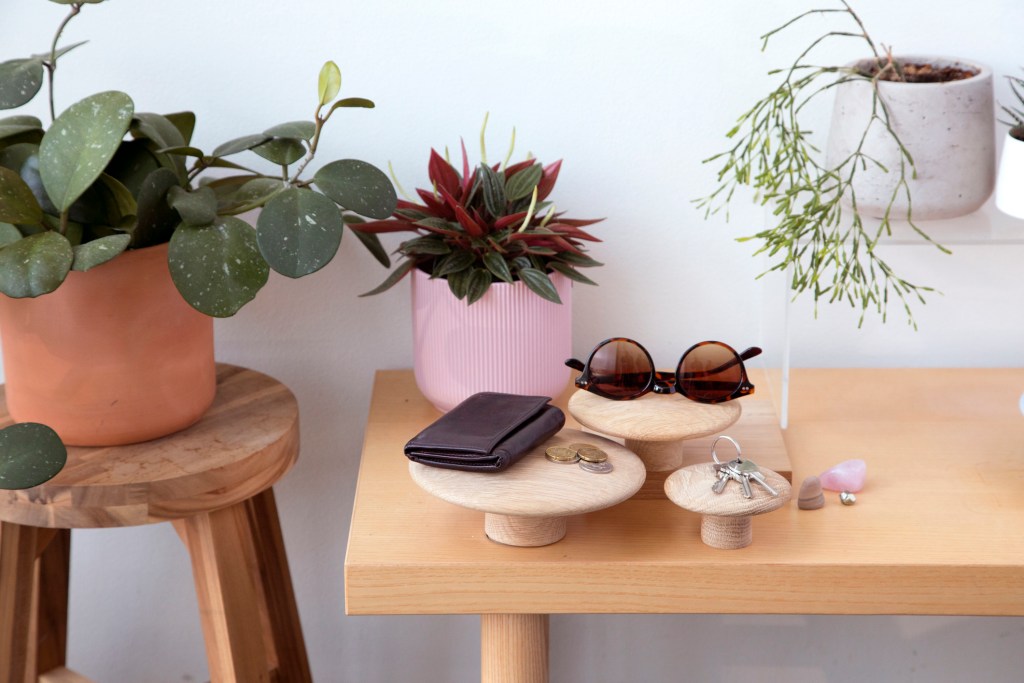 Entryway table decoration ideas
Lamps. If there's room, you can place a small lamp on your entryway table so that there is plenty of light for welcoming people in, especially if you don't have a lot of natural light coming through the windows.
Bowl for small items. We also love the idea of a bowl where you can throw keys, chapstick, or anything else you'll need the next morning when you leave.
Candles. Candles are lovely on an entry table because they immediately calm people who are arriving and offer nice ambient light for the evening, especially if you can see your entryway from the rest of the home.
Flowers. Another option is placing fresh flowers on the center of the table. This brings a little bit of the outdoors inside and will smell amazing to anyone who enters.

Don't forget to decorate your walls
If you have wall space above your entryway table, we love the idea of a mirror anchoring the table to the room. Not only is it handy to give yourself a once-over before you leave the house, but it also reflects any natural or ambient lighting, creating a feeling of more space. You could also hang a collage of family pictures or a nice piece of colorful art that immediately catches the eye.
Creating a functional yet stylish entryway table can make all the difference in feeling organized when you're running out the door. Keeping necessary items within arm's reach while still creating a feeling of serenity and personal design for those you welcome into your home is important. Remember, the entryway is the first place where guests get a sense of who you are and how you live. You can honor that while still making the space useful every day. It all comes down to how you decorate it.
Editors' Recommendations