When selecting a backsplash for the kitchen, people tend to spend a lot of time focusing on the tiles themselves. What they don't realize is that the grout is just as important — the color and contrast it creates can completely change the overall look of your kitchen, so getting it right is crucial. Additionally, there may also be practical reasons a darker grout will work better. Subway tiles are a classic backsplash option for a kitchen, but how do you feel about subway tiles with dark grout?
Here, we break down how to decide if dark or light is better for you and what you need to think about before choosing yours.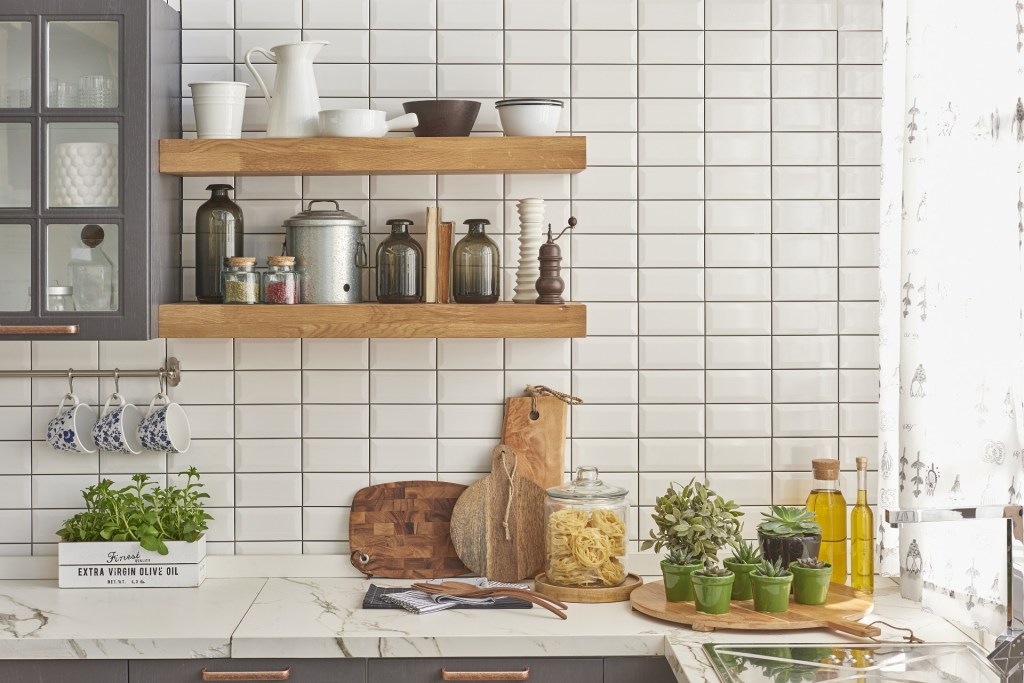 A case for dark grout
The classic look of subway tiles with dark grout has dominated kitchens for the last few years, and there is a good reason why. It is a timeless look that works in almost any design. It looks right at home in modern, rustic, country, and industrial looks and pairs well with almost every cabinet and counter combination. When you use white tiles with dark grout, the contrast between the light tile and dark grout brings the patterns of the tile layout into focus. It makes the backsplash a much more important design feature in the room.
Updating a classic
Some designers are bringing in the classic lines of subway tiles for a different spin but in shades of black, gray, and even rich blue and dark green. In this case, the contrast of the deeper color with the cabinets and counters may be enough to draw the eye to the tiles, so a darker grout that stands out less will give a more cohesive feel. Dark grout also works well with marble if you want to highlight the subtle gray veins. Likewise, patterned tiles or smaller glass tiles in deeper hues may read less busy with a grout that closely matches its dominant base.
Practical purposes
Looks aside, dark grout works better in kitchens than pure white because it is much more forgiving. Although you can easily wipe messes off the tiles themselves, grout can stain. If you are a person who enjoys cooking and is known to have a bubbling pot of marinara or red curry on the stove, a darker grout will ensure that your backsplash looks fresh even if it takes on splatters.

When to use light grout
There are times when a dark grout may not be what you want. What will white grout achieve that dark does not? Let's go back to a kitchen with subway tiles. As opposed to white tiles with dark grout, white will make the backsplash much less of a feature with less contrast. If you want the focus to be on something else, say rich wood cabinets or dramatic stone counters, light grout might be a better option. This is also the case when you want the kitchen to have an uncluttered, airy feel. With fewer places for the eye to rest, there is more openness.
With all that said, white or light grout can also provide a strong contrast if the tile you are using is a color. If you want a look that is anything but cookie-cutter, using a striking blue or emerald in an unusual shape such as a honeycomb pattern with white grout will give your kitchen a unique aesthetic. This also works exceptionally well with vertical tiles or a herringbone design. Just remember if you decide to go with white grout and seal it—this will not completely protect it, but it will help prevent stains.
For the adventurous
Are you looking for a completely original look? Colored grout may be for you. Although we tend to think of grout in white, gray, or black, it actually comes in a wide variety of colors—blue, green, orange, and so on. If you really want a design that stands out, this is an interesting way to bring in a pop of color and make the tile a feature. Hard to imagine? An ivory herringbone pattern tile with emerald grout from a distance will read as wallpaper but is much more durable. A white honeycomb tile with yellow grout evokes sunny beehives.
Whatever combination you decide on, take the time to map out which is right for you. By doing your homework, you can determine the tile and grout combination that will make your backsplash a true feature that enhances your kitchen's overall design.
Editors' Recommendations