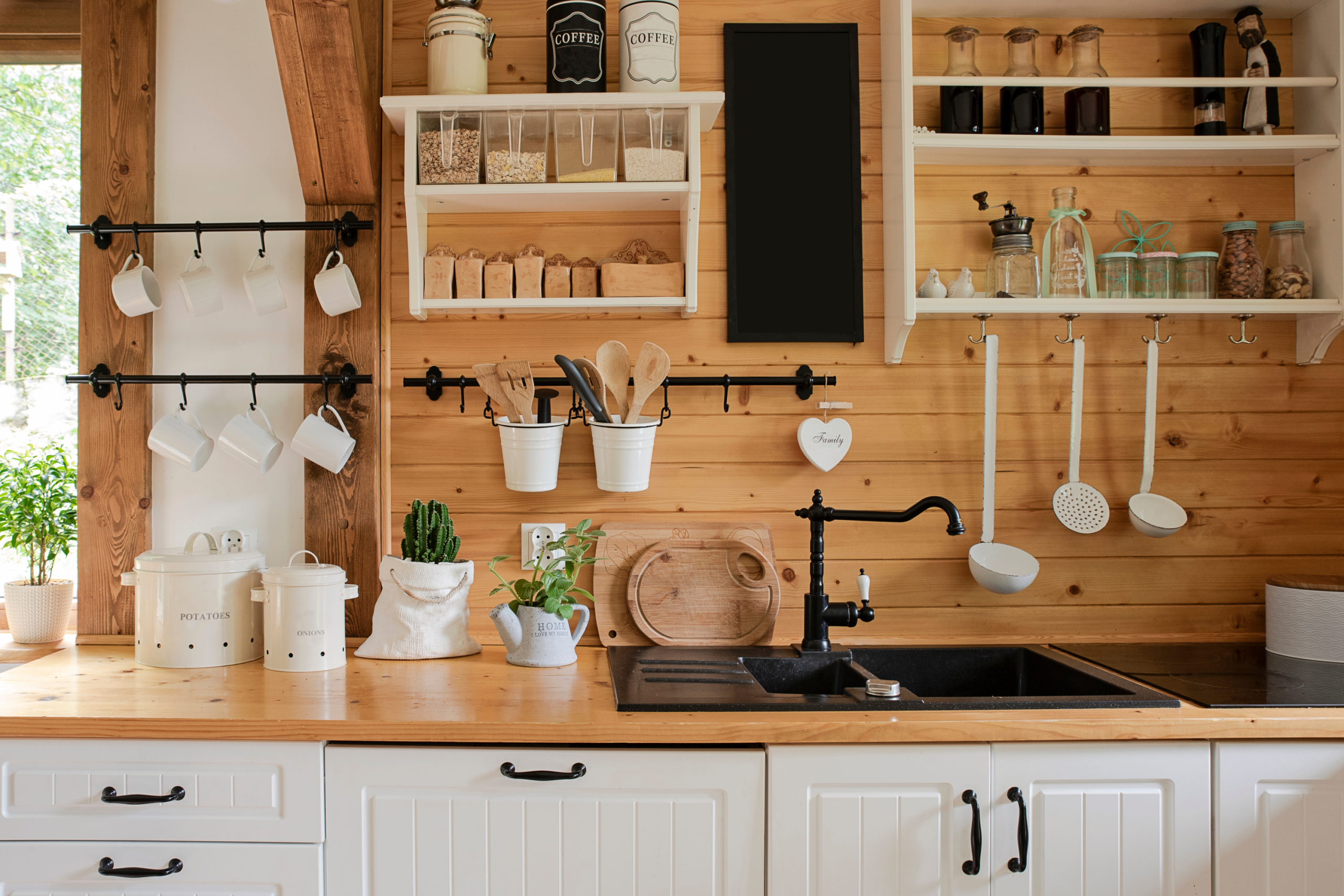 There is a reason the rustic look has garnered so much popularity over the years. Whether you live in the country or a buzzing metropolis, a slew of amazing rustic decorating ideas can inject an inviting charm to any kitchen. It also works in any size space. How can you bring this timeless style into your space? We have some ideas — use one, two, or all of them to infuse a bit of rustic into any design.
Beams
Reclaimed wood brings warmth that just can't be duplicated. Bringing touches of it into the kitchen gives character to the design. However, solid salvaged beams are not only costly, they are extremely heavy and can be difficult to install. For a fraction of the cost, there are infinite numbers of faux beams that are much more cost-effective, and no one will be the wiser. Another option is to purchase new wood, distress, and stain it to make it look aged.
Farmhouse-inspired island or table
Sure, brand-new cabinets may be functional, but there is something about the juxtaposition of an island made from aged wood. Another option in a neutral or white kitchen is to add a painted island — distressing or aging the paint will give the piece more depth and personality. Mixing in a rustic island with new elements injects charm into the space. Consider one with open shelving underneath and fill it with useful kitchen necessities that will also add to the look — serving bowls, cookbooks, and platters.
If your kitchen is eat-in, a farmhouse table is an ideal way to infuse the space with warmth. These days, you can find many different options whether you prefer a more modern or classic design. It also comes in many shapes and sizes. The common element being not as much the architecture of the table, but the materials it is made from — reclaimed, aged, or distressed wood. The good news is a bit of wear and tear only adds to the look, so it is perfect for busy households and entertaining.
Open shelving
Open shelves are a great way to marry function and design by offering a way to highlight everyday items like dishes, bowls, and other necessities that are useful but also attractive. It also invites a chance to mix in other elements such as plants, vintage signs, and decorative accessories. Shelves can be fashioned from many materials and give a chance to bring in texture or convey a look. Wrought-iron brackets with a wood shelf, a floating design, stainless steel, or a pop of painted color are just some of the options.
An entire kitchen of open shelving can be a great look, but it is also intimidating because it leaves no room for clutter. If you aren't ready to commit, consider one section where you can display items that will amp up the look you are going for. If buying new shelving is out of your budget, open shelves can be achieved by removing doors from a portion of upper cabinets. To give it more of a custom look, paint a pop of color or wallpaper the back.
Farmhouse sink
There is a good reason farmhouse or apron sinks are a coveted kitchen feature: They add a timeless look to any design. Functionally, the deep basin makes it ideal for washing dishes. Since they can be fashioned out of many different materials — concrete, porcelain, or stainless steel to name a few — they work in any design.
One thing to keep in mind is if you are adding the sink to an existing design, you may need to change or make adjustments to the countertop around and cabinets below because they are wider and deeper than a standard sink. You will also want to check if the cabinet can hold the heavier weight and add reinforcements if needed. In the end, the cabinets will most likely need a touch-up or repainting after the new sink is installed.
Backsplash
Perhaps one of the easiest ways to bring a new feel into a kitchen, the backsplash offers endless possibilities. Subway tiles, stone, aged brick, metal, and salvaged wood are just some of the options. This is a great place to add color, visual interest, and texture.
A neutral base can be infused with a bold patterned tile or color. Weathered stone adds an organic, one-of-a-kind touch to an otherwise basic design. This is your chance to add your own fingerprint into the space. Antique or handmade tile can be pricey, so think about using it in a place you want to highlight — above a range, for example — and using a less expensive option throughout.
Editors' Recommendations