Kitchen trends vary year after year and range from sleek and modern to warm and cozy. Whatever style you prefer, your kitchen is bound to become the heart of your home. And although those concrete countertops and pendant lights look great in magazines, there's a lot to be said for a comfortable country look that invites you in and makes you want to stay.
So, how does one decorate a country kitchen? Here are a few pointers that will get you on your way to that homey feel.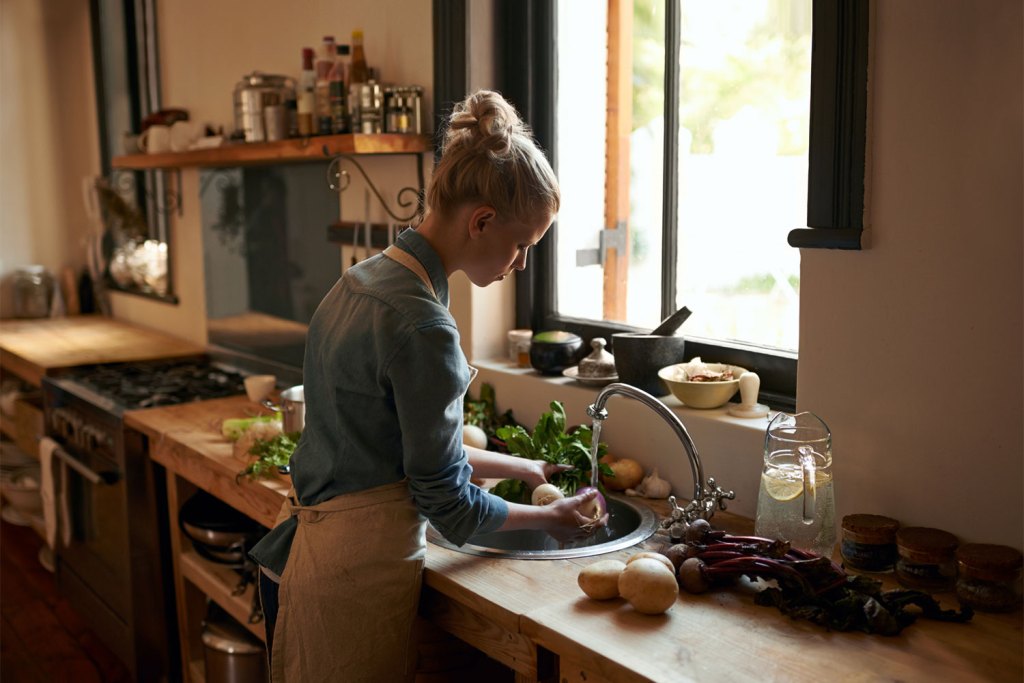 Walls and cabinets
If your kitchen is already contemporary or modern, you don't have to completely redo it to get the country or rustic look that you want. A few changes can transform the room quickly before you start sweating the details.
Wall paint color
The first thing to look at is your paint color. Country kitchens are warm and inviting, so calming and warm colors are the way to go, says Country Living. Take a page from colonial kitchens and go with soft, creamy whites and yellows, sage greens, and periwinkle blues. Pair these with clean, white accents to keep things fresh, and build your look from there.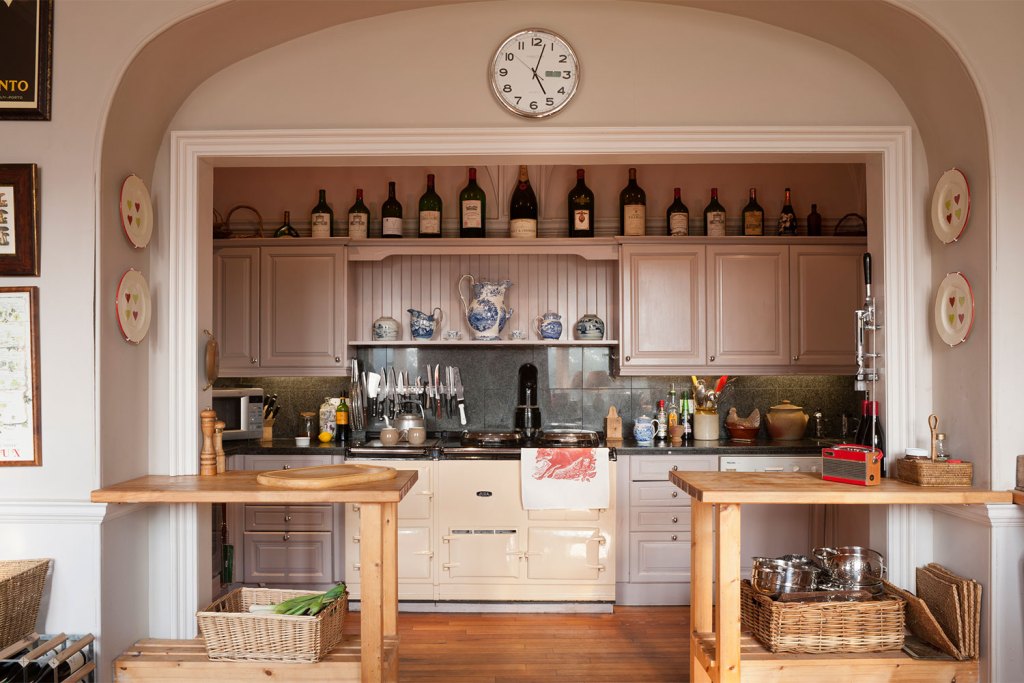 Cabinet colors
Choose a color for your cabinets that complements the wall color. Many country kitchens go with white or cream cabinets to contrast with a beautiful, strong wall color or vice versa. Another idea to consider is to go with just the wood cabinet with no paint. Adding decorative molding to the tops can change a modern cabinet to a classic cabinet quickly and affordably. Or you can go all out and give them a distressed look.
Cabinet doors
If your budget allows, you can change out your cabinet doors for glass-front doors for an instant change. This classic design shows off pottery and handmade kitchen items, and it makes your belongings look like art.
Cabinet hardware
Once you have decided how to treat your cabinets, you can countrify them with new handles and pulls. Country-style pulls tend to be more ornate than modern ones, and some even add ceramic touches like these. The advantage of those is that you get that bit of white to accentuate the cabinet color. You can also choose a nature-driven pull like these leaf pulls.
Window treatments
If you have a window in your kitchen, dressing it up with some gingham, plaid, or chintz curtains will instantly move the feel of your decor to country. Curtain tiers work well and are easy to put up and take down for cleaning. Tier and valance sets in a tasteful chintz can elevate your kitchen, and a simple swag can add a fresh feel to your look.
If curtains don't interest you, a set of distressed shutters adds a full-on rustic vibe and an unusual frame for your windows.
Furniture
That's right. You can countrify your kitchen by adding some furniture that will not only look great but will add to your enjoyment of the space. Items like a small cabinet can keep you organized, show off your cookware, and add a rustic touch to the room. For a larger budget, this beautiful country pantry will make any room prettier and holds a ton of cookware, dishes, or dry goods.
You know what else is fun to have in your country kitchen? A comfortable armchair. If you're waiting for bread dough to rise, soup to simmer, or have a friend over to share the space, a small comfy chair in the kitchen warms the space up and softens hard corners. Add a patchwork cushion, and you've got yourself a nook.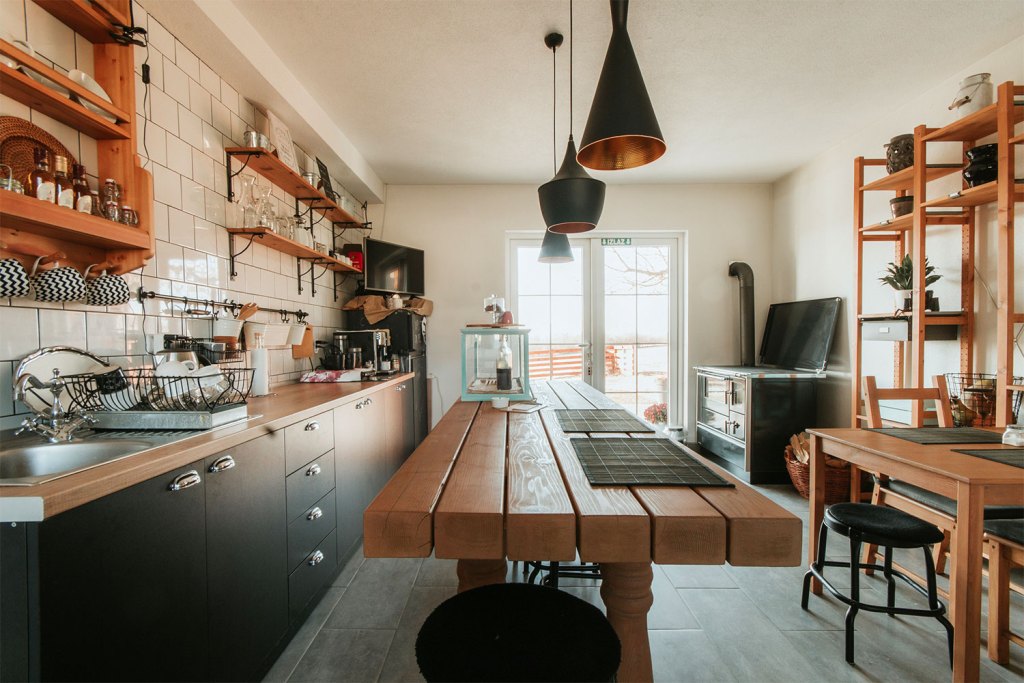 Decorations
Now that you have the basics going, it's time to think about art and decorations. Antiques complement country kitchens beautifully, so think about adding some shelving and go to town on vases, pitchers, watering cans, and whatever you may find at your local thrift or antique store. Copper pots and big bowls always look good, and the more mismatched things are, the homier it will look. Enamelware basins add a rustic touch, and a pitcher vase of wildflowers will brighten your countertops without compromising the country look.
Get used to looking at an actual clock and add to your kitchen's charm by adding something like this shiplap clock or this oversized farmhouse clock. You can also add some whimsy by hanging vintage poster art and ads like this Doodle Coffee Company print. Lastly, perk up a plain wall with a colorful tile like these French country chickens that will make you feel good every time you look at them.
Floor coverings
One overarching detail of a country kitchen is floor covering. You don't want to purchase an expensive wool rug or anything that isn't easy to clean. But you can add character and style to your country kitchen by putting down an area rug that compliments your colors and decor, and is comfortable for bare feet. HGTV has some great visuals.
A classic braided stain-resistant area rug will tie your kitchen together, and it's even better if you can choose a color that will go with the rest of your styling. A food-oriented long kitchen runner or mat for in front of your cabinets and work areas add finish and panache to the room. And if you spend a lot of time in your kitchen, consider a decorative anti-fatigue mat to make your kitchen more beautiful and keep your feet comfortable.
Don't be afraid
Vintage farmhouse decorating ideas will always be timeless – and so when starting on a country kitchen transformation, don't be afraid to merge tradition with new inspiration. A country kitchen should be warm and homey, so don't worry about rules or matching. It's yours, and it should reflect your taste, your ideas, your antique-store finds, and your personality. The look will never go out of style –look at any French country kitchen, and you'll see why. These kitchens are functional, pleasing to the eye, and reflect years of friends-and-family gatherings to enjoy good food and friendship.
Editors' Recommendations