If you love the rustic and repurposed look of a vintage farmhouse, you've come to the right place. From the best in distressed to the most sought-after of shabby chic, we peeked in on the experts for some top-level inspiration. Come check it all out and find your favorites.
When in doubt, start with a piece of wall art
When you're going for the vintage-farmhouse look, don't forget the wall art. Aside from the everyday paintings you'll run across, there are numerous other ways to get creative with these. Mount a quilt remnant inside a repurposed frame, or print a family recipe, place it inside some old chicken wire, and make it a work of art.
Visit the Antique Farmhouse for a perfect piece of wall art, like this charming Organic Farms Modern Farmhouse Wall Decor for less than $40. Made of wood and canvas, it's available in either 16″ x 20″ or 20″ x 24″.
Show off some transferware
Do you have any transferware to serve on for holiday meals, or maybe just for display? If not, it's time to get some. Some have a favorite color when it comes to transfer-ware (ours is pink), and collecting it can be addicting. Find all sorts of pieces in a wide range of places from flea markets to garage sales to an auction house. Be sure to investigate your pieces and always remember to look for a mark on the bottom. A maker's mark or pattern name may or may not increase its value, but definitely makes it more interesting!
Try out a set of gorgeous dessert plates on Etsy. A set of four Churchill dessert plates with exquisite English country scenes on them goes for $34.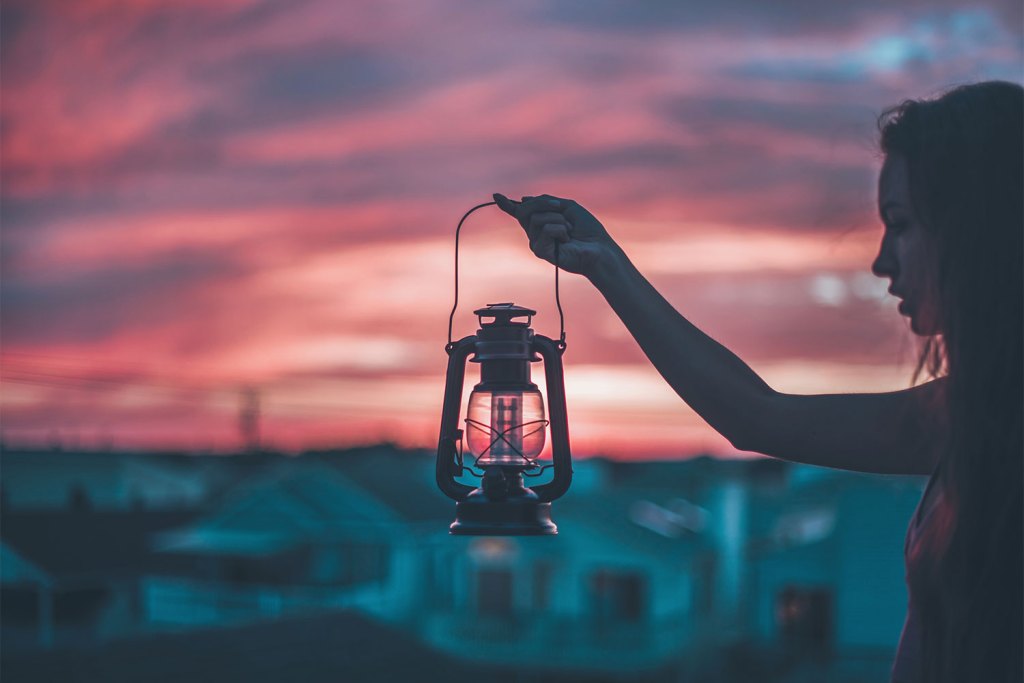 Shine up some antique oil lamps
Antiques of almost any kind fit in with a vintage-farmhouse theme, especially a variety of antique oil lamps. Keep them clean and shiny and preferably in working order — you never know when you might need to use one.
Want to try a vintage oil lamp look out in your home? Get a Pink Lite-Hearted Hurricane Oil Lantern from Wayfair for $45. It weighs only 2 pounds and can burn any oil from kerosene to lamp oil, or citronella to liquid paraffin.
Find a new use for vintage glass insulators
Vintage glass insulators make a lovely conversation piece in any rustic room. Having once been used for telegraph lines, then later to insulate wooden poles against the power lines stretched across them, they can now be converted into your own unique light fixtures, paper weights, or other creative pieces. Collectors find them worth any amount from a few cents up to over $400. In addition to these, there are many other types of beautiful vintage lighting that are perfect for rustic farmhouse-type settings.
Want to buy a few for starters? Poshmark has a set of three for $15, each unique, and two without a single crack or chip.
Hook up a barn door headboard
Add a little character to your bedroom with a shabby-chic barn door headboard. If you don't feel up to crafting your own, you can stop in at Wayfair for its Rustic Minster Queen Panel Headboard. Made in the USA with dimensions of 48.31" H x 65.75" W x 2.75" D, this headboard is $156.
Throw on a vintage doily table runner
A great way to repurpose old doilies, table runners show off each pretty edge while highlighting your serving dishes. Perfect for a summer tea party or brunch with the girls. These delicate vintage table runners are made to order on Etsy for $125. Each runner is unique, but they all have 16 doilies sewn together of different sizes and styles.
Set out some antique games, like Flinch
Invented in 1901 by Kalamazoo, Michigan's A.J. Patterson, the Flinch card game uses a customized deck of either 144 or 150 cards, each numbered in 10 sets of one to 15. Set a deck of your own out to invite conversation with guests, or even prompt a game! Any number of players can play Flinch, but for more than eight players you'll need another deck.
Get a set on Etsy from 1938 for $22.
Get creative with a rustic ladder
Who says a ladder can't be mounted on a wall? As a matter of fact, plenty of vintage setups use them that way, either as a simple decoration or as shelving. Get creative with yours and see what comes of it.
The Antique Farmhouse has a Ladder with Metal Planters for any spot where you want to grow herbs, small plants in pots, a greenhouse, or even outside. Constructed of fir wood and iron, this fun piece is 14″ x 6.25″ x 37.75″ H and sells for only $50. It holds two planters with accents between them.
Put out a vintage cookbook stand — with a cookbook open to your favorite recipe
Useful for any kitchen, a cookbook stand lets you cook without losing your page. Constructed of repurposed European wood, you can't go wrong with this Reclaimed Wood Cookbook Stand from UncommonGoods for $100. Its dimensions are 11″ L x 10″ W x 4″ D, and you can keep it in shape with a basic mineral oil.
Vintage salves and healing balms in tins
A reflection of eras past, there still exists a rich collection of healing balms, tinctures, and potions in a variety of vintage containers. Explore Mountain Rose Herbs for a selection of high-quality products encased in similar tins, amber glass, and more.
Want to try a modern-day version of an old-school remedy? Made in small batches, the Dream Balm helps you relax enough to sleep at bedtime. Just rub a little in your temples during the day to maintain your sense of peace during stressful moments. Available in two sizes, buy it for $9.00/1 ounce or $15.00/2 ounces.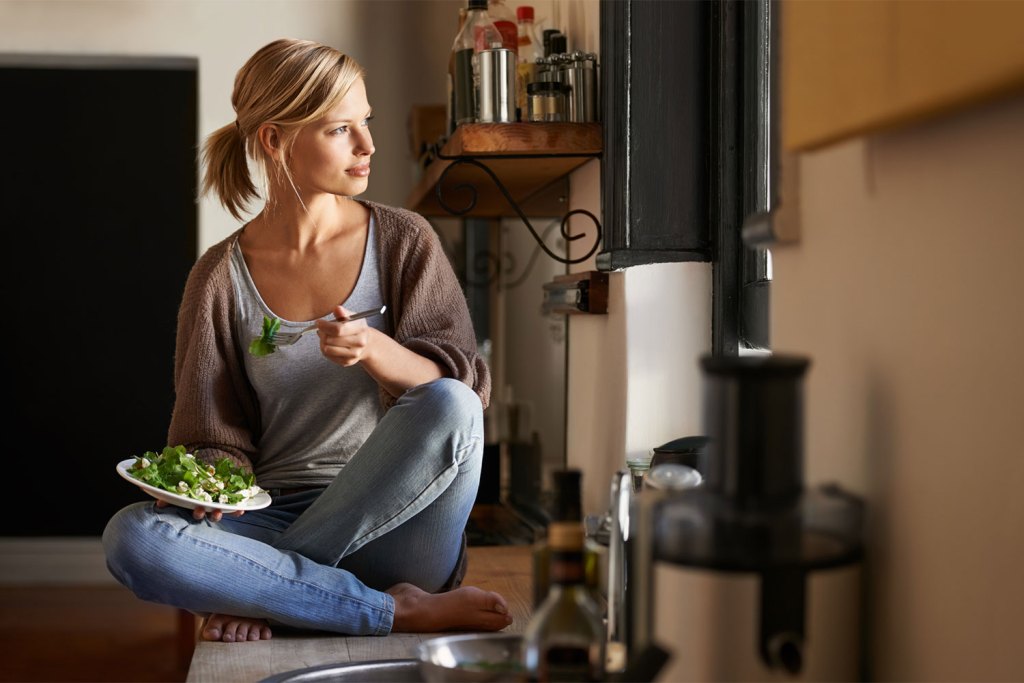 Dress up some furnishings in old-school blue gingham
Popular since the late 19th century, gingham has long been used in clothing, tablecloths, curtains, and other home accents, furnishings, and decor. Get some of your own from the Laurel Foundry Modern Farmhouse Shop via Wayfair. Its Toby Country Chic Gingham Plaid Semi-Sheer Rod Pocket Curtain Panels will express your love of all things rustic. Arriving in a set of two, you can get the 42″ W x 63″ L panel size for $62, and the 42″ W x 84″ L size panel for $65.
Traditional Country Chandelier
Modeled after candelabras, traditional chandeliers were popular until the 18th century, then replaced their usual candles with gas and later electricity. Get the look of the bygone time period with your own Country Chandelier from the Antique Farmhouse for $300. Its dimensions are 40″ x 18.5″ H, with a 6-inch chain and 10-inch wire.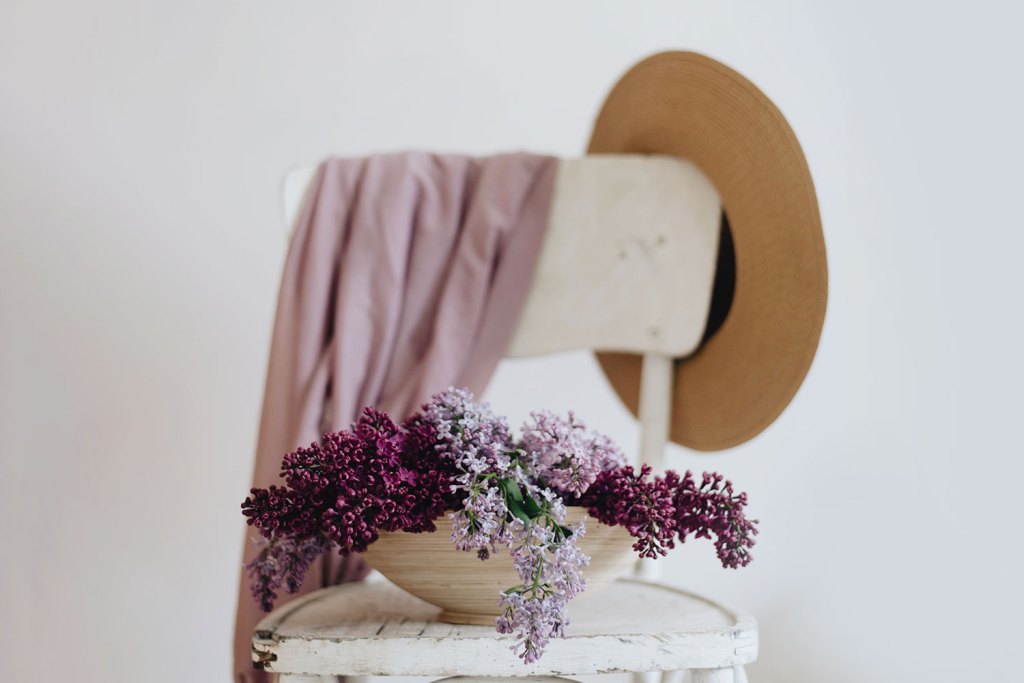 This Double Door Distressed Farmhouse Accent Cabinet from the Antique Farmhouse fits perfectly in any room. With dimensions of 24″ x 12″ x 29.5″ H, it costs $170.
Install a farmhouse sink
Among the most popular sinks today, vintage farmhouse sinks have an irresistible appeal. Spacious with all the no-frills function you could dream of, you can get one from Wayfair for only $340 — the 33″ x 22″ Double Basin Farmhouse/Apron Kitchen Sink with Basket Strainer.
Easy to clean with an adjustable tray, this farmhouse sink comes with all the hardware necessary for self-installation.
Vintage brick mold bookshelf
Repurpose old, wooden vintage brick molds when you put them to use in a whole new way. This Vintage Brick Mold Bookshelf does just that at 2 feet tall with its rustic distressed edges. Show off books, plants, or another favorite collection. Dimensions are 12″ x 4″ x 29″ H, and it costs $62.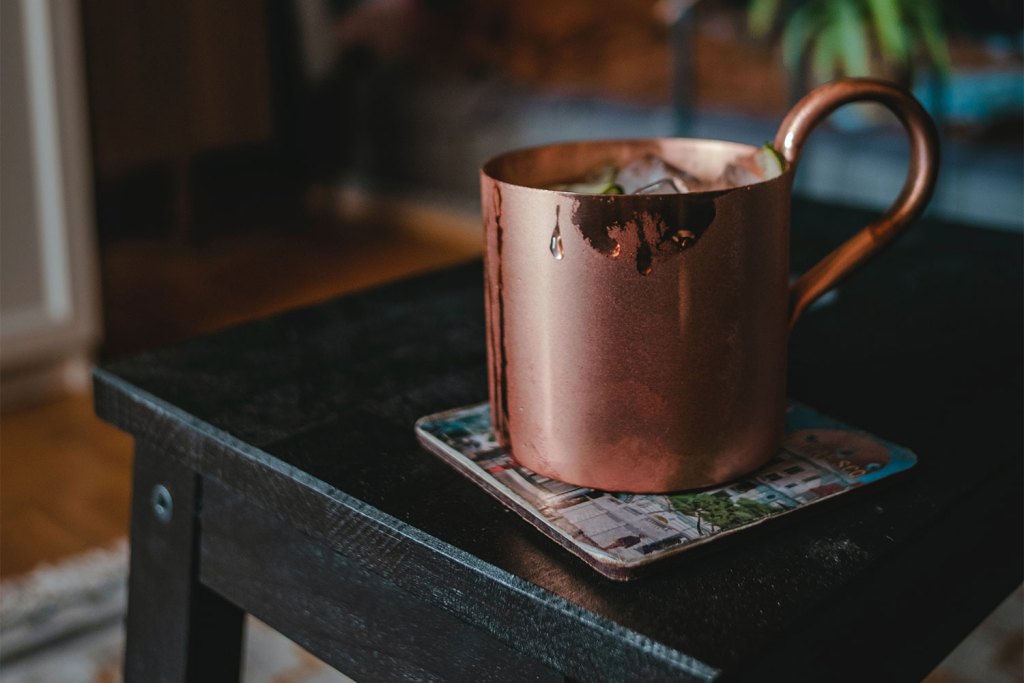 Stir up some Moscow Mules
One of the most popular cocktails of the' 50s and '60s, the Moscow Mule must be served in the appropriate vintage copper mugs. Get a set of your own for $50 from Antique Farmhouse. Hand-wash only.
To make your own Moscow Mule, mix:
2 oz. vodka
4 oz. ginger beer (or ginger ale in a pinch)
1 oz. lime juice
Garnish with a lime wedge on the edge of your copper mug
Throw down a vintage faded rug
Cover a rustic hardwood floor with a faded farmhouse rug, perfectly tattered in all the right places, for a warm and cozy look to your room. Get one from Antique Farmhouse for $110. Select your choice of size (Small: 60″ x 84″ (5 x 7); medium: 84″ x 108 (7 x 9); or large: 96″ x 120″ (8 x 10) and color (Sky Blue, Light Gray, Ivory, Bright Blue, and Mustard). Made of polypropylene.
Wrap up in a vintage quilt — or mount it on the wall
Nothing makes the room pop like a beautiful, old-fashioned quilt. While the handmade variety are always ideal, almost any will do if they have the right country look. Get a gorgeous Ozark Farms Pinwheel Quilt starting at $65 with dimensions of 70″ x 90″ at Antique Farmhouse. Adorned with 100% cotton pinwheels on the front and a ticking stripe pattern on the back with cotton batting, this quilt is offered in four different sizes to suit your needs perfectly. Matching shams are available, as well, sold separately.
Now that you've seen our vintage decorating ideas, which ones do you think might work in your farmhouse-chic abode? Be sure to send us pics of your creations — and we'd love to hear ideas we missed! Thanks for reading and happy decorating.
Editors' Recommendations