If you're remodeling your kitchen and are looking for ways to infuse a bit of your personality, look no further than the kitchen backsplash. There are so many colors, styles, materials, and design options for a backsplash available on the market, you'll want to spend time researching them to ensure you've landed on one that's right for you. While you can take the overall kitchen design and aesthetic of your home into consideration, a kitchen backsplash can pivot to a different style to offer some character and really make a statement.
There are some considerations to keep in mind when selecting certain materials. We've asked experts to weigh in on what those are and what the most common mistakes are that people make when choosing a backsplash. Read on, so you don't make the same ones.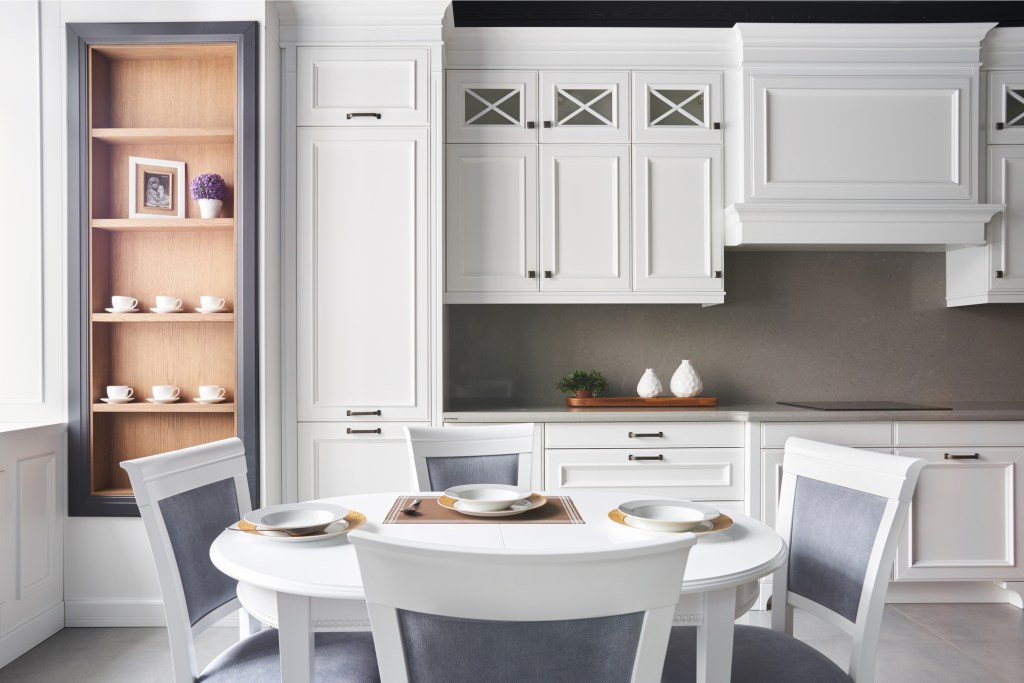 What are the latest kitchen backsplash trends?
When it comes to today's kitchen tiles, size matters. "Gone are the days when people only put up small mosaic or ceramic tiles," said Sylvia James, an interior designer from Home How. "Now, the focus is more on 'go big or go home' while creating a kitchen backsplash. Obviously, the design is up to you, but larger tiles can make your space feel larger — clean, unbroken lines always simplify a surface."
We love this Hewlett black matte 12-by-24 porcelain tile from Tile Bar against a light-colored cabinet.
Adding color into your backsplash is another trend that's taken off in recent years. "If your kitchen is mostly black and white, picking a third color to have pop in the kitchen is another popular move," added Bailey Carson, home care expert at Angi.
And, if you're on a budget, Carson said:
"Chalkboard paint, beadboard, vinyl decals, painted plywood, and wallpaper are all options that can add character to your kitchen without breaking the bank."
Are you feeling too indecisive? James had this advice: "The most common consideration when it comes to picking your preferred backsplash is: Does it match your personal taste? If you're not too sure what to go for, then look at neutral colors and a nice-sized tile shape that will match with anything."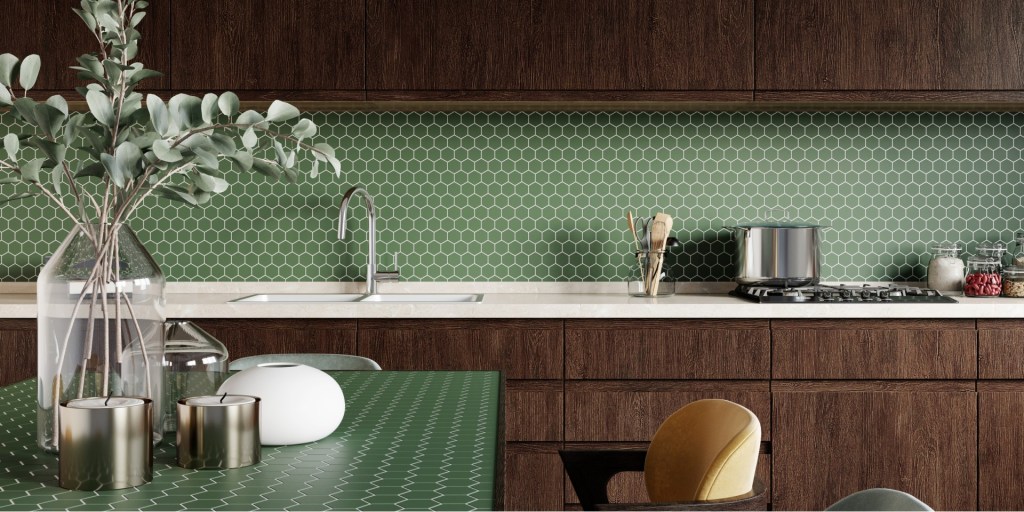 Best materials for a kitchen backsplash?
To know which materials work best for you, you need to be honest about how you will use the space and how much time you can devote to cleaning it.
"The best backsplash materials for your kitchen will depend on your budget, style, and how much you use your kitchen," Carson said. "For high-use kitchens, use ceramic and porcelain. If you're opting for something more environmentally friendly, you might opt for reclaimed wood or metal. If you're looking for something easy to install, your best bet will be to go with wood, glass, or metal. If your goal is to have a really unique-looking kitchen, consider going with natural stone, porcelain, or ceramic. And finally, if budget is your biggest concern, go with cheaper materials such as metal, ceramic, porcelain, or wood."
"If you're looking for low maintenance, then ceramic and porcelain are the best tiles to go for," James added. "All you need is a soapy or damp cloth, and you can easily wipe away any grease or dirt. But also, going for a glass backsplash or even stainless steel can be a nice option when it comes to cleaning and maintenance."
If you're using grout, make sure you pick dark colors and that it's sealed properly because grout is porous and will take on stains that can result from spills and splashes.
James also noted that, while durability isn't as much of a consideration for a backsplash as it is for floor tiles, this isn't exactly the case if you store small appliances on your countertop. "You may want to choose a sturdier backsplash material, such as porcelain or stone. This type of backsplash will help prevent any cracks or damage if something were to accidentally happen," she said.
When embarking on a DIY project, choosing simple materials is best. "You can also opt for peel-and-stick backsplash tiles, which are super easy for DIY installation," Carson said. "However, if you have a lot of windows or electrical outlets that interfere with your backsplash area, it's best to go with a pro. The biggest perk of hiring a pro is that they will already have all of the tools required to get the job done, which can cost around $300 if you don't already own them."
What should I expect to pay for a kitchen backsplash?
That depends in large part on the material you use and how much surface area you plan to cover.
"The average cost to install a backsplash is $600 to $1,300, but it really depends on what sort of materials you end up using and if you choose to DIY the project or go with a pro," Carson noted.
"The average cost of tile is $25 per square foot," Carson added. "Marble is anywhere from $10 to $95 per square foot. Tin is anywhere from $10 to $30 per square foot. Brick ranges from $10 to $40 per square foot. Stainless steel is $20 per square foot. Ceramic is $2 per square foot. And porcelain ranges from $3 to $6 per square foot."
When looking at backsplashes, keep in mind the cost of materials and which ones will fit into your overall kitchen budget.
When figuring in square footage, it's also worth noting that tiling more of your kitchen is also on-trend. "The days of short backsplashes are over," Carson said. "It's time to invest in enough tile to reach the ceiling!"
If you're planning to hire a contractor, do your research. Check out reviews online, talk to former customers, and if possible, ask to see previous work in person before you decide. It can be costly to have to fix an incorrectly installed backsplash, so taking the time to hire the right person — even if they might appear the more expensive option — could mean saving money in the long run. It does cost more in labor to hire someone rather than doing the work yourself, but a professional will have all the necessary tools on hand, which will spare you from having to purchase or rent them.
Picking a backsplash is one of the most fun parts of a kitchen redesign because there are so many options available. Check out websites like Tile Bar, Wayfair, Overstock, and Home Depot. If you are ordering online and not working with someone in-store, use their sizing calculators. This will help you with how much to order based on your kitchen's size (plus overage). The last thing you want is to get to project day and not have enough materials to finish the job.
Editors' Recommendations