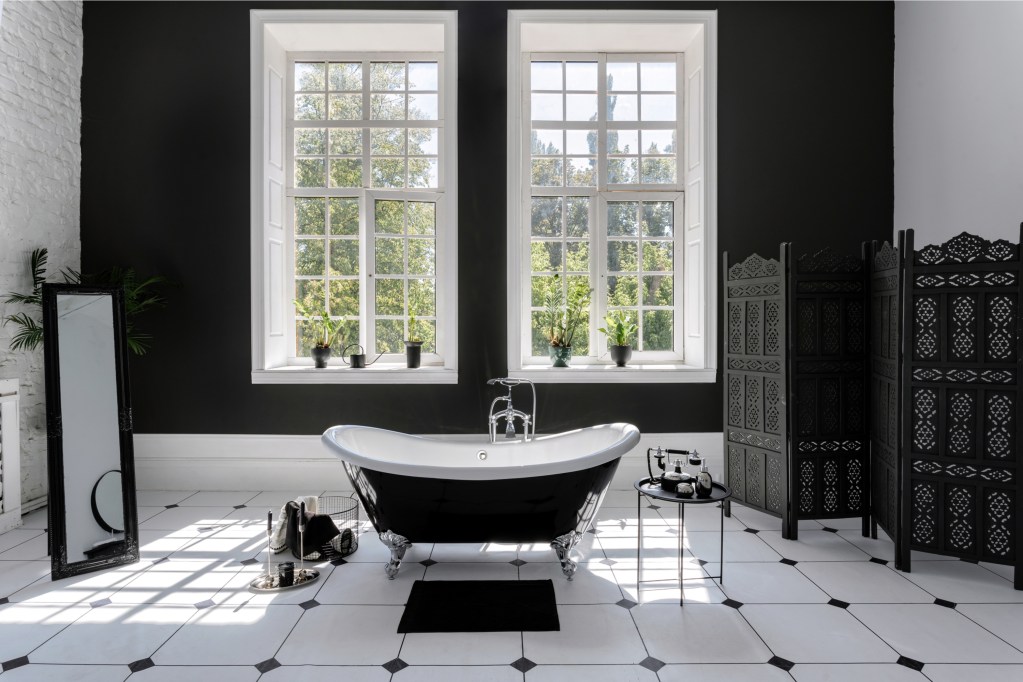 One of the easiest ways to refresh a space is with a new paint job. It's just like putting on a brand-new set of clothes that fits perfectly. It makes everything look fresh and fabulous. Painting the bathroom is a chore, though. There are lots of areas that need to be taped off and many nooks and crannies that may need to be touched up. Then, you have to invent a whole new yoga position trying to paint that area behind the toilet and not slop it on the floor, drip on the toilet, or make the wall look like you painted it with a mop.
However, the trouble doesn't end there. While many paint companies have visualizers on their websites, making it easier than ever to pick the right color when painting the walls and ceiling, there is one final decision you need to make: the type of paint finish.
You might be asking yourself, "What type of paint finish is best for bathrooms?" The answer is that some finishes are not suited for the bathroom. So, we've rounded up some of the best paint finishes you can use in your bathroom or powder room to help uplift your space without having to redo your paint job down the line.
The best paint finishes for bathrooms
A paint finish or sheen is the amount of light the paint reflects. Some finishes absorb light, like matte and eggshell, and some reflect light like satin, sheen, and semi-gloss. The higher the reflective value, the higher the price because there are more resins and binders in reflective finishes. Higher gloss means more cost. The upside is that they are easier to clean and less likely to trap mold than flatter finish paints.
When choosing a paint finish for the bathroom, humidity is obviously a factor. Moisture can get between the wall and your paint, creating bubbling or peeling. High-gloss finishes are moisture-resistant, causing water to drip down the wall instead of getting absorbed. Consumer Reports rates satin and semi-gloss as better bets for the bathroom.
A flat finish is, well, flat and not suited for areas that need to be washed, like kitchens and bathrooms. An eggshell finish has slight reflectivity, but not much more, and still is not considered suitable for bathrooms or kitchens. Both are more likely to retain moisture. However, if your heart is set on a matte, flat, or eggshell finish for your bathroom, look for one that's labeled mildew-resistant.
Satin and sheen finishes
Sheen and satin paint finishes are reflective (sheen more so than satin). Both are durable, shiny, and easy to clean. Satin and sheen both draw attention to imperfections in the walls and trim. They are available in latex and oil-based formats, and both are available in no or low VOC (volatile organic compounds). Because they show imperfections, satin and sheen finishes require prep work like sanding rough areas. Both may require two coats to get a richer, even color. The same color in sheen over satin may appear slightly darker.
What to use where
Satin bathroom paint finish
Using satin in the bathroom on the walls gives you a smooth, sophisticated finish. It has reflectivity but isn't too shiny. If it's on an area you regularly need to wipe off, it won't get damaged. You want durability in the bathroom because it's a room that is a chore to paint, and it's a high-traffic space.
The walls and the ceiling are big surfaces, and satin is more forgiving of little flaws and dips in the surface. It protects the surfaces from mold and mildew.
Sheen bathroom paint finish
Now, sheen really looks its best on trim and moldings. If you use the same color in satin on the walls and ceiling, and sheen on the moldings, there is a subtle, sophisticated difference. Don't neglect the ceiling, especially if you have a small bathroom with no windows. You want as much reflective surface as possible, and moisture hangs out on the ceiling, too, so you want it protected from mold and mildew.
Sheen highlights the architectural details of the molding and trim areas and other woodwork. This finish is also washable. That's important if you think about what you touch in the bathroom and areas that you can't help but handle often — it's usually the trim around the door. Extra makeup, hand lotion, and little children's sticky finger residue all wash off nicely if you use sheen.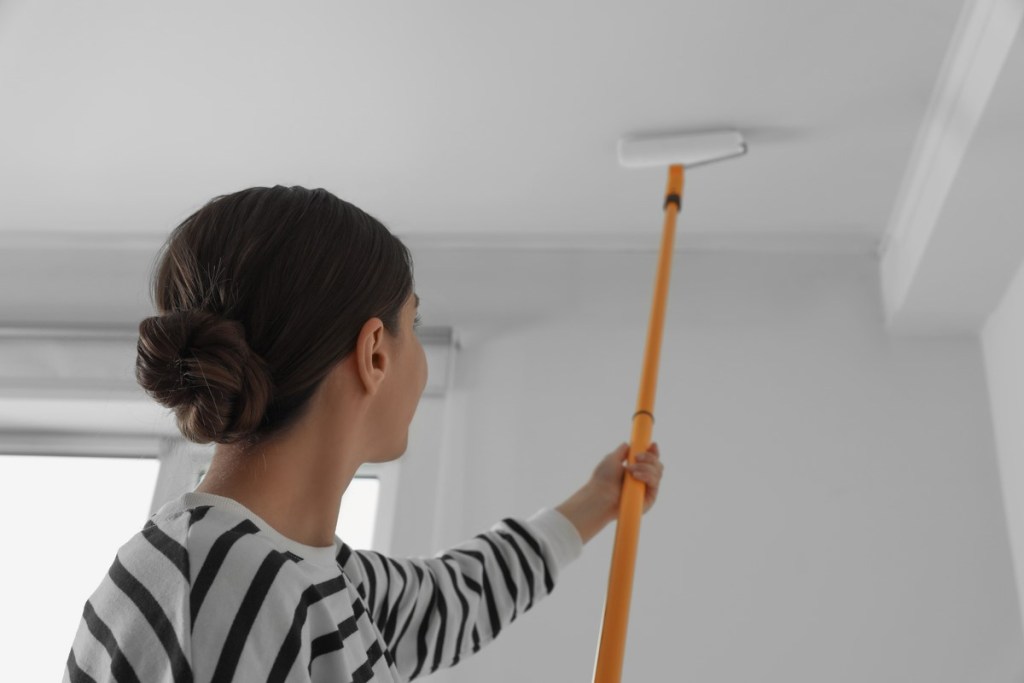 A bit about color and paint
White: You can't go wrong with crisp, clean white. This gives you a cool color palette. If you want to go a bit warmer because shiny white can be antiseptic looking, go for an off-white.
Cool, dark colors: Accent white walls with

navy blue

or hunter green trim.
Pastels: Pretty pastels are on trend, and you can highlight them with different paint on the trim. Softer colors, such as pastels or softer tones of white and green, are calming, but satin and sheen are still reflective, so it's calm, not dull.
Yellow: Yellow is vibrant and cheerful. Soft gold is a bit dated, but yellow is lovely in a bathroom.
Mint green:

Mint green

is cool and tranquil.
Gray: A blue-gray is nice in the bathroom, but you can embrace the space with darker, moody colors such as cobalt blue, which add depth to the walls.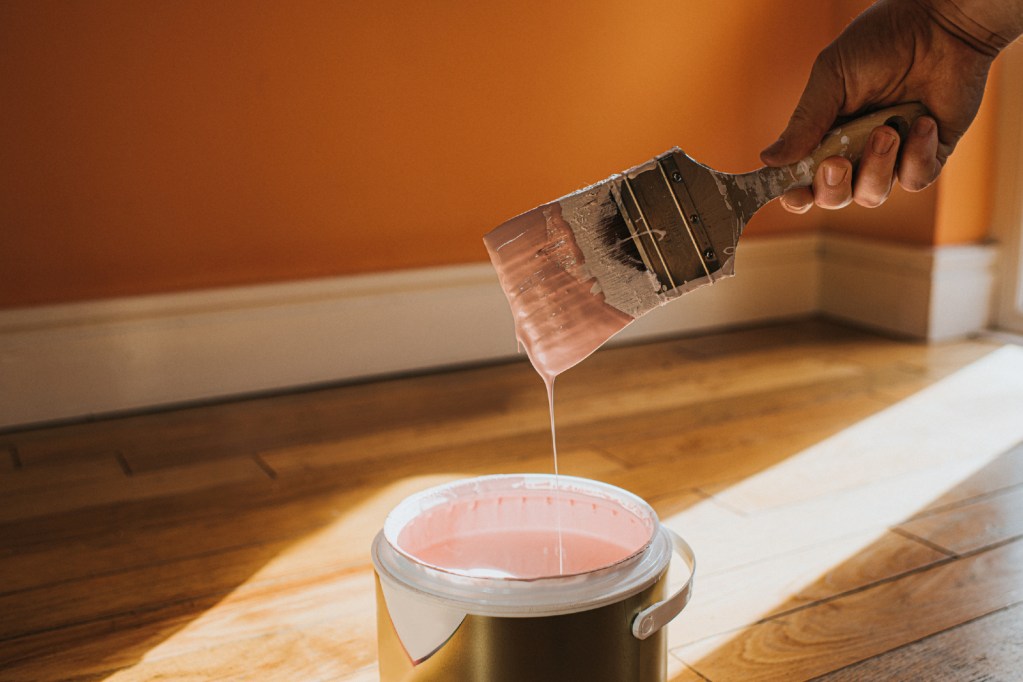 What is the difference between semi-gloss and satin paint in the bathroom?
While satin and sheen provide some of the best results for bathroom paint jobs, many homeowners often wonder if semi-gloss is an equivalent or better option. Semi-gloss paint has more of a shine to it, as it includes a greater amount of polyurethane than satin finishes. The semi-gloss texture is almost plastic-like, proving to be more moisture-resistant and retaining more durability.
However, semi-gloss paint appears much shinier than satin sheens, making it a less common choice for wall paint. This is because it is highly reflective, and any imperfections on the wall will be much more noticeable. Semi-gloss is often used on trim, cabinets, doors, and baseboards. So, if you're looking for an appropriate wall coating, semi-gloss may not be the best choice. We recommend choosing satin over semi-gloss for the bathroom walls, as it will provide a smoother finish.
Satin and sheen are both acceptable for a bathroom, but there are subtle differences in reflectivity and washability. They can both be used in different areas of the same room for a sophisticated look. Sometimes cost might be what pushes you to one over the other or depth of color. But remember — no matter what you choose, be sure to use a moisture-resistant primer.
Editors' Recommendations