Let's face it, kitchen walls can get messy. Between food spatters from cooking or spilling, food can wind up everywhere. If you're looking to refresh your kitchen walls or want an excuse to try out a new color, washable paint is a great way to update your kitchen.
Here's a list of our favorite washable paint brands and colors to give you kitchen paint ideas that will not only make your kitchen walls easier to clean but also give your kitchen the makeover it deserves.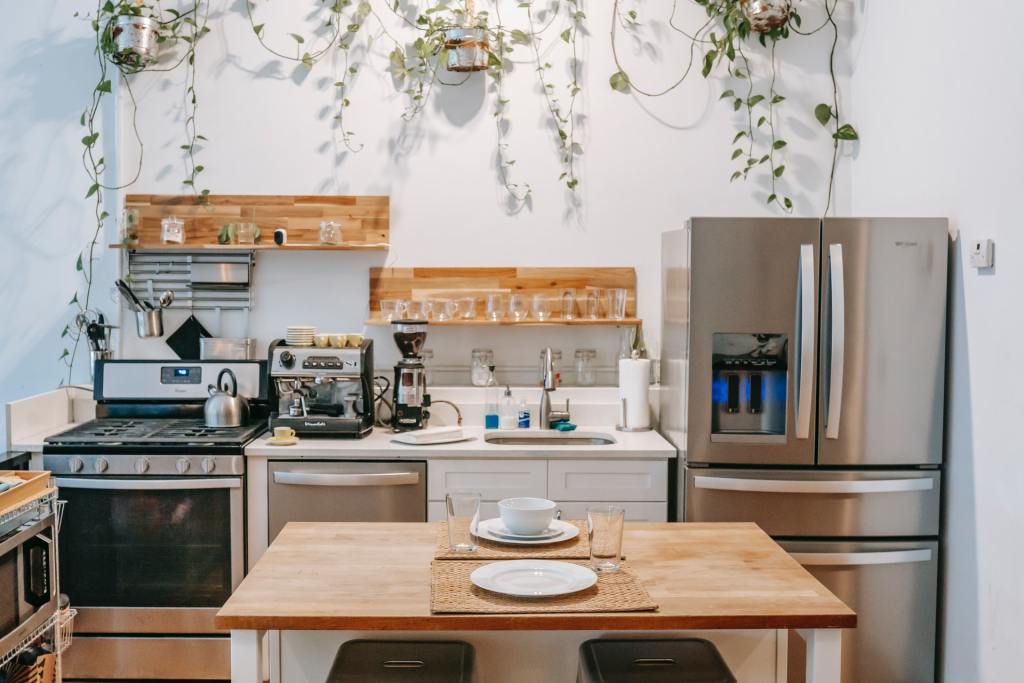 Sherwin-Williams
Pros:
Hides dark colors
Resists water streaking
Contains anti-microbial agents to prevent mold and mildew
Great for busy spaces
Wipe off new stains with just water
Sherwin-Williams is a household name for a reason. Their Emerald Paint and Primer is one of the most washable, durable paint colors on the market. The formula is specifically designed to hide dark colors and resist stain and water damage, and the paint is formulated with anti-microbial agents that inhibit mold and mildew growth.
For high-traffic kitchens, we love Sherwin-Williams's Duration Home paint and primer. In addition to containing anti-microbial agents to fend off mold and mildew, any stains can be cleaned off just with water. You can kiss spaghetti night messes goodbye!
Benjamin Moore
Pros:
Has a mildew-resistant coating
Features proprietary Color Lock Technology for richer colors
Durable finish that can stand up to repeated washing
If you're looking for paint designed to survive anything, look no further than Benjamin Moore's Aura line. There are a variety of paint finishes and colors to choose from, and the paint is designed to survive the humidity and wear of a bathroom – so it shouldn't have any trouble handling the kitchen.
Behr
Pros:
Offered in a wide range of colors
Has an antimicrobial mildew-resistant finish
Features a stain-blocking formula
Rubbing scuffs out of the walls is a time-consuming chore and, let's be real, there's a whole host of things you'd rather be doing in your kitchen beyond cleaning the walls. Behr's Premium Plus Ultra Scuff Defense paint delivers a beautiful semi-gloss sheen that's durable, scuff-resistant, and full-coverage on almost any surface. We also love the wide range of colors — this paint line comes in everything from eggshell white to mint green.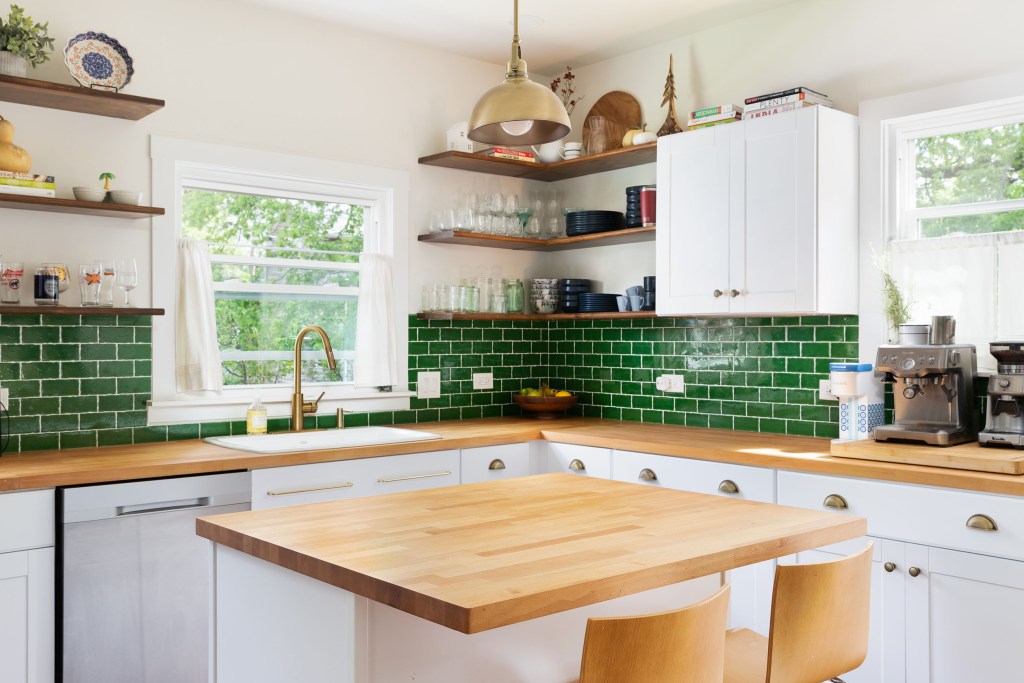 Valspar
Pros:
Greenguard Gold-certified
Protects walls against scrubs, marks, and wear
Available in four sheens
Valspar Ultra Stain Resistant Paint + Primer is a great washable paint for the family who values safety and style. In addition to being formulated to resist stains and scuffs, this paint is Greenguard Gold-certified, meaning the paint emits fewer chemical odors into the air when used indoors. It's available in eggshell, satin, flat, and semi-gloss, and makes a beautiful and safe addition to any kitchen space.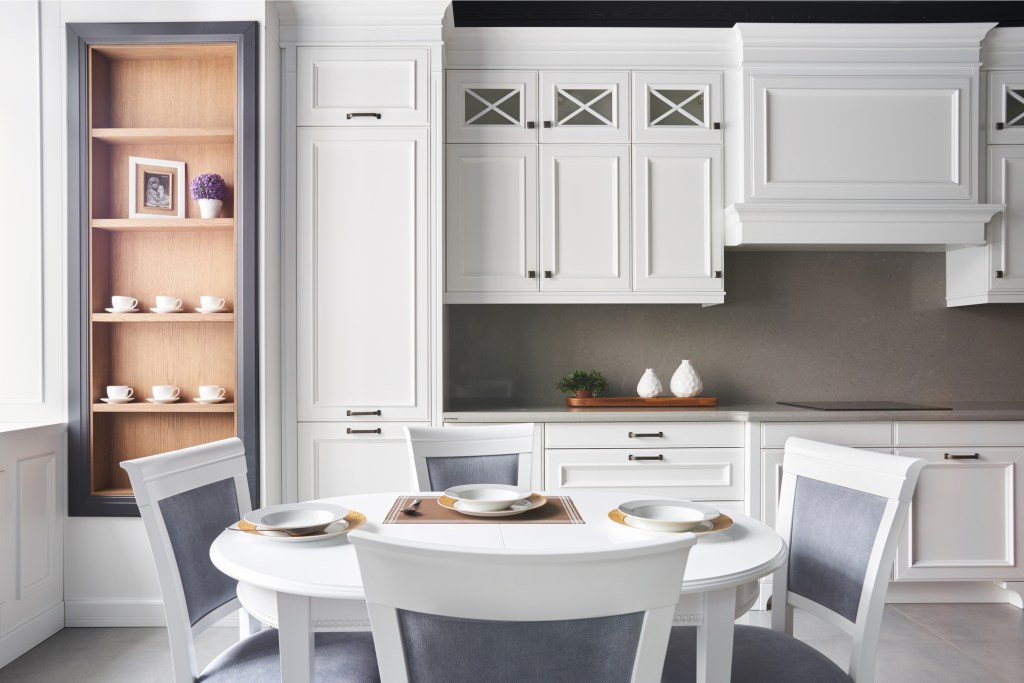 Kelly-Moore
Pros:
Available in four sheens
Easy to clean
Stain resistant
Finding an eggshell paint brand that is stain-resistant and washable can be challenging. Kelly-Moore 's AcryPlex Interior Eggshell Enamel is our favorite; it's durable and easy to clean and doesn't fade or dull over time, even in high-traffic kitchens that require plenty of maintenance. The AcryPlex line offers a variety of finishes and sheens — we love the eggshell enamel, and Kelly-Moore also offers flat, semi-gloss, and satin finishes.
Cleaning your kitchen walls is no easy task, and it's certainly not the way you should be spending all of your time in one of the most high-traffic areas of your home. Washable paint brands are a great investment to give you back your time and aesthetic of this important space.
If you've been considering a coat of paint or a series of touchups, consider our five favorite washable paint brands for color that lasts, looks beautiful, and is easy to clean no matter what life — or you — throw at your kitchen walls.
Editors' Recommendations