What are two things you could always use more of in a kitchen? If you answered counter space and additional storage, you are not alone. The good news is that a kitchen island will give you both. Along with offering greater functionality, a kitchen island can also add to your kitchen's overall aesthetic. Here, we share our favorite ready-to-order picks for kitchen islands.
The first step before buying your kitchen island is to measure the space you have to ensure it will fit in your space. Then, you'll want to consider what style will complement your kitchen. Is your style modern? Rustic? Traditional? Do you want it to blend in with the cabinets or stand out?
You should also consider what storage components will work best for you and your specific needs. What items will be placed in or on the island? Do you want them exposed or hidden away? For example, a collection of attractive pottery bowls and a few simple cookbooks may look nice on open shelving, but a hodgepodge of measuring cups and mixing bowls may be better kept out of sight.
These are some of our favorite kitchen islands for every style.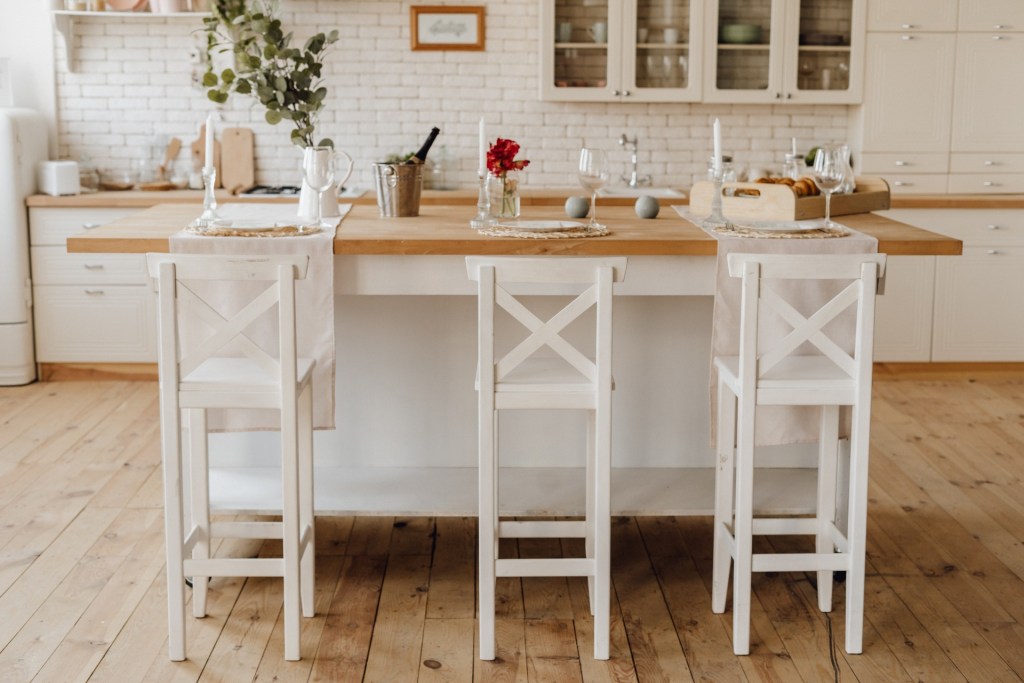 Belmont Kitchen Island from Crate and Barrel
Available in black, white, and mint
Features two drawers, a sliding door cabinet with an adjustable shelf, and two towel bars
Contemporary design with a hint of a retro feel
The Belmont Kitchen Island from Crate and Barrel offers classic styling and comes in white, black, or a fun, mint color. It is perfect if you are looking for closed storage and offers two large shelves inside. The butcher block top even has a drop-leaf section, which offers additional workspace, or you can place two stools underneath for an eating area. Rolling canisters and feet are included, and bars on each side keep kitchen towels within reach.
Frame Kitchen Console from West Elm
Great for small kitchens
Features open shelving and space for two stools
Has clean lines and a simple aesthetic
There is a lot to love about the Frame Kitchen Console from West Elm. It features clean lines, a fresh white iron frame, and a sleek marble top. Underneath, half the space is shelving, and the other half offers the perfect spot to tuck two stools in.
Kelsey Kitchen Island from Walmart
Available in four different colors
Comes with two stools
Includes two drawers, one cupboard, and a towel rack
Here's an affordable option we adore: the Kelsey Kitchen Island from Walmart. This sleek, unassuming piece can be ordered in black, blue, gray, or white. It offers a decent amount of storage and counter space, with a towel rack, a cupboard, two drawers, and shelving.
Lavenia Kitchen Island from Birch Lane
Features one shelf, eight drawers, and two towel racks
Made of solid wood with a rustic mango gray wash counter finish
Stylish, country farmhouse vibes
This gray beauty gives us goosebumps. It is made entirely of solid wood with rustic finishes, perfect for your farmhouse kitchen. It also boasts eight small drawers to store odds and ends, utensils, and other miscellany. It can fit two stools on each side, as long as your kitchen has the space. And it is mostly open, so it's able to give a nice, airy feel to the room.
Kona Kitchen Island from Raymour & Flanigan
Dark brown hardwood
Includes two hooks, a bottle opener, and three wire mesh baskets
Industrial-looking, contemporary style
We'll just come out and say it: the Kona Kitchen Island from Raymour & Flanigan is a stunner. It has all the handy extra space that a seasoned home chef might need. This includes three wire mesh baskets that can be removed, a slated lower shelf, a side bottle opener, a double hook to hang an apron or utensils, and plenty of counter space.
No matter your design style or the size of your kitchen, there's a kitchen island that fits your needs. Think about your space, your cooking habits, and your aesthetic — and then find the perfect match. It'll make cooking prep easier and help transform your kitchen into a homey, livable space.
Editors' Recommendations