The kitchen is the heart of the home, so it should be a warm and inviting space for friends and family to gather together, talk, eat, and spend quality time. While most people concentrate on the countertops, appliances, and backsplash, the flooring is equally, if not more, important. It lays the groundwork (no pun intended) for the overall design and has a lot of real estate in the room. Whether you love understated and modern kitchen floor tiles or really want to pack a punch with color and pattern, there's a selection out there for you.
There are some stunning trends out now in modern floor tiles, and here are a few we love the most!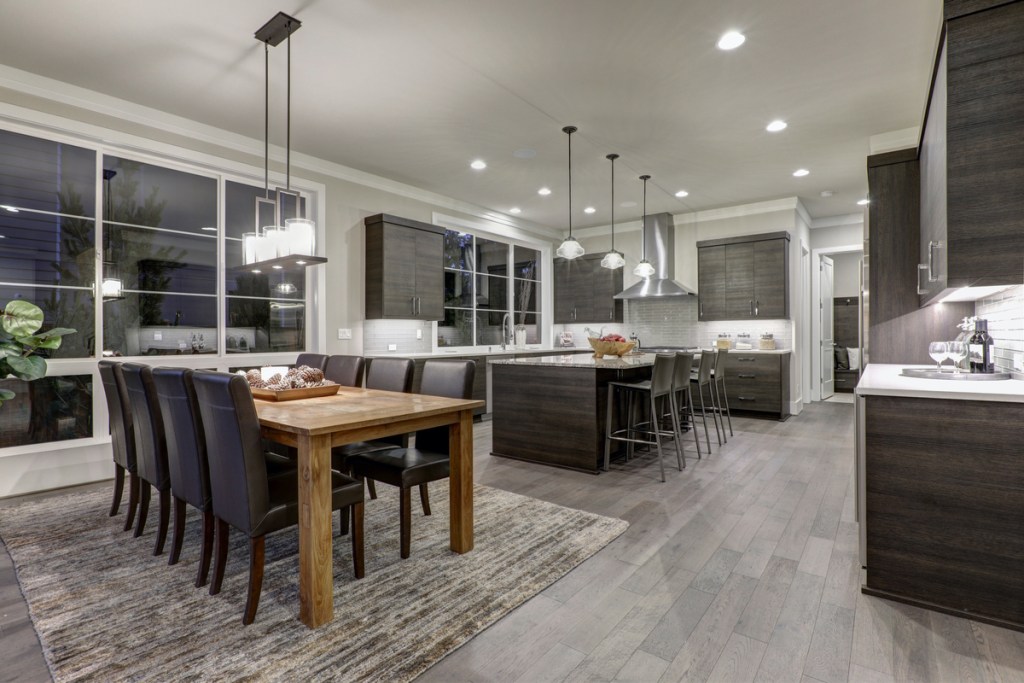 What modern floor tiles are trending right now?
More and more homeowners are incorporating natural/biophilia-inspired designs into their flooring choices, especially for the kitchen. These tiles are often brown or green warm neutrals that are available in a wide variety of designs, from patterned to plain. Many are also opting for wood-look tiles to add a natural element.
We love tiles with a more textured look, like this matte porcelain tile from Tile Bar. Its deep wood coloring looks gorgeous as the backdrop to cream or white kitchen cabinetry, and they stand up to the wear and tear of the kitchen even more so than actual hardwood.
How can I pull off a bold, patterned tile in a kitchen?
Don't shy away from patterns. In fact, picking a bold pattern adds a ton of character that your kitchen may be lacking. We're a big fan of herringbone, and this navy print from Tile Bar is clean and sharp, making it perfect for a contemporary kitchen that needs a little spark. Geometric patterns are also very on-trend, and this blossom marble tile, also from Tile Bar, has a faux marble look that can elevate a more formal kitchen. Its muted palette would work well with any colored cabinets or granite, but it's also the perfect way to tie together and add dimension to a monochromatic ivory design.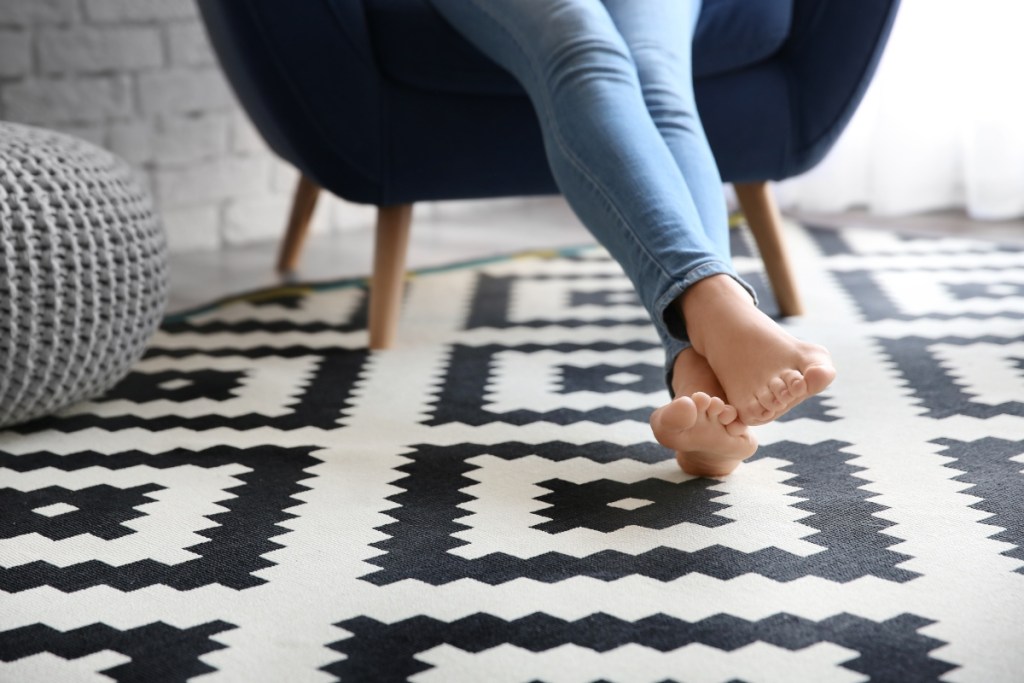 What colors are on trend for kitchen tile?
While colors like jade, navy blue, and natural tones like browns and greens are currently in style, the classic tones of black and white will always be en vogue. Whether you put them together in a black-and-white tile batter or stick to large blocks of one color or the other, it's a combination that never gets old. This black-and-white diamond-pattern floor tile from Build.com is a little more daring, and we love the muted gold line running through it. This detail would play nicely with other gold or metallic accents like light fixtures and hardware. If you're thinking of a more traditional approach, this matte black tile from Bedrosians still has some dimension from the tile shape but the single color creates a more toned-down design.
Can I use a trickling pattern for a kitchen?
The short answer is yes! Trickling tiles come in a variety of textures, colors, and sizes, and blend together with the rest of the kitchen floor in an abstract pattern. This funky trend is becoming especially popular this year in kitchens, offices, porches, and bathrooms. You can use a bold-colored, patterned tile like hexagons and trickle it into a more neutral floor or even into wood or luxury vinyl tile, like in this design from Decorative Materials.
Flooring, like other design choices, comes down to personal preference. It is, however, nice to know what's trending because there are always new ideas, colors, and patterns on the market that you may not have considered before. Because flooring isn't easy or cheap to change out, do your homework before you begin shopping. If you have any questions or concerns about the design or installation, don't hesitate to reach out to an expert for help.
Tile is one of the best materials for the kitchen because it's versatile, durable, easy to clean, and just downright gorgeous. If you still love the look of hardwood, worry not. There are hundreds of different tiles that mimic this material, and it will hold up much better in a space that gets used daily. With any of the ideas above, you can transform your kitchen floor into something outstanding. All that's left is to land on one that works for you!
Editors' Recommendations