People spend a lot of time in their kitchens. If you're one of those people with a small kitchen, you may find yourself wishing you had more room to cook, spend time with friends and family, and store things. If you've found yourself wondering, "how do I add storage to my small kitchen?" or "how can I organize my small kitchen neatly?" you're not the only one. There are plenty of simple ways to add storage space to your small kitchen, and you don't have to spend a ton of money or go through a complete remodel to do so. Using a little DIY and some organizational products, you can create space where you thought you had none. Check out our nine favorite ways to add storage to your small kitchen below.
Double duty storage shelves
One of the best ways to maximize space is to install storage solutions that pull double duty. A shelf with flat storage space on top and hooks below is a great way to maximize space in areas that don't usually allow for storage. Hanging a shelf with hooks above the sink or stove is excellent for storing serving platters, jars of dry pasta or spices, or storage containers, while the hooks below can hang pots and pans, cutting boards, or utensils.
Baskets
If you have spaces that aren't ideal for storage but are otherwise unused, baskets are a great way to organize and save space. Fill baskets on lower levels with anything that the kids need access to or items that you use all the time. Baskets on higher shelves can store gadgets that you don't often use, extra kitchen towels, or backup dry goods like napkins and paper towels. The baskets will keep the items organized and add a decorative touch to your decor.
Magnets
Magnetic strips that hang on the walls in your small kitchen can really come in handy while also getting you organized and creating more space. A well-placed knife magnet on the wall near the counter that you prep on will keep your knives within reach and free up a drawer or get that pesky knife block off your counter. A few magnetic strips on the back of a cupboard door or above the stove for metal spice canisters will give you easy access to the spices you use most often and give you more room in the spice cabinet.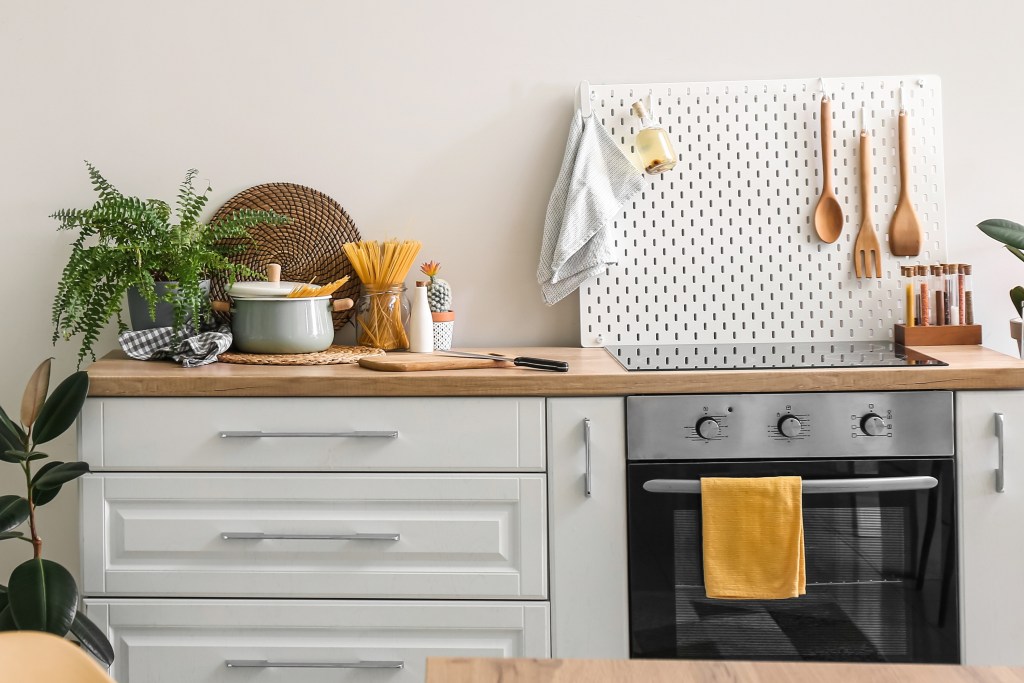 Pegboard
When you think of pegboards, you might envision a garage or school woodshop, but they can be decorative in a kitchen and extremely useful. Hanging a pegboard on the back of a door or an unused wall area can create a space to hang utensils and free up a drawer or counter space. If you want to get creative, painting the pegboard in a bold accent color will also turn the functional spot into a focal point. Screw in an assortment of angled, straight, and curved hooks to hang measuring cups, mugs, and other cookware.
Shelves
Adding shelving to empty wall space is one of the quickest and easiest ways to lend storage space to your small kitchen. Shelves can be decorative and functional and free up space from your drawers and cabinets. Hang shelves in easy-to-reach places for the items you use most, like pots and pans or spices. For items that you only use once in a while, like small appliances that take up vital counter space, install shelves higher up and out of the way.
Hooks
Any place with wall space too small for a shelf is an excellent place for a hook or two. Hooks can organize aprons, pots and pans, cutting boards, coffee mugs, utensils, and more. Not only will the hooks free up space in other areas, but they can also turn your ordinary kitchen items into a focal point for the room. Even if you don't have wall space left, a rack with hooks hanging from it can be hung over the island in your kitchen or sink for added storage space.
Drawer and cupboard organizers
Organizing your drawers and cupboards is a significant first step to freeing up room in your small kitchen. Drawer organizers keep all of your items neat and tidy while creating extra space. Once you put things into an organizer, they become condensed and free up space for other items. Also, while placing your stuff into the organizers, you can weed out broken items or things that you don't use very often.
Towel bar
Towel bars are relatively easy to install and can give you a place to hang not only towels but other things you need at arm's reach. Hanging hooks from the bar gives you the chance to keep spoons, cheese graters, and other miscellaneous utensils handy. You can even find spice racks that will hook onto a towel bar if you want to store small jars of the seasonings you use most.
Racks
Gone are the days of the old countertop dish racks that take up counter space and collect water. These days you can find over-the-sink dish racks that create storage space and dry dishes simultaneously. Many of the products out there have room to store soap and sponges and are sturdy enough to hold extra pots and pans on the very top. There are also tons of other racks that you can use in the kitchen, like ones that hang on the backs of doors or from the ceiling.
No matter what style of small kitchen you have, at least a few of the storage ideas above will work. Getting organized is definitely crucial to creating more space in your small kitchen, but don't forget to utilize the areas you do have wisely. Places like window sills, tops of cabinets, and even the top of the fridge can be used for storage and take little effort to make happen. By implementing one or two of the ideas above and making the best of what you have, you'll be organized and have more space in no time
Editors' Recommendations